"When something goes wrong in your life, just yell PLOT TWIST and move on.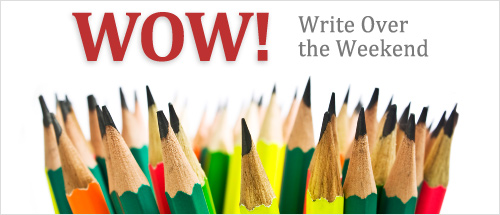 Bloggers, we love how you wait for our WOW creative writing prompts each weekend and send in such wonderful posts every time.
Write Over the Weekend inspiration for this time
Write about "A Twist in Your Life.
A twist can be anything
Job transfer
Dropping off your college
Meeting someone
Changing your routine
Partying with friends
Taking a road trip.
Put your thinking cap, let your creativity flow, and go crazy in your imagination. We are awaiting some awesome blogs from you! This time, leave no stone unturned to make the WOW badge yours 🙂
Remember, you have time only till Sunday midnight!
Include this code:
This post is a part of Write Over the Weekend, an initiative for Indian Bloggers by BlogAdda.
Hope you have registered for #CelebrateBlogging. Registrations end on Sunday. The link to register is @ http://adda.at/Celebra8e
Every weekend, we give prompts for you to creatively write on! Hope you enjoy our creative writing inspiration for this week. 🙂
All those who are featured in WOW can now flaunt the WOW badge on your blog. Download your badge now!