"Celebrate who you are in your deepest heart. Love yourself and the world will love you." ― Amy Leigh Mercree.
September is a cool month, isn't it? A month when memories of the striking heat of summer is just fading and the allure of the winter chill is just beyond arms reach. September blooms in the cusp of what was and what can be.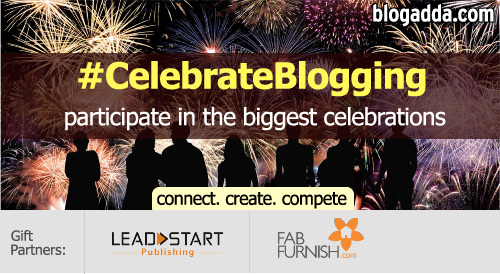 Here is September. Over some sandwiches and chips, we wondered if we could give it a twist that would add a few more strokes of colour. A brighter hue to a bright picture, if you will.
Someone said, let's do it again. Let's celebrate the spirit of the written word. The spirit that comes alive to elicit a laugh, evoke a thought, kindle an idea, draw a picture, leave a feeling and spread some cheer. There was silence in the room.
Someone wrote #CelebrateBlogging on the whiteboard. In a bit, every inch of white space in the board got filled in with ideas.
Ladies and gentlemen, BlogAdda is proud to present #CelebrateBlogging.
A host of activities that we hope will get you writing, connecting, creating and perhaps even competing. All in fun. A host of activities await you that will invigorate the blogger in you and #CelebrateBlogging like never done before. Here we go.
Game of Blogs.
Ask me about a topic.
BlogAdda Collectives. 
and lots more…
Are we ready?
Game of Blogs
Presenting to YOU a never-before seen-thought-happened event in the Indian Blogosphere. 
As a part of the #CelebrateBlogging month at your Adda, here is an opportunity to write better, show your creative prowess and put on display the power of a collaborative effort. The three focus words being CONNECT| CREATE | COMPETE |.
What do we have for YOU?
Every week multiple teams of bloggers collaborate and recreate stories around the common characters which will be provided to you. (The teams will be created randomly so that you never know who you are going to team up with)
Teams will be formed, and the team members will decide among themselves and blog everyday (To give everyone a chance, a blogger ideally has to post ONLY once a week) to create a story for the week.
A final story for the week which has been crafted by the team will be sent to us.
The Jury will read those after which there will be eliminations every week. The teams that will go ahead will continue the story from where they left.
This game will have 3 rounds. 🙂
Of course goodies and surprises every week will keep company. As if the twist and turns weren't complete enough. This is going to be exciting. We are sure you will have a good time.
We would like to thank our Gift Partner Fabfurnish.com  and show them some love.
This sure is going to be a September to remember".
Then? 
There will be 3 teams in the end with their stories and one of them will get their story published in a book by BlogAdda.

Revered Jury Panel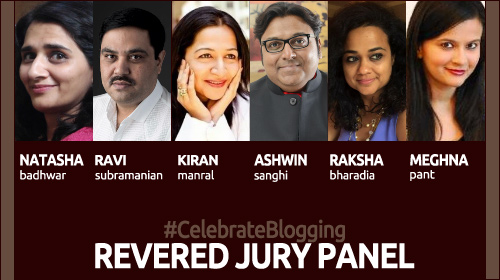 Natasha Badhwar – Natasha Badhwar is a writer, film-maker, broadcast media trainer and an entrepreneur. She blogs at http://mydaughtersmum.blogspot.in and writes the popular column, My Daughters' Mum for Mint Lounge.
She is also the co-owner of the online fashion label Ochre Sky, a venture that brings together all her artistic skills and creative passions.
Ashwin Sanghi – Ashwin Sanghi is an Indian writer in the thriller fiction genre. He is the author of three best-selling novels: The Rozabal Line, Chanakya's Chant and The Krishna Key. All his books have been based on historical, theological and mythological theme. He is one of India's best-selling conspiracy fiction writers and is an author of the new era of retelling Indian history or mythology in a contemporary context. Forbes India has included him in their Forbes India Celebrity 100.
Meghna Pant – Meghna Pant is the award-winning author of Happy Birthday! and One & A Half Wife.
Jeet Thayil has defined Meghna's writing as 'deft, merciless, expertly-tuned', Ashwin Sanghi as 'provocative and inspirational', and Chitra Banerjee Divakaruni as 'surprising and moving'.
Happy Birthday was longlisted for the prestigious Frank O'Connor Award 2014, the world's biggest short story prize. According to The Sunday Guardian: "Happy Birthday is in the front row of Indian short fiction; a gem from the subcontinent."
Ravi Subramanian – Ravi Subramanian is India's numero uno thriller writer, having written six bestselling books. An alumnus of Indian Institute of Management (Bangalore), he is currently head of a leading financial institution. A career banker and financial services professional, Ravi has worked with various multinational banks (Citibank, ANZ Grindlays Bank and HSBC) for over eighteen years. As a result of his extensive background in foreign banks, writing about banking comes quite naturally to Ravi. Each one of his books thus far have been set in the backdrop of a foreign bank.
Raksha Bharadia –  Raksha Bharadia is the author of All and Nothing , Me: A Handbook for Life  and Roots and Wings: A Handbook for Parents (Rupa & Co). Raksha has co-authored Chicken Soup for the Indian Soul series (Jack Canlield and Mark Victor) for Westland. She has contributed features for Times of India, Femina, Gurlz, Life Positive, Marie Claire, Midday (Mumbai) etc. She is a columnist with Ahmedabad Mirror and Femina. She has taught creative writing, Master's Program – Architecture Journalism at CEPT, Ahmedabad. She has held workshops on parenting in organizations and schools. She was a speaker at the Women leadership Forum organized by Naseeba at Delhi.
Kiran Manral – Kiran Manral was a journalist before she quit to be full time mommy. Karmickids is among the top 5 parenting blogs in India according to BlogAdda and Her blogs, Forty two and counting and Karmickids, are both in Labnol's list of India's top blogs. She was a Tehelka blogger columnist on gender issues. She is also considered a 'social media star' on twitter by the TOI and IBN Live named her as among the 30 interesting Indian women to follow on twitter and among the top 10 Indian moms to follow on twitter for 2013. Sheroes named her as among the top 20 women influencers from India on twitter in 2014.
Her debut novel, The Reluctant Detective, was published by Westland in 2012 and her second novel Once Upon A Crush, was published by Leadstart in May 2014.
Great. Next? 
Register NOW as we are taking in limited registrations for this.  Are you as excited as we are?

Isn't this an activity which each of you have been waiting for quite some time and which can ONLY happen at your Adda? Bring it on! 
---
Ask me about a topic
What do we have in mind?
Bloggers will be invited to conduct and curate discussions where your fellow bloggers and friends can ask you anything on the topic you choose on Twitter.
The schedule will be out very soon. 
---
BlogAdda Collectives
Now this is a surprise. 🙂 You can get an idea by filling in the form below. What say?