A lot of the ​best things in this world are black. Don't believe? Well, think about it.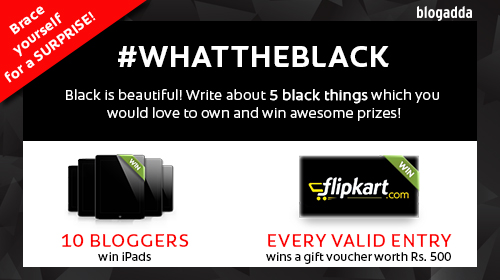 A mane of gorgeous sleek hair, a sexy but classy LBD perfect for every occasion, ​​a crisp suit which can make any man look suave and dapper, a pair of intense kohl lined dark eyes which rule any lover's heart… the list is endless!
Black is also the colour of mystery. The kind of mystery that leaves you intrigued!​ A sleek smart phone, a well fitting pair of trousers, shiny pointed shoes with high heels, that could add that special touch to your sex-appeal almost instantly, a smart pair of shades, a swanky car…..yes, you can go on like that!​
​Many of us love black. We are allured by its dark, sometimes intense, brooding power. But we can never get over its charm. We all have our reasons. "Oh, black makes me look thin!" or "Its my lucky colour!". Now, let's not make further excuses & tell the world why you love black!
Blog about 5 black things that you desire and why. Come on, let's give it to Black!

This post is a part of #WhatTheBlack activity at BlogAdda.com
Wait, there is more!
The fun doesn't end here. This is just the beginning. Brace yourselves.
Sign up for #WhatTheBlack. Expect the unexpected experience and prepare yourself to be surprised!
​Here is a sneak peek to what it is all about. ​
​​Every day for 5 days, shortlisted bloggers will receive an item at their doorsteps from the July 28, 2014 to August 1, 2014. Once you are over the bewilderment, we are sure you will talk about it and play with your friends on Facebook and Twitter. Make them jealous. Get them to guess on #WhatTheBlack is coming up next?
Once we are done, we would want to read it again and again on your blog 🙂 This is just the trailer.
Game, set and…. Yes?

Sign up for #WhatTheBlack
The last date for the contest is July 27, 2014.