Update: We are pleased to announce the winners of the #ZestUpYourLife blogging contest. And the 2 awesome bloggers to bag the Nikon Coolpix L330 Point & Shoot Camera are….wait for it….. okay any guesses? Well then, give a loud applause to Kavi Arasu and Dr Roshan Radhakrishnan
To have Zest in life is to have meaning to life. It feels what it feels like when you are in love. It means there is energy for more. Throw in some blue sky, sunshine, inviting roads and a partner on the seat beside. Add a dash of spontaneity and some vigorous disagreements sustained by wholesome friendship. Zest is also pushing your limits to be above the rest and living life extraordinarily.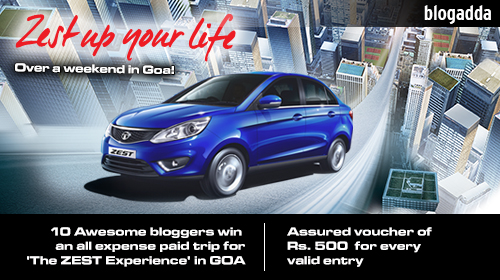 The thing about zest is that it is a never ending love story. It is also a personal story. Every one of us has our own objects, people, places, moments, memories, food, pets and what not that add Zest to our lives. We all have this mad need to add our own spin to create and snatch magical moments from our otherwise mundane routine. This need is Zest.
We invite you to unleash this exclusive Zest experience with us. Write out a blogpost. Feature the five things, people or situations that Zest up your life. We'll add to the Zest and 10 of you will be our esteemed guests for 'The experience'. Also, every valid entry will win an assured voucher worth Rs 500!
The Experience…
Fly into Goa on July 26 and July 27, no less. All expenses paid. We invite you to a weekend get together where we will renew your Zest for life. Let's raise the bar and take this experience to a new level. An exciting car launch, gourmet food, treasure hunt using never-before-seen technology and many more surprise activities await you. What, you want to know more? Well, then just blog and brace yourself for this experience as there is no fun just talking about it!
Wouldn't you just love to go on a long drive in the twilight just as a few raindrops brush your cheeks or dine and drive in style, feel like a royal?
One blogpost is all it takes. Lets hear it from you. For Zest! With Zest!
Thank you for the OVERWHELMING response! It is time to announce the winners.
Jyoti Mehra
Keyur Seta
Sushmita
Shashank Tiwari
 Will be joining us for 'The Experience' in Goa. Congratulations winners! You will get a mail soon!
Thank you TATA Motors for selecting the winners in record time.