Gaurav's blog is one stop all for the inside buzz in the field of Indian cricket. Apart from being instrumental in bringing together Asian Cricket Bloggers, Gaurav could be recognised for his candour and kick-ass cartoons. He has won the Best Sports Blog award at WIN14 . Read this interview if this sport runs in your blood. get to know that there is someone who is as mad, about this game, like you!
Q: What or who​ influenced you to start a blog based on cricket?
A: Starting a blog was free and so was I. We had just wrapped up our creative shop, pgDigs. I was spending way too much time watching and talking cricket and one day I found myself writing cricket. My new company was called Naked, first came the blog, Naked Cricket, then Bored Cricket Crazy Indians (BCC!) which brought together all the Indian cricket bloggers (and a Pakistani and a Sri Lankan and a Bangladeshi) that I partied with online.
Q: In India, cricket is a religion. Share your thoughts about this with us.
A: "Religion divides us, cricket brings us together" was something I read and it's always stayed with me. Now if you say "cricket is a religion" you must also answer what does that make N Srinivasan?
Q: If we lose a match owing to the error of a particular player, it doesn't take even few minutes for him to be hated. One day we treat the players like demi – gods and on others like culprits. How fair is that? What is your take on it?
A: Many of us who follow sport closely become imbalanced, almost bipolar in our pursuit – possibly because of the nature of the highs and lows of sport. Add to that the mundane yet volcanic frustrations of our own lives, where do we vent? Sport is possibly our only shot at that elusive trophy. And compared to Yuvi and all that he's accomplished, we'll always be losers. But what when the Great Yuvi cannot close the deal, what is he a loser like us?
After the World T20 defeat, Yuvi's house and twitter account were pelted. Many came to his defence, harking back to the 6 6s and the World Cup wins. There was plenty of abuse hurled at his online defenders, I got my share too. Quite often the commonest form of attack is, "just because he's had cancer doesn't mean…"
How do you talk to these guys?  On twitter there's mute or block, offline, the lockup. Sachin said it most eloquently, "People throw stones at you and you convert them into milestones."
Q: Honestly, tell us how did you react when you realized Sachin is taking retirement from the game?
A: On  February 22nd, 2013, on air, I congratulated Bhajji on his 100th Test and Sachin on his 200th.  I expected Sachin to retire before the South Africa series, at Wankhede, vs. Bangladesh or West Indies or maybe even an Associate playing their first Test.
Still, when Sachin announced his retirement, which was still about a month before the 200th Test, I was numb. It's like all of us know we're going to die but suddenly finding out you're terminally ill. Hollow feeling, like being cheated by life.
Q: When you started your blog, did you ever imagine that it would reach where it is today?
A: No. When we started off we were a community – we were up to over 10, 20 – 30 Bored Members in no time. Now, it's pretty much me. But because of the blog I know this bunch of cricket nuts across the world – if I'm in a city with a Bored Member or one of them is in Delhi, we end up meeting over a beer. We still have Bored Meetings, though far less frequent, and quite a few of us see each other daily on twitter, and live tweet during matches.
Bored has a following 11,200+ on facebook and 9600+ on twitter. In many ways, social media has kept the blog going.
Q: Bored Cricket Crazy Indians (BCC!) creates cartoons based on situations in the cricket world. Share with us and our readers your favourite one
A: Could I share three of my favourite ones?
1. Are you Rohit Sharma – Whether he scored or not, Rohit always got another chance.
2. Shoaib Akhtar claimed Sachin was scared of him, Afridi claimed he'd seen Sachin's legs shaking (when Shoaib bowled at him.) Here's what actually happened. Shoaib, Afridi & Sachin at the men's urinal.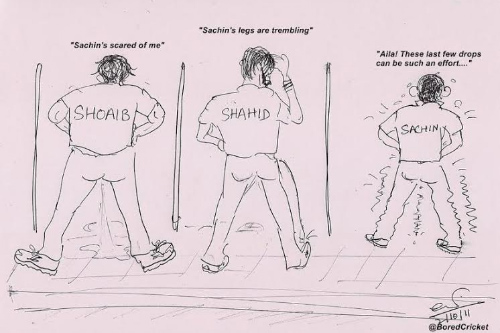 3. Cartoon's inspired by Sunny Leone's tweet: On the plane heading back 2mumbai from shooting @jism2 and sitting right next 2 rahul dravid and also met wasim akram at the airport.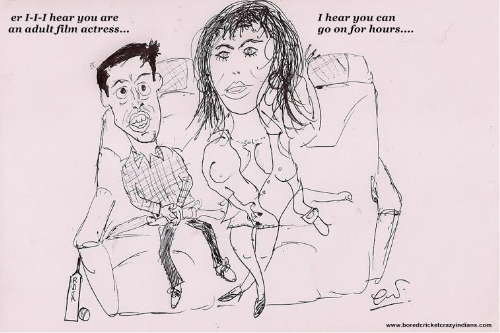 Q: What is the future of sports based blogging in India according to you?
A:  From 8-9 years' back, most of the blogs I read have either slowed down or shut down.  In 2004-5, blogs were in, as was commenting on them. That conversation has moved to twitter now.
But bloggers can use social media to draw people to their blog – you can connect to writers (you admire) on twitter, request them to read your stuff; if it's good, chances are people will read and share. I think more blogs will move towards vlogs (video blogs) and audio.
Q: Do you agree that blogging as a medium to reach out to larger audiences should be tapped by more people who are interested in sports?
A: If they can make the time, yes, otherwise, it's like starting a blog and abandoning it; nothing worse than a blog with no posts. I know of way too many people on twitter who follow sport seriously but don't blog about it. It's down to a quickie vs. a relationship which entails collecting your thoughts and then committing to them in more than 140 characters – "is it compelling enough, who will read it, do I have the time to commit to my blog?"
Blogging can be like testing the waters with your toes. Almost like a prelude to becoming a sports' writer, you can actually see what everyone makes of your writing, is it any good, should I pursue it seriously or just blog for a lark?
Q: Let us go back to your childhood…Tell us some memorable incidents about your school going days?
A:  Spontaneous quizzes and skits in class, esp. Merchant of Venice, when I twisted Shylock's part to "hath a Jew no organs?" Brother D'Souza remarked, "Gaurav, some restraint please".
Handshakes with teachers after an interclass debate, when instead of shaking a teacher's hands, I folded my hands in a Namaste. Cracked the auditorium up, later Jasbir told me, "Your Namaste was the best thing of your debate"
Most of my classmates remember this one though: In a very sombre Mr Thomas' Economics' class, lowering my head below the desk I snapped, "Jesus Christ, gimme a break". He only asked me to stand in the corner.
Q: Other than cricket, what are three other hobbies that rank high on your list?
A:   Driving to Srifort for light banter and an even lighter workout.
Drawing with charcoal on the walls when I'm hooched, designing block prints for fabric when I'm sober.
Engaging with strangers.
Q: What do you find to be the most gratifying aspect of blogging?
A: Pressing the Publish button.
Q: You won the Best Blog Award for the Sports Category by BlogAdda at WIN. How did you and your loved ones react to this?
A: Me – "Am I the only sports' blog left in India??"
Loved One: "What, you're still blogging?"
Q: What special can we expect to see from Bored Cricket Crazy Indians (BCC!) in the near future?
A:  The coolest stuff on Bored has been the characters and campaigns we've created –  I'd like to add to Jatman, Che Pujara and #ThankYouSachin I'm going to restart the Bored Peon-Bored Neon cartoon series. To finally record some of our songs, esp the Bored Anthem, Sachin and Dravid tributes in a recording studio.
And now that you've asked this question, I'm going it give it a good long think, what next?? I'm dying to get back to some cricket standup which we started and stopped with the White Bored in 2012. Love to hook-up with filmmakers and moneybags too and finally monetize Bored, we'll be six years' old this August.
Q: Given​ a​ choice, would you take up playing cricket as a career?
A: Yes, far more rewarding than blogging. No, far more effort than blogging. Yes-No-dunno aside, I love playing and talking about cricket far more than writing or cartooning about it. I've always gate-crashed games regardless of whether there are two urchins playing with a stick, beach cricket in Juhu or Goa, in Koregoan Park, in Barcelona with 3 Pakistanis, over the last 25 years in the driveway with Roop, 62, or with Vasu, 13, for the past 9 years, in the tiny C-1 park.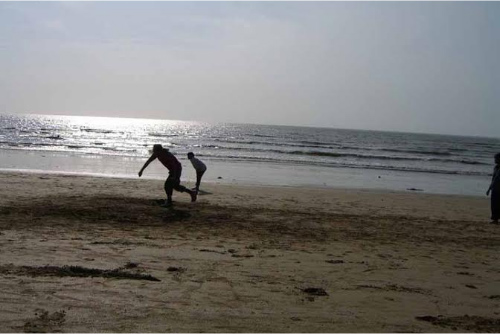 My cousin's husband, Rafi still rags me about our first meeting when they were visiting from London way back in 1980-something. I dragged him to our backyard for a cricket duel under very dim lights with a nasty cork ball. Now 30 years' later, we still play when he's visiting.
My next targets are Sunil Modi, a leggie who's turned 70,  and his granddaughter who's barely 10 and plays for a county side.
So playing cricket as a career is a possibility, it'll just have to be very amateurish, maybe with a tennis ball or a soft cricket ball, in front of camera with a lotta banter and all sorts of people. A sort of cricket-travel show, that's what I'd like to do.
Connect with Gaurav Sethi: Blog, BlogAdda, Twitter, Facebook
Thank You Gaurav for a great interview!