"Travelling is the great true love of my life… I am loyal and constant in my love of travel. I feel about travel the way a happy new mother feels about her impossible, colicky, restless newborn baby – I just don't care what it puts me through. Because I adore it. Because it's mine. Because it looks exactly like me," Elizabeth Gilbert, bestselling author of Eat, Pray, Love.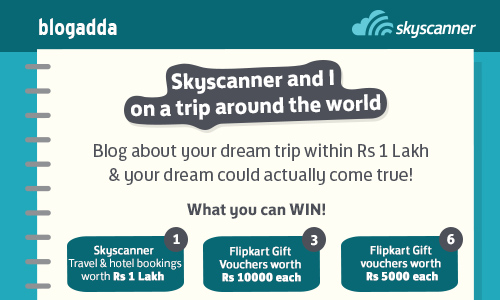 Many of us get a kick when we travel and therefore would passionately relate to Elizabeth's emotion. Some of us travel to escape the dreary monotony of life, some go to different places to peep into different cultures, feeling enriched while some just take off to lose themselves in the wilderness so that they find themselves, in the end. Whatever our reason might be, we all like to travel!
To travel is to live a dream, but to plan a travel is a nightmare, for there are many checkpoints before you decide to jump on a bus/flight/train and go to your favourite location! The number of sites & portals that one has to look through to get the cheapest airfare, best hotel booking deals, car hires, bus bookings, etc. is overwhelming enough to dampen your travel spirit. Won't you like if an expert came to your rescue and made all your travel planning easy before transporting you to your land of dreams? Skyscanner – the travel wizard – will make seem all the bookings and planning an itinerary a breeze.
Weave an imaginative story of how Skyscanner – your very own magical companion, comes to your rescue and takes you to on a magical ride to your favourite places.
Tell us about all the beautiful, intriguing and exotic places and things you see and what you do on this magical ride. Oh wait! there is only Rs. 1 Lakh credit points to fuel this Skyscanner journey. Be sure and plan well.
To get an edge, add screenshots of the Skyscanner bookings that you've talked about in your post.
WHAT CAN YOU WIN? 
1

Skyscanner Travel & Hotel Bookings worth Rs 1 Lakh.

3

Flipkart vouchers worth Rs 10000 each. 

6

Flipkart vouchers worth Rs 5000 each. 

50

Early Birds get Skyscanner Goodies. 
Saddle up the unicorn of your imagination and weave a fascinating story about the picturesque places you would want to visit using Skyscanner application as a magical companion to fuel this enchanting journey. Sit back, relax and let Skyscanner do all the work for you.
Include the code in your post.
This post is a part of Skyscanner travel wizard activity at BlogAdda.com
The activity is now closed. Thank you for the overwhelming response!