UPDATE: Bloggers, due to the unfortunate incident of the missing Malaysian Airlines flight MH370, Tourism Malaysia has called off all on-ground celebrations globally. We apologize for the inconvenience caused. On account of the same, the Online contest will be extended till March 24, 2014 and the prizes of the Blogathon will be given out to the winners of the online contest. 10 best entries will each win an all expense paid Familiarization Trip to Malaysia. Everybody who registered for the offline activity has been notified via email.
Malaysia as a country is a bubbling, bustling melting-pot of races and religions and offers a range of delicacies making available a gastronomical paradise for the people. It is a warm home to hundreds of colourful festivals. A place which offers innumerable reasons for you to fall in love with!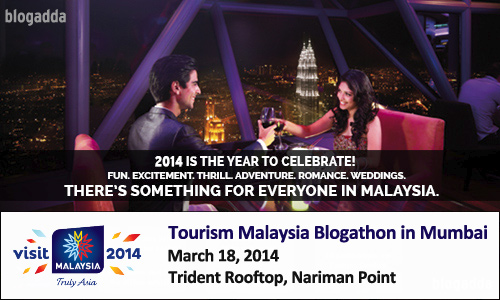 Bloggers, we have an offline Blogathon planned for you by Tourism Malaysia on Tuesday, March 18, 2014 in Mumbai. We promise you fun activities with none other than your own blogger friends! This occasion will be graced with the presence of Dato' Seri Mohamed Nazri Abdul Aziz, The Hon. Minister of Tourism and Culture, Malaysia.
We've got a lot of surprises planned for you as well.
We've got only 40 seats for this activity! If you are not from Mumbai, here's why you shouldn't worry! Register for our offline activity & if you are shortlisted, we're willing to fly 10 deserving bloggers to and fro, for this event!
There's a lot for you to take home!
7 Blogathon winners will win an all expense paid familiarization trip to Malaysia!
Register Now!
Venue: Trident Rooftop, Near Air India Building, Marine Drive, Nariman Point, Mumbai – 400021.
Date: March 18, 2014
Time: 10:30 am to 4:00 pm

See you there 🙂
Terms & Conditions (PDF)