"To travel is to live." – Hans Christian Andersen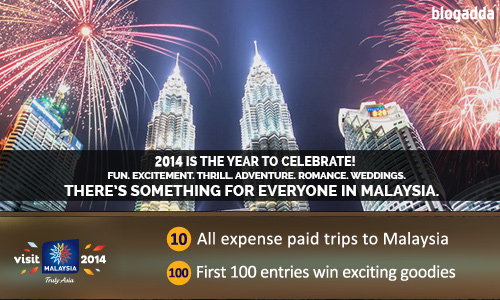 Every place has its own stories to tell and every person who travels to places gets to witness exhilarating stories! Falling in love with places is easy because they have something to offer to each traveller. For the extrovert, there are people to talk with and understand the lifestyle; for the nature lovers, there is breath-taking flora and fauna to blow their minds away! For the ones in love, there are serene tourist spots and for the adventurous bunch of friends there are mountains to go trekking on or water adventure sports to experience & try something they have never tried before in their life!
Malaysia as a country is a bubbling, bustling melting-pot of races and religions and offers a range of delicacies making available a gastronomical paradise for the people. It is a warm home to hundreds of colourful festivals. A place which offers innumerable reasons for you to fall in love with!
2014 is the year to Celebrate, Explore, get Inspired and Escape into a Truly Asian Paradise!
Wait, why are we saying this and why are you reading it? Because… a few of you could travel to Malaysia this year! 🙂
All you have to do is write a blog post about 5 things you would want to experience in Malaysia! Visit the pristine beaches at Langkawi Island, Kedah or something more adventurous like visiting the Gunung Mulu National Park, Sarawak to experience the flora & fauna: tell us about your dream experience. For ideas and inspiration you can visit Tourism Malaysia website.

Hold your breath for the prizes!
10 best entries will win an all expense paid familiarization trip to Malaysia!
What more can you ask for?
The first 100 valid entries will win Goodie Bags!
I am participating in the MalaysiaJao Blogathon Contest in association with BlogAdda.com.
We're looking forward to all your excited entries. Don't give this one a miss!
Entries for this contest are open till March 24, 2014.
Terms & Conditions (PDF)
Thank You bloggers for a great response to this activity. We hope you enjoyed writing about the beautiful place Malaysia and your dream experience there. This activity is closed now !