Everything you do in life is in the end a part of your endeavour to win!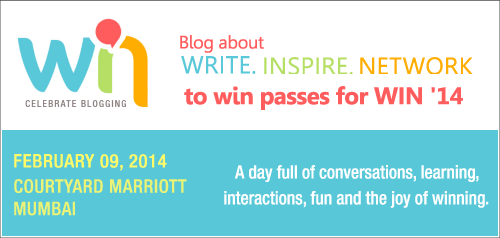 Everyday, many things that you do are no less than an achievement! How amazing a feeling it is to click that publish button on your blog after finishing a post you so wanted to write at maybe 4 a.m. in the morning! Don't you feel like treating yourself to a chocolate for doing the same? The world of a blogger revolves around three words; write, inspire and network! All the three together comprise to form WIN! All passions come with their set of idiosyncrasies and eccentricities! We understand yours when it comes to blogging!
WIN '14 on February 09, 2014 at Courtyard by Marriott, Mumbai is a day to celebrate and recognize all the efforts that you have put into blogging till date! Who doesn't want to be a part of India's biggest blogging conference and Awards ceremony, WIN '14? We're here with an interesting activity for you revolving around WIN!
You have to write a post that includes the three words Write, Inspire and Network! 
The 20 best posts will win Free Passes to WIN '14!
What more can you want? An entire day dedicated to blogging with lots to learn and takeaway! You will be able to meet and interact with fellow bloggers, listen to avid speakers like Shekhar Kapur, Kiran Manral, Anaggh Desai, network with social media influencers and brand custodians as a part of this event!
We would love to meet you in person! Give us your most creative post this time to WIN for WIN!
Submit your posts in the comments form below
This post has been written as  part of the WIN '14 Activity at BlogAdda

The last date for this activity is Friday, January 31, 2014.
Looking forward to your entries 🙂
UPDATE
The winners for this activity are as follows:
http://amarnaik.com/2014/02/02/little-angel/
http://momdiary.blogspot.in/2014/01/compliments-how-they-enrich-us.html?m=1
https://parthasadhukhan.wordpress.com/2014/01/28/the-blogging-mantra-win/
These are the combined list of winners for the WOW as well as WIN Contest! Congratulations! Each of you wins a special pass to WIN '14! To collect your pass please send in a mail to us at win@blogadda.com.