Vishakha who was basically from Mumbai but working in Delhi was travelling in the new city to meet friends in the evening. She was travelling in a cab and was not quite sure of the way. Plus, the lanes were deserted and that really scared Vishakha. Her friend Anusha who was from Delhi had advised her that in a situation like this, you should immediately call someone you trust and tell them about your whereabouts, cab number and location. Doing so will strongly demotivate the person from doing anything dangerous because the chances of him getting caught have obviously increased. This advice from her friend proved very useful for Vishakha because she immediately called her friends who were waiting for her and felt so much more relieved and safe.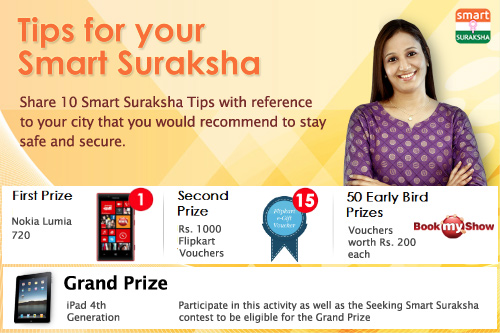 When it comes to your safety, there is no other option but to be Smart! When we are caught in an unwanted situation, there's nothing that strikes us owing to the fear created and we end up landing ourselves into more trouble instead of getting out of the situation safely. It is always better to keep some tips ready in your head so that you, even as an impulse reaction, do the right thing and end up safe. Smart Suraksha App is one such application for Android phones which at the touch of a single button sends your message of help to five pre-chosen contacts on your phone. Another great feature of this app being that along with your message, it also fetches and sends your location to the chosen contacts even if the GPS setting on your phone is switched off. This ensures that at all times you are reachable to your close ones and that your safety is ensured. For this activity  you have to write 10 smart tips for being safe in your city because no one knows your city better than you. Who else would you come to for advice regarding safety, other than to the residents of the city. Write tips that you follow or you think are utterly useful in times of emergency or dangerous situations. This is your chance to be of help to other people who might face tough situations and the tips you share may help them avoid danger. The Prizes to be won for this contest are as follows:
1 Best entry will win a Nokia Lumia 720 Phone.
15 Fantastic posts will win Flipkart Vouchers worth Rs. 1000 each.
50 valid entries will win Early bird Vouchers from BookMyShow worth Rs.200 each.
If you haven't participated in the fist phase of the Smart Suraksha Activity, we would like to encourage you to do so at the earliest because then you are eligible to win a Grand Prize! Only if you participate in the Seeking Smart Suraksha Contest as well as this contest for tips, you are eligible for a Grand Prize apart from the ones mentioned above.
The Grand Prize for this activity is The iPad 4 th Generation.
Kindly include this code in the post:
I am sharing my Smart Suraksha Tips at BlogAdda.com in association with Smart Suraksha App.
Jot Down Your Tips Now!
We look forward to all your useful tips for this activity! Entries for this contest are open till November 6, 2013. Terms and Conditions. (PDF)