We have got news to make your monotonous Working Wednesday a little happily exciting!
You all told us  'All That Matters is…'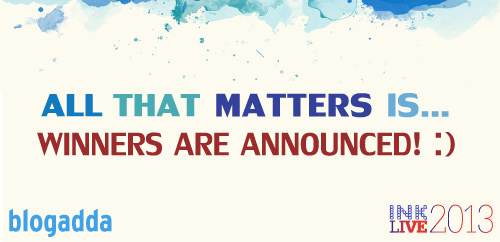 We got amazing responses for the same. Everybody had their own version of what matters to them the most in their life. For some it was their parents, for some their job and ambitions, for others their reputation and for a few just living a simple life was what mattered.
We're here with the Results for the All That Matters is… contest for INK LIVE. We had announced that there would be only eight winners but the responses were so awe-inspiring that now we have fifteen winners, whose posts left the team at INK spellbound.
BlogAdda proudly announces the winners, who win the once in a lifetime opportunity to attend the INK LIVE 2013
Diwakar Narayan
Shefali Rao
Bellybytes
Proactive Indian
Congratulations to all the incredible winners!
Leading thinkers and doers from around the world gather together at the INK conference for an inspiration of a different kind.
May you enjoy the INK LIVE Conference at Kochi this October 2013, an event which everyone dreams to be a part of.
We request you to mail us your contact details as soon as possible.