What is all that matters to a person? His daily bread? His family? His ambition? Or his dreams that teach him to fly and foster his talent?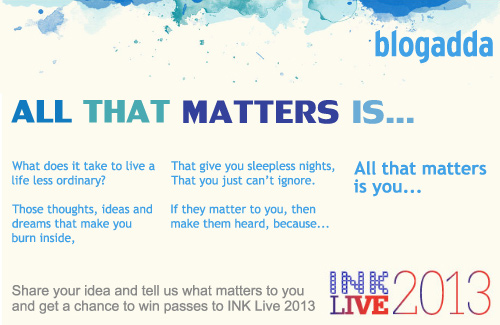 What is it that makes a person live beyond his fears? What makes a person determined? What is it that encourages him to perform with a new vigor even after a dreadful failure? What makes him value patience and tolerance?
Lessons of life come through ALL THAT MATTERS to every individual in his journey towards his goal.
BlogAdda, in association with INK Live 2013, brings to you a contest that will make you delve deep into your dreams to bring out the nub of what you desire to achieve. It is something that one just can't ignore till it comes to him with flying colours.
As a part of this contest you are required to blog and tell us about "ALL THAT MATTERS" to an individual.
How do you think your life revolves around it, what makes it essential for you and why?
Blog about the idea and share the link with us in the comments below. Also copy paste the code that is provided below:
This post is written as a part of 'All that Matters' contest at BlogAdda.com in association with INK Live 2013.
Eight incredible bloggers will be chosen as winners, based on their entries, who will receive INK Live passes and goodies.
Last date to submit your entry is: July 31, 2013. 
Start writing and be the one to attend INK live 2013.
– INK Conference, in association with TED
Leading thinkers and doers from around the world gather together at the INK conference for an inspiration of a different kind. These include artists, scientists, designers, explorers, CEOs, entrepreneurs and more. The past speakers include Oscar winner, director James Cameron, spiritual guru Deepak Chopra, award winning designer Philippe Starck, creator of 'The Simpsons', Matt Groening, among others. This year, INK Conference is held in Kochi for 25th- 27th October.
– INK Live
Targeted specifically for the main change makers of today- the youth, INK Live is a stimulating experience created around the live telecast of the INK conference from 25th – 27th October, with simultaneous workshops, contests, speaker interactions, and more. With attendees from India and different parts of the world, one can explore the ethnic, social and professional diversity of the world. It will be a perfect break for everyone who wishes to catch a break to engage, interact and learn.
For more information visit www.inktalks.com/inklive