Don't threaten me with love, baby. Let's just go walking in the rain.- Bobby Rain.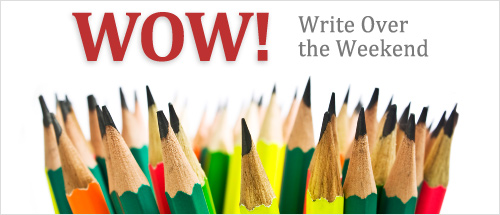 Write Over the Weekend theme for this week
On a Rainy day…! Write a post starting with this line.
Are we all set? Start writing and keep blogging. Remember, you have time till Sunday midnight!
Include this code:
This post is a part of Write Over the Weekend, an initiative for Indian Bloggers by BlogAdda
---
What is WOW?
With social media taking over our lives, do you feel your blog is not getting all the attention it deserves? Are you one of those who want to write, but are either spoiled for choices or having nothing that is inspiring you to write? We, at BlogAdda, understand just that and thus decide to bring to you an initiative that you shall await just as eagerly as you await weekends. We are very happy to announce a brand new initiative at your Adda which will rekindle your love for writing again. Presenting to you 'WOW – Write Over the Weekend'. Write Over the Weekend (WOW). As the name suggests, we at BlogAdda want to rekindle your love for writing. We want you to continue writing just for the love of it. We want to bring your creativity back to the fore. We want the community to know you for your creative writing. It is as simple as that.
WOW! This is exciting. What do I do next?
We want it to be very simple. Every weekend (well, almost), starting from today, we will announce a theme on which you can WOW. You can submit your blogpost links in the comments section below. The best entries will get special badges to flaunt on their blogs.
Update: All the posts that were a part of Write Over the Weekend were really WOW. This theme was all about love, crushes, beauty of rains and much more. 
Importantly, we welcome the all the new bloggers who wrote for WOW for the first time. We promise you exciting times ahead.  Time to feature the entries that were really really good. The special posts of this edition are: 
http://www.fewmiles.in/2013/06/rain.html
http://www.factfiction.in/2013/06/autobiography-of-girl-child.html
http://d-moving-finger-writes.blogspot.in/2013/06/perspective-visions-dreams.html
There were some more posts that were good but we expect more from them and would want to see them in the above list. They are:
http://itisays.blogspot.in/2013/06/the-winter-rain.html
http://ideasolsi65.blogspot.in/2013/06/the-coffee-shop.html

 (Couldn't make it to the top as the post didn't start with 'On a rainy day…')

http://chowmiaow.blogspot.in/2013/06/dont-threaten-me-with-love-baby.html
http://rainbolyf.blogspot.in/2013/06/on-rainy-day.html
http://kowthas.me/2013/06/28/rainy-day/

 (Rads, you forgot to add the code, due to which it is not in the top list)

http://just-a-little-time.blogspot.in/2013/06/on-rainy-day.html
http://thankgodforlife.blogspot.in/2013/06/rain-break.html
http://borntrekkerinindia.blogspot.in/2013/06/on-rainy-day.html
http://storiesinmoments.wordpress.com/2013/06/30/what-a-grand-liberation-2/
http://lipglossaffairs.blogspot.in/2013/06/on-rainy-day.html
All those who are featured in WOW can now flaunt the WOW badge on your blog. Download your badge now!