Where has your El Rey been? Some place fancy? What are we talking about?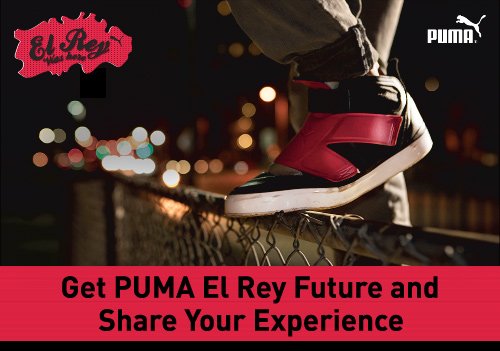 "Style is a way to say who you are without having to speak" – Rachel Zoe.
BlogAdda presents the '3Ws'. What is it?
WEAR the Puma El Rey Future, WALK around with it and WRITE your experience on your blog about the trendy pair of shoes. Only 10 special bloggers will be given an opportunity to experience the shoes. As a part of the program, each blogger will be given a chance to own and try the new El Rey Future from Puma. Each blogger is required to share his/her experience in the form of tweets, images/posts on Facebook & a review of El Rey Future on the blog.
Get up and apply now to walk in it 'coz you could be one of the 10 Bloggers, who will be selected and given a swaggamuffin pair of El Rey Future shoes worth Rs.7000.

Also, check out this amazing contest that Puma is organizing 'WHERE HAS YOUR EL REY BEEN? SOME PLACE FANCY?' contest. Check it out and get a chance to win a trip to Spain. More details @Â http://www.pumashop.in/elreywashere/