A healthy recipe works well to rejuvenate a sick, frail and feeble. Inspirational stories works well to revive a dismal soul.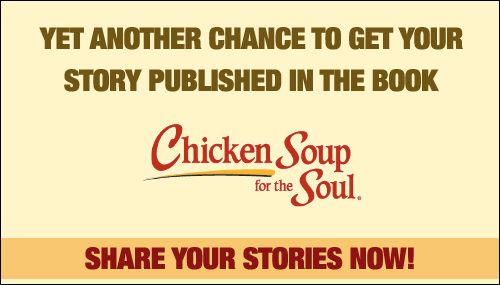 Does your writing skill have the power to make your readers cry, laugh or get goose bumps(the good kinds)?
Does your thoughts come directly from heart that can heal a sick and uphold a disheartened soul?
Then pen down your stories/experiences because that is the recipe that can get your story featured in Chicken Soup for the Indian Entrepreneur's soul
Blog and make your readers feel that they are actually in the scene with the people.
As you proceed with the recipe put in the best ingredients so that you end up with a lesson learned or a pay-off.
Follow a few simple steps to earn yourself a Chicken Soup
Blog about a person who has inspired you by doing extraordinary things in an ordinary way.
Ensure that you introduce the character(s)
Write the story in first person
The story should start with action; it should include a problem, issue or situation and end in a result, such as a lesson learned, a positive change.
Include dialogues and characters that express feelings
Let it come from your HEART!
Include this code in your post and share the link with us.
I wish to get my story published in Chicken Soup for the Indian Entrepreneurs Soul in association with BlogAdda.com
Some themes that you can help you in identifying the person are:
Thinking out of the box
Having faith/ believing in your dream
Having courage
Taking risks
Learning
Time Management
Team spirit
Stories of Leadership
Life lessons
Overcoming adversities
What a Chicken Soup for the Soul story IS NOT:
A sermon, an essay or eulogy.
An "as told to" story written in the third person.
A term paper, thesis, letter or journal entry.
About politics or controversial issues.
A biography or testimonial.
Story Specifications
Stories and poems must be non-fiction and should be no longer than 1,200 words.
No anonymous, author unknown or "as told to" submissions, please.
Please submit only stories or poems that have not been previously published.
If your story gets published: 
Westland will pay you Rs. 1000 per story
You will get 2 copies of the book.
Update:
We have two bloggers who have been shortlisted and their stories are surely going to get published. They are:
There are more bloggers who would be added to the above list. For now, congrats Richa and Anurag. Party banta hain boss!