Share with us your views on designing future and get access to witness INK Live and INK Conference. Presenting to you the second interview of the conversation series with INK Fellows 2012.
Shubhendu Sharma, a self described Eco Entrepreneur talks about his venture Afforestt; shares with us strategies for protecting our environment and many interesting things about his profession, career and life at your adda today. Our Premium Blogger Rekha Kakkar has prepared these questions for Shubhendu. Read this interview and get inspired to create some awareness regarding our nature. 🙂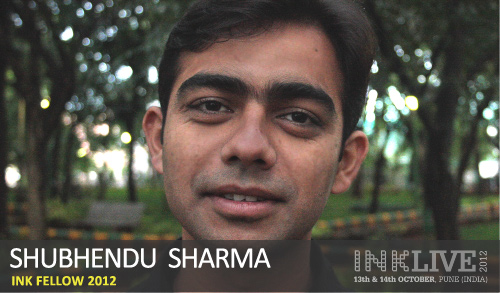 Q: Tell us about yourself and your venture Afforestt? What it is all about?
A: I am Shubhendu Sharma, I make forests.
I was born in Kashipur (Nanital), Uttaranchal. Did my schooling at a catholic convent school till 8th Std and 9th to 12th Std at a Hindu Intermediate College.
Science and engineering, machines mostly; always fascinated me, so I persuaded my engineering from BVBCET Hubli, Karnataka, India, in Industrial and Production Engineering. I did quite well in college, presented a research paper on material testing and the machine I built for my final year project stood 2nd in the state-wide annual competition for engineering projects, I got an award from the Minister of Higher Education Govt. of Karnataka for it. Also, I contested and won the election of student's union for the post of General Secretary in final year of my college.
Marks-wise, I have never been great in studies and though I never failed, I never scored a first class during my schooling.
I joined MindTree Ltd. as a Programmer Analyst; I secured this job through a campus interview in college. Soon, I found myself unfit for the software job and left it for good.
After a good amount of struggle, I found myself recruited at World's best and biggest automobile company 'Toyota'. It was a dream job for an Industrial Engineer and I enjoyed every bit of it!
And, it was there in Toyota that I learned about afforestation and decided to make a company which creates forests, Afforestt.
Afforestt is an end to end service provider for creating native, wild, maintenance-free forests.
Afforestt works on a unique methodology based on Miyawaki Method by world renowned scientist Dr. Akira Miyawaki (Director JISE-Yokohama, Japan).
Based in Bangalore, India, we create forests irrespective of geographical location, soil and climate conditions.
Working with Afforestt gives you the following benefits:
10 times faster growth rate.
30 times more trees planted in a given area compared to conventional plantation methods.
ZERO water requirement after 2 years.
No maintenance required after 2 years.
No chemical fertilizers, hybrid or GM saplings used.
A mix of minimum 40 different native species of trees.
30 times better noise, dust and CO2 absorption.
Intensive growth monitoring for 3 years with SIX SIGMA 5C compliant Key Performance Index reporting.
LEED Certification (Platinum) points:
30 times more points for number of native trees planted
Points for zero water requirement
Negative carbon footprint
Bird-friendly
Natural bio-diversity restoration.
Points for planting Native Species
Afforestt not only provides end to end service for execution of plantation, but we maintain the forest for first 3 years (after that it sustains itself naturally).
We are also a part of WWF's Cities For Forest campaign.
Q: You call yourself an Eco Entrepreneur. Do you have any strategic advice to protect the environment?
A:
Avoid making lawns. They consume a lot of water and provide just a single layer of greenery. Rather than making lawns, we must plant trees; trees occupy less space at ground and cover three dimensional spaces with greenery, leaving the ground free. Native trees do not need maintenance, so always plant native trees.
Compost your kitchen waste. It's very simple and internet is full of methods about how to do it.
Grow some vegetables in your house, in the pots, on rooftops and balconies. Use your kitchen waste manure to make them grow well. This is not just for sake of good environment but for your own personal health. Join this group, some fabulous people are doing it already.
Q: What prompted you to turn from Industrial engineer to Eco engineer? Have you always been concerned about the environment or something prompted you to work in this direction?
A: Well, after my first six months at Toyota, I came across scientist Dr. Akira Miyawaki, who gave us a presentation of his work done in past. And that was it. I was so moved by his work that within seconds, I realised that this is what the world needs right now. And I decided to be a part of it.
I had no background of environmental sciences or botany, but I was desperate to create forests just like Dr. Miyawaki did in our Toyota factory. So, I shamelessly copied the Miyawaki methodology and stated improvising on that. For next 2 years, I researched and experimented around Miyawaki method, I reduced cost of the processes by applying different techniques and reduced the materials required by the original Miyawaki method. I studied and experimented at my father's land in Uttaranchal. And finally, I developed a methodology which could create 100 years old forests in just 10 years, just like Miyawaki method but at one third of the cost.
Q: Beside setting up forests, are you involved in any other activity regarding protection of environment and what changes have you made in your own life to reduce your carbon footprint?
A: Since 2009, long before Afforestt, I am involved with a highly energetic runners group called 'Project X'. This group runs to a public place and cleans every single bit of dirt from it, we run back with the garbage collected and dump it responsibly. We have been doing it at forests, hills, temples and picnic spots. The group is not very active on internet but you can find some images of the activities here.
Well, I don't own an automobile. I use cycle to commute to nearby places and public transport for anywhere else. These are not some changes which I made; I have always been like that.
Q: How does Afforestt function? Is it a commercial venture or just a proactive step in direction of conservation of environment?
A: Afforestt is a commercial venture; we are in the business of creating forest.
Our services include provision of all the material, machinery, manpower, professional methodology and management required to create a forest. We take the entire responsibility to develop a self-sustaining forest within 3 years.
We charge for our afforestation services (one time) and for maintenance services (monthly once for a period of 2-3 years) for the square meters of the area covered.
Q: What have you found to be the most effective strategies in your track record of success in battles for the environment?
A: Creating forests in individual houses and around apartment buildings has been the most successful strategy so far. We have planted forests of 300 trees in just 1000 sq ft(100 sq mtrs) area in houses, a forest in a house will provide seasonal fruits throughout the year to the residents. The building's treated sewage water is used to water the forest. Hence, no polluted water goes out of the building, moreover, it gets filtered through the forest and charges ground water table.
These in-house forests filters polluted air, reduce noise and retains ground water. Also, it cools down the micro environment. Thus, cuts of the air-conditioning expenses and gives you fresh air.
Q: What are your main challenges while working on a project and can Afforestt method work in a place where soil conditions are very poor and very low rain fall?
A: Every small problem is a main challenge when you want to execute a project perfectly, they are unique each time. Solving these problems is our job and we do it quite well.
Yes, we can create a forest even in arid lands, poor soil conditions and low water availability. Our robust methodology is based on Potential Natural Vegetation, that is: we create a forest native to that land. Such native forests are already adapted to the geographical climate conditions. We have successfully created forests on barren lands which have seen multiple failures of greenery restoration before.
Life really does come back if given a chance.
You have a chance to interact with Shubhendu Sharma at INK by blogging about 'How would you design the future?'. Share your thoughts and win 15 passes for INK Live and 2 passes for the INK Conference. What are you waiting for? Write Now!