Most of us are food lovers. We all drool at the sight of our favourite dishes. Don't we! BlogAdda presents you with one such person who loves doing both 'cooking and eating'. Aditya Bal, the host of your favourite cooking show on NDTV Good Times- Chakh Le India, is here sharing his views on cooking along with some insightful cooking tips and many more interesting things. Read this short  and entertaining interaction with Aditya and get to know what actually inspired him to come up with his first cook book.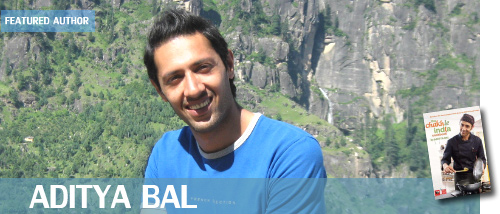 Q: Tell us something about your book and what should readers expect from it.
A. It's my first cookbook and it is based on my cookery show on NDTV Good times, Chakh Le India. It features 75 selected recipes from the first two seasons of the show and also from our other show, Chakh Le Academy. I think readers can expect to find an interesting mix of recipes from around our country; written in detail with a focus on keeping things as simple and easy to understand as possible. The recipes, of course are not set in stone so to speak and can be versed by the cook in any way they like.
Q: What do you like to indulge in when you're not writing?
A. I travel on work and to explore different places on my own as well. I am cooking most of the time or reading, but mostly work related activities take up most of my time.
Q: Give 5 basic cookbook writing tips to new writers.
A.
Read lot of cookbooks and recipes. It helps you to understand the language of cookbook writing, so to speak.
Take your time to choose your recipes, then cook them and record every little detail properly.
Keep things simple. List ingredients in the sequence that they would be used in a particular recipe. It helps the cook to understand the recipe better.
Don't leave out minute observations like changes in colour, firmness, shape or structure of an ingredient.
Develop a comfortable pattern, style and language. Make it personal. Give yourself plenty of time.
Q: Who is the inspiration behind your gastronomical escapades?
A. My main inspiration is food itself; the chefs, kitchens, cooks, great restaurants. All serve to inspire me on a day to day basis. Cooking is a very satisfying thing to do I feel and that is always a great reward and inspiration to me.
Q: What is that sets apart a writer of a cookbook from other writers?
A. I think each writer has his or her own style of writing, explanation, language and cooking too. So, each is different from the other. I like book that has  a good amount of fundamental techniques and cookery, those that explain 'why' more than 'what' are always more useful for those who are looking to better themselves in the kitchen, I feel. But you have some great simple recipe books too!