'Dream and give yourself permission to envision a You that you choose to be' – Joy Page. Today, we have our 'Premium Blogger' Shivya with a wonderful post at your Adda. Shivya, the post is all yours. 🙂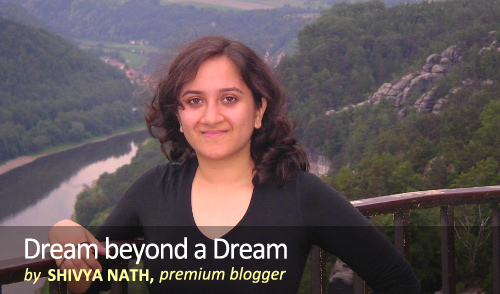 In the last few months, I have received several emails and Facebook messages from long-lost friends and complete strangers, telling me their life's dream and seeking advise on how to chase it. I am no life coach or motivation speaker to tell them that nothing is impossible. The only reason their dreams have landed in my inbox is because one year ago  I quit my cushy corporate job in Singapore to do the one thing I love – travel. I am now a travel blogger, I write for travel publications, I run a small travel enterprise in India, and I freelance for travel companies in the online space.
As kids, we are encouraged to dream, both at home and in school, about what we may want to be when we grow up – astronauts, writers, detectives, or just about anything that tickles our fancy. A few years later, the same people tell us to suck it up, face reality, and aspire to be engineers and doctors, and in the more recent version of growing up, investment bankers. We lock up our childhood dreams, which have now evolved into something more concrete, in a quiet corner of our heads and swallow the key. We throw away our creative hats and bow our heads, now to crack the board exams, now to pass the entrance exams, now to make it through college, now to land in a good MBA school, now to fight for the best 'package', now to settle down aka get married and have kids. 10 years later, no one cares how much we scored in our boards (do you even remember?) and it doesn't matter if we remember the definition of a good leader. We have however, started looking for that key we swallowed.
Last week, a gentleman from Pune wrote to me about how he has wanted to travel across India and the world, and study each country from a historical perspective. It's been his dream ever since he took his first trip with his father and read his first history book. He has put that dream on hold, first because it didn't impress his parents, then because he couldn't really build a career out of it, and now in his early forties, he thinks it might be too late, what with a wife and two kids who rely on him financially.
Somewhere deep down, he probably knows how he could have fought his battles differently. So, I tried to show him that he still has important choices to make. A bulk of his expenses goes towards his children's education, i.e. towards the same system that crushed his dreams. Would he consider home-schooling them? His day job is IT, but that still leaves him with evenings and weekends where he could slowly start pursuing his dream. Could he try to get associated with a historical researcher and travel weekends? The possibilities are still endless, I told him, but also a factor of what he is willing to sacrifice. I never heard back from him and to be honest, I don't know everything about his life and situation to think that he can still chase his dream.
His story and the stories of many others usually start and end the same way, with the thought that you have to be really lucky to spend your life doing the one thing you love. I think luck is a small factor, definitely smaller than the things you'll sacrifice on the way. Definitely smaller than the perseverance you need to win your battles. And battles, there will be plenty. From my own experience, I'll tell you this: If you want it badly enough, you'll find a way to convince your parents, you'll find the guts to tread paths that only a handful have trod before and you'll find ways to make at least enough money to survive. If after all this you don't make it, you won't spend half your life wondering what if you had tried.
His story makes me wonder about my many friends, who Facebook tells me are already getting married and having kids. Are they putting their dreams on hold too? Dreams that don't revolve around 9 to 6 jobs, dreams that they have been told all their lives are silly and impractical, dreams that are different from what the Indian society categorizes as worth aspiring for. I hope not.
Shivya blogs at The Shooting Star, tweets @shivya, and can be reached at shivyanath@gmail.com.