Fellow bloggers in Delhi/NCR, do you love creating and listening to music? If yes, here's an opportunity that you should not miss!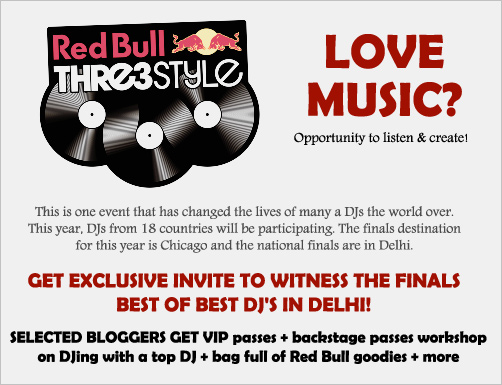 A chance to be a part of Red Bull Thre3Style National Finals and attend one of the most coveted workshops around.
Red Bull is organizing a Thre3Style event, an International DJing competition where participants mix a selection of any three genres or styles of music in 15 minutes (Winners from different countries including India, will get a chance to fly to Chicago and participate in this International Thre3Style Competition – we hope that the World Champion is an Indian! 😀 ). Currently it is in its last leg in India and the National Finals are to be held next week in Delhi.
BlogAdda and Red Bull present you an opportunity to not only go and witness the National Finals  to be held at Delhi but also try your hand at mixing your own sounds on the DJ console guided by a top DJ. The ideal motive of this workshop is to give the bloggers an ultimate hands-on DJ experience.
The participation criterion for the event is very simple – Yes, yes we know you love us! 🙂
Tell us how interested you are in music/ lifestyle through a post on your blog.
Once you are done, click on the form below.
Fill details and share your blog posts, based on which selected few bloggers will get a chance to be a part of this exclusive event and workshop.
Handpicked bloggers will get VIP passes to the Red Bull Thre3Style National Finals including backstage access, loads of Red Bull goodies and more.
If you have not posted anything related to music/lifestyle in your blog, then don't worry. There is always a new beginning. Do it now and then submit your blog post(s).
Express your interest now!
The last date for expressing your interest is Aug, 22, 2012. 
Details about the Event and Workshop
To give you a sneak peak of the event, Shveta Salve will be hosting the regional finals and Nikhil Chinapa & Pearl will judge and play at the Red Bull Thre3style National Finals. Isn't that cool and exciting?
           Venue: Blue Frog, New Delhi
           Date: 24th August, 2012
           Time: 6:30 PM onwards
So, what are you waiting for? Get grooving! However, do fill up the form correctly since the selection pattern is based on whether your blog is fit for such genre of events.
And yes, don't forget to practise a few DJ moves while filling out the form, who knows they might come handy at the workshop and the event! 😉