Almost all big budget movies these days have a separate filming crew on sets, who film "behind the scenes" and "making of the movie". The logic being that, if the movie takes the box office by storm, this is what the marketing geniuses would term as "bundling" and sell to bring in the extra bucks. However, keeping those jargons aside, they do make an interesting watch. It is almost giving a glimpse of all that went in the minds of those who created the masterpiece.  Have you ever wondered if there was such a thing for a best-selling book? Wouldn't it be wonderful to know what provoked the author to write those beautiful lines, which when we set our eyes on, take our breath away?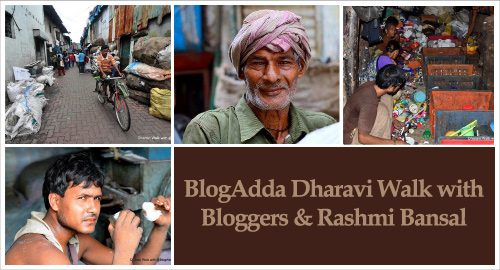 Well, this Sunday we created an opportunity for bloggers in Mumbai on the similar lines. Rashmi Bansal's latest book Poor Little Rich Slum was the pick and we set out with the author and 15 bloggers to discover what went into making of the book. The book covers Dharavi in a very innovative way and as Rashmi rightly says, it is not a book that shall make you feel bad about the poverty all around the area, instead you shall be inspired by the richness – of the industries that flourish and the spirit of the people who never say die.
Armed with our cameras and notepads, we set out for one of the most amazing Sunday morning escapades ever. Rashmi, Fahim, Tauseef and Salman from Be the Local Tours were the best guides we could ever have. Over breakfast, as we heard how two boys from the very slums we had set out to discover, helped set up a tour for all others which gave the visitors a true glimpse of the life within the periphery of the stretch of 1.75 sq kms – it was the perfect setting for an eye opener journey.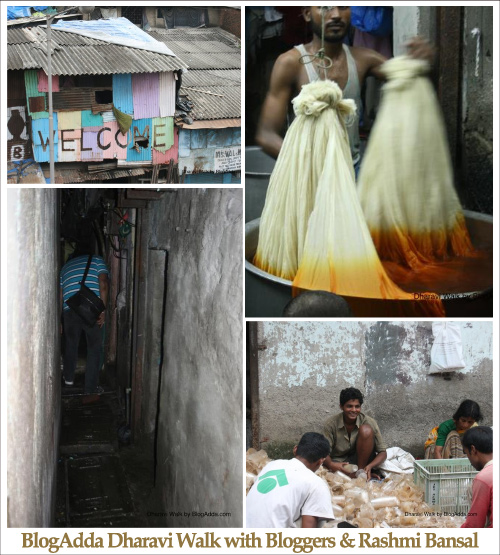 We started the journey from the industrial end of Dharavi – a glimpse into all those small scale industries which form the backbone of all those big corporate; our state economy relies upon. The small dungeon like rooms leave a little to imagine about the kind of life the workers lead there. However, the spirit and the handiwork of the workers left us spell bounded. The industrial ground is actually the perfect marriage of tradition with modernity. Thus, while there are dyeing units that still use the age old drums to dip, dye and dry, there are fully computerized units that do not require any manual intervention to embroider lovely designs.
Every step there was as if learning a new chapter about life in this state. How much this city stores, awes us each time we think about the myriad of recycling units that are housed in Dharavi. An entire unit of Muslim craftsmen making small shrines for deities, a feature common in Hindu homes yet again displayed the unity beyond barriers of religion and caste. The usage of the last bits of scraps from discarded wires, cans and even the plastic yoghurt cups that we throw away; was a wonderful insight of how every material that exists around us has a value – only we should know how to extract it.
In an era where we think that we need an entire set up of peripheries to work efficiently, the workmen of Dharavi teach you to be self sufficient. Every small unit was a glimpse of the big struggle and every man who had a satisfied smile was a hero who had braved adversities and found his ground there. The bakery unit that supplies to all the best Irani cafes in the city would leave you aghast if you went to scrutinize the working conditions, yet the precision with which the workers worked would even put the best of the computerized assembly line processes to shame.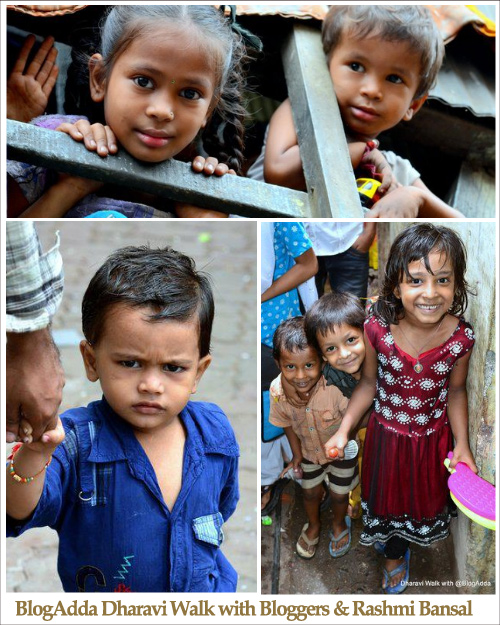 While the industrial area does inspire us to wonder if we really underestimated the wealth that was being generated here, the residential area makes you wonder whether it is actually enough? Little dingy narrow lanes, bereft of sunlight, 10×10 feet rooms housing families with an average size of six – if that sounds impossible to be true then we shall spare you the details of the dumping ground that surround the area. Yet, there's a spirit to live well. The floors are all cleanly swept and the utensils are sparkling like mirrors. TV, fridge, LCD's – they are not uncommon here. There are engineers running their own online firms from home too. All there at Dharavi and to think of it, till that Sunday we survived with the only the notion as seen in Slumdog Millionaire.
The residential area did sink our hearts. Our respect for Rashmi increased by leaps and bounds when she told us how during her research here for the books (which lasted for 9 months) apart from the innumerable trips, she had also spend a few nights in one part of Dharavi. Guess it truly needs a person with insight and hands on experience to write a bestseller.
The next stop was a soother to the sad eyes; the pretty area of Kumbharwada lined up all the pottery which the city houses. Predominantly a Gujarati community area, it houses lines and lines of pots, making wheels and kilns. The wheels range from manual to the latest electrical ones and the kilns use scraps from the nearby tailoring shops to bake the products.
The journey of three hours was lined with Rashmi telling us all the research and the true stories that went into writing the book. However, such a trip couldn't have been completed without meeting Jameel and Bina Ma'am who helped fulfil that quest. A runaway boy Jameel's story is no less than the modern version of Cinderella mixed with an Amitabh Bachchan starrer hit of the 80's. Sheer perseverance helped the dancing enthusiast start his own dancing shoe making factory and today after starting from scratch, he is the proud supplier to half of the Bollywood superstars and Indian dancing reality shows. Bina Ma'am's story on the other hand is a true depiction of how guardian angels live on. A teacher by profession, she depicts the zeal that runs through almost all residents of Dharavi; to think about fellow residents and help their cause. She started by giving free tuitions to economically weak students and today stands tall with a trust to her name that runs a primary school, extra-curricular classes, an old age home – all for the residents of Dharavi.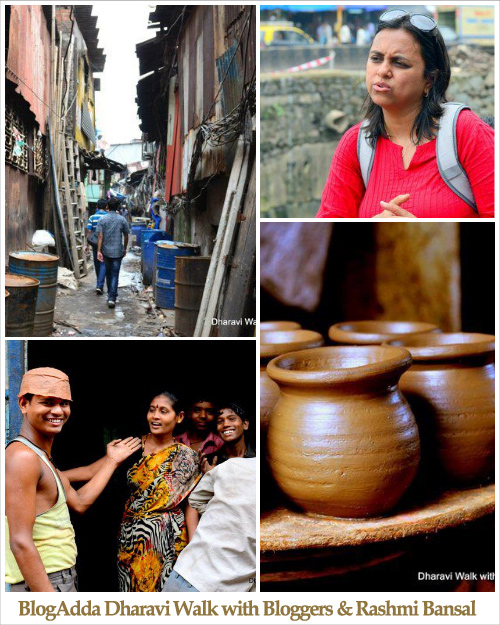 Seldom do we be glad of a Sunday morning when breakfast is not served in bed and we can stay in our night clothes for as long as we desire, yet this was one of those rare ones this Sunday. A small tour of two hours left many of us wondering about life, counting our blessings, thanking authors like Rashmi who prove to be eye openers and yes blessing souls like Fahim, Salman, Tauseef, Jameel, Bina and all others. It was a Sunday that made us question that what is a life worth if a bit of it is not dedicated to dreams and the society we live in.
You can view more pictures on our Facebook page.
Note: We extend our warm gratitude to Ms. Rashmi Bansal and Westland Books for agreeing to this idea of  Dharavi Walk. A big group hug to all the wonderful bloggers who joined us on the journey and whose easy going ways, wit, smiles, jokes and insight made the journey a memorable experience. A mere 'thank you' would belittle the efforts of Fahim, Salman and Tauseef from Be the Local Tours who planned this walk with us meticulously over days, still we hope that it conveys our deepest regards as also to Jameel and Bina Ma'am – for showing us the true rich spirit that surrounds Dharavi. Special Credits to our fellow blogger and participant at the walk, Mr. Shishir Dhulla for clicking the wonderful photographs for us and never missing that perfect moment which we all wanted to frame forever. A Sunday made memorable by all you lovely people.