This Monday we are in conversation with an Indian writer and a journalist. He is the author of Tamarind City: Where Modern India Began, which is a portrait of Madras, now known as Chennai. When he is not writing, you would find him involved in activities revolving around Scotch, Spiritualism, Yoga, Travelling, Fountain Pens etc. Let us know more about Bishwanath Ghosh.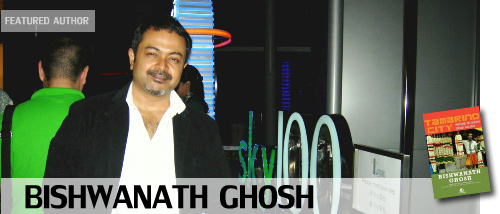 Q. Tell us something about your book and what should readers expect from it.
It is a portrait of contemporary Chennai. I don't think there is any such book about the city so far — though there are several about Delhi, Mumbai and Kolkata. The reader can expect a pleasant (and at times eye-opening) ride through Chennai, through its culture, through its history, meet its people; with me as the guide.
Q. How do you ensure that locals open up to you and don't see you as a curious invader of their privacy?
Locals? I've lived here for eleven years to be a local myself. I am very much a citizen of Chennai- a curious citizen.
Q. If you were given the opportunity to write the same book again, what would you change?
Nothing as of now. Maybe a few years later I might think differently.
Q. What do you like to indulge in when you're not writing?
Reading and watching Kishore Kumar and R. D. Burman songs on You Tube.
Q. What do you think makes a good story?
Anything that makes it difficult to take your eyes off the page.
You can read more about him in this interview & review his book today.