"It is common sense", the editors are screaming that the land of Bastar is often haunted by malaria and other deadly diseases. Journalists should survive on portable water and whenever such incidents happen, it is to be noted as "sad". Instead of owing up to the fact that there should have been trainings in place, a precautionary handbook in existence, it is better to delve into reminiscing of how the young and jovial man was a wonderful asset to the company, but alas is no more.
Out of about 20 blogs posts that we analysed since Tarun's death all of them mused if the media was doing enough when it came to its own team? In an attempt to churn out a "breaking news" or a "cover story of a crushing zone" is the media going a bit too far and sacrificing on the basic measures that should be applicable to journalism?
It is not the first time that Tarun went for such a "dangerous" assignment, he was used to living on the edge the media reports, however the question is much bigger here – Can common parlance be enough to wash our hands of principal-agent relationship? Are previous assignments a corroborative fact that ignorance is not an excuse?
Blogger, Aditya Raj Kaul notes on his blog while musing on this very issue:
The daring blind journalism, as it seems, was undertaken without administration of malaria prophylactics to the two brave journalists who undertook the reportage. It would have been noteworthy and courageous journalism on part of the magazine, had it carried an apology instead of romanticizing his death on its website cover.
About 70% of the blogs analysed raised a question on the safety standards being ensured by the media for its journalists. Sadly in India there are none. Employer liability too is restricted in half baked legal documents, which ensure that they can rub off their hands in such cases, citing personal callousness of the deceased.
In 1981 a group of foreign correspondents in U.S created "Committee to Protect Journalists" by which they sought to defend the right of journalists when they are out to cover dangerous news. Though no formal ratification has been provided to the group by any Government, the group has ensured charting up a formal guide of protection. The document called as the "Journalist Security Guide" is divided into 10 chapters and notes the heads of "medical care" and "personal precautions" under the very first heading of "basic preparedness". The portal that seeks to uphold the rights of journalists in almost all countries notes that the disease which Tarun succumbed to should have been warned by the Teheka assignment desk on their blog.
Is it all just talk in the blog world now or is it time that this buzz will really bring about some changes in the way the media industry runs?
While we can be optimistic, the trending and analytical reports have a different thing to say. A Google Trending report generated by us (herein below) shows how the search results with respect to Tarun Sehrawat reached millions of search hits on the day his death was reported. However, not even days into his death, the searches went back to ground zero.
There are stories which the blog world has to share to say that this is not the first nor will this be the last. Atleast 5 out of the 20 bloggers have remembered such other journalistic experiences where the person has been lucky to have been saved, the media was abuzz with news of their lucky escape however, it was all blank noise after that.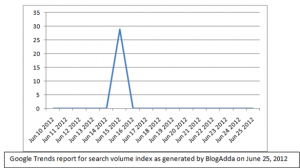 If change is to come as the blog world desires, there has to be a clear force on the social media scope that demands policy change,  that seeks to overpower the media excuses in such a way, that the very media has no excuse but to take note and act.
Will the blog world rise to such an occasion? Let us converse and take this forward.