The blog world is buzzing with the announcement of Rashmi Bansal's latest book, "Poor Little Rich Slum – What We Saw In Dharavi And Why It Matters" and we thought to add to the buzz. Isn't it always a desired thought to know the face and the mind behind the paperback, up-close and personal? We just read your thoughts! 🙂
We announce the grand introduction of our section called "Featured Authors" where we bring your favorite authors whose books you are dying to review, closer to you. A small set of questions gives you the perfect insight on what to keep in mind about the author when you are browsing through the pages. If you are wondering what if you don't apply for the review or get the book, how does that matter? Isn't it always a nice thing to know another achiever from a closer angle?
So ladies and gentlemen, we flag-off with a small tete-a-tete with Rashmi Bansal.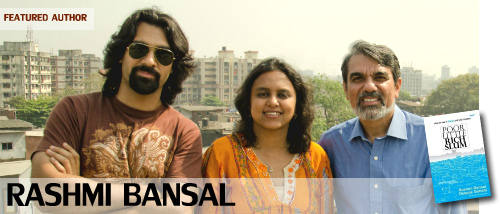 Q. Tell us something about your book and what should readers expect from it.
'Poor Little Rich Slum' is a book about the positive side of what most of us see as ugly and illegal. The conditions in slums are indeed very harsh but the way in which people manage to rise above their circumstances is truly inspiring.
In this book you will meet entrepreneurs who defy every stereotype. They are the little talked about, little celebrated, 'little Indians' whose toil and sweat fuels our economy. The next time you pass a slum, you will see it in a different light.
Q. Who/What is that person/instance in your life without whom/which this book wouldn't have happened?
The moving force behind this book is my co-author Deepak Gandhi. It was his idea. And it was his enthusiasm and persistence which kept us going with the project.
I must also thank our photographer – Dee Gandhi – who put his heart and soul into capturing the spirit of Dharavi on film. His pictures have added so much life and colour to the book.
Q. If you are told that you are to live the life of one character from your book, who would it be and why?
I would love to be Jameel – the young man who ran away from home at the age of 10 and is now making dancing shoes for Bollywood stars in his Dharavi workshop. His is a truly inspiring story and he's had such an interesting life! I think it could make a great script for a movie.
Q. The advent of vigorous social networking sites has made everyone desperate to create an identity for themselves. Being an author, what does Social Networking mean to you?
As an author, I find Facebook and twitter are great tools which allow me to connect one on one with my readers. It's especially great to have these mediums to inform junta about my schedule of events. I've also used FB & twitter to hire a virtual personal assistant and freelance designers – it worked beautifully.
Q. What do you like to indulge in when you're not writing?
Eat, sleep, laugh, read, and of course to travel!
Apply for Poor Little Rich Slum By Rashmi Bansal as a part of our Book Reviews Program.