Sunglasses have evolved over passing years, from being used just to protect one's eyes, to a must have styling accessory. Sometimes one's outfit is not complete without a Ray-Ban aviator, Versace Wayfarer, Prada or an over sized Dolce & Gabbana. This contest, will enable you to explore your fashion creativity. Presenting 'My Sunglasses, My Style' contest, in association with gkboptical.com

Here is what you need to do:
Choose two of your favorite sunglasses from gkboptical.com's website (you can even try the glasses on your face with their 'try on tool')
Describe the look you would pair it with and how would you wear it as an accessory. You might pair up your chosen aviator with a rugged look, or team up your Wayfarer, with an experimental Lady Gaga look! Hang it around your bag, or even go Bollywood's Dabbang way.
Describe why you chose those particular sunglasses and tell us about your look.
Paste the below mentioned HTML code in your blog post.
This entry is a part of the contest at BlogAdda.com brought to you by GKB Optical Sunglasses
Rules:
Choosing two sunglasses is mandatory. Also, specify the brand and model of the sunglasses you choose.
You can add product images from the gkboptical.com, with the respective website page link to the image.
Having the HTML code in the blog post is mandatory.
Your post should have all the required elements, i.e. two chosen sunglasses, the look, and how would you use it as an accessory, in order to be eligible for selection.
Prizes: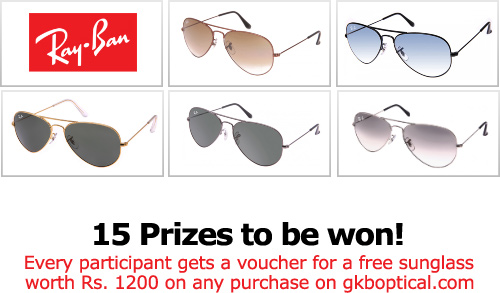 There are many exciting prizes to be won by bloggers. Here's what winners and participants will get from gkboptical.com:
Top 5 winners will get stylish Ray-Ban sunglasses (worth approximately Rs. 4690) each.
Next 10 winners will get sunglasses worth Rs. 1500 each.
All participants will get a voucher for a free sunglass worth Rs. 1200, on any purchase from gkboptical.com's website.
FAQs:
Q: Do I have to post my pictures?
A: Having your styling pictures is optional. Though, adding your pictures will make your post look beautiful.
Q: Is there a particular brand, style or price of sunglasses, that I need to choose from the website?
A: You can choose any sunglasses available on the website, irrespective of the brand, style or price.
Q: How do I submit my entry?
A: You can submit your blog post URL in the comments section of this post.
Q: Where do I paste the code in my blog post?
A: You can place it anywhere in your post. Copy the code and paste it in the HTML part of the post.
For any further queries, you can write in at contact@blogadda.com, or submit your questions through our contact form.
The last date of submitting your entry is March 26, 2012. Rush to gkboptical.com's website, and start exploring. Pen down your favourite sunglasses and describe your look. Hurry!