We have a book today which is the first complete biography of T.Balasaraswati (1918-1984), a dancer and musician from Southern India who was recognized worldwide as one of the great performing artists of the twentieth century. She also received Padma Bhushan in 1957. Written by Douglas M Knight Jr., Balasaraswati: Her Art And Life is up for review at your Adda. This book is loaded with excerpts and achievements of her life, along with pictures of her era. Read more about this book and apply if interested.

10 copies available for review. Excerpt:

This is the first complete biography of T.Balasaraswati (1918- 1984), a dancer and musician from southern India who became recognized worldwide as one of the great performing artists of the twentieth century. In India she was a legend in her own time, acclaimed before she was thirty years old as the preeminent dancer of traditional bharatanatyam. Balasaraswati was a passionate revolutionary, an entirely modern artist whose impact was proclaimed by some of the most prominent figures in contemporary dance in India and the West. Her art and life defined the heart of a tradition. Her story offers an extraordinary view of the matrilineal devadasi community and traditional artistic practice from which modern South Indian dance styles have emerged.
This deeply engaging biography draws together Balasaraswati`s personal account of her life and her reflections on the process of making dance and music. It includes the commentary of family members and dozens of contemporaries from throughout her fifty-year career, revealing hereditary artistic values and conventions that have virtually disappeared in modern India. The book is generously illustrated with rare historical photos and a duotone gallery of distinguished photographers images of Balasaraswati s dancing.
Know the Author: Douglas M Knight Jr. is a musician and independent scholar whose personal and artistic relationship with India and Balasaraswati`s family began in the late 1960s.He has appeared in performance with Balasaraswati, her brothers Ranganthan and Viswanathan, her daughter, Lakshmi Knight, and her grandson, Anirud- dha Knight. Douglas Knight has been a Fulbright scholar and a Guggenheim Fellow, as well as the recipient of other awards.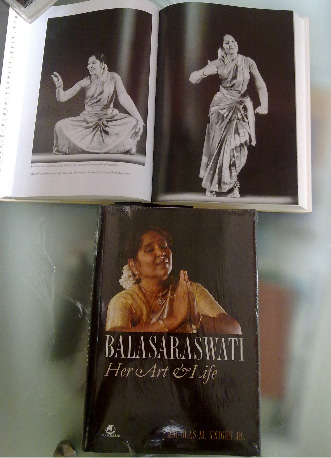 The review should be of 500+ words and should be posted on your blog within 7 days from the day you receive the book. The book is of 295 pages. In your review, tell us about the story, the writing style of the author, main characters, their description, your likes, dislikes, expectations, etc.
To be able to review this book, you need to be a registered member of BlogAdda and your blog should be submitted & approved by BlogAdda. You should also have signed up for this program. If you have already signed up then head over to let us know your interest in reviewing this book.
NOTE: Even if you have signed up for the book reviews program, you need to individually apply for reviewing every book that you are interested in. 
This book can be yours! Click here to review this book now!
Thank you for your response. The reviews for this book have been completed. Check out Book Reviews for latest books, available currently.
If you want to receive books for free and review it on your blog, then sign up for this program now!