What happens when one of the top editors of India feels that he needs to explore a medium for the love of debate, for the love of the infinite possibilities of the web, a medium where one can debate, discuss, argue and even oppose, if required uninhibitedly and anonymously, in a manner in which the mainstream media did not allow them to? He starts a blog, one which five years later would become one of the top brand names with a tremendous recall from all over the world. We are happy and proud to have Krishna Prasad, the true Mysorean behind 'Churumuri' at your Adda. As one of the top magazines said recently, 'Every city should have its own Churumuri'. Let us explore the story of Churumuri and story of Krishna Prasad in this all exclusive interview at your Adda. 🙂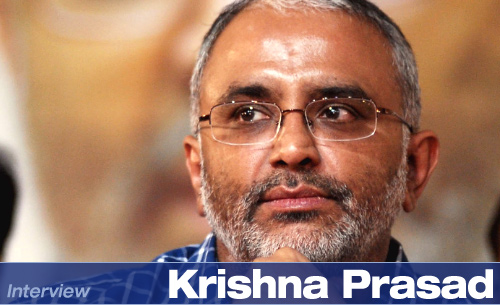 Q: When and why did you start blogging?
A: I had been thinking of starting a blog for quite some time after personal publishing was made possible by the Internet. But, as a journalist who believes that you are better dead than unread, I was clear about a few things before starting off. One, I did not want to start a blog which nobody read or noticed. Two, I was sure that my blog had to have a USP, a differentiating factor, that set it apart from the jungle of blogs that was out there, then. Three, I did not want to write a narcissistic, personal blog about myself, but a more 'public' one, one which had lots of news and views and juice. Four, I did not want readers to agree with me all the time; I wanted them to debate, discuss, argue and even oppose, if required uninhibitedly and anonymously, in a manner in which the mainstream media did not allow them to.
Subconsciously, there was also a fifth factor at the back of my mind, which was that I did not want to earn any money out of this. I wanted to do it for the love of the medium, for the love of debate, for the love of the infinite possibilities of the web. What better incentive is there for a journalist, I thought, if for almost no cost, you can reach thousands of readers across the globe instantaneously through compelling words, photographs, images and other interactive devices that now seem so commonplace but was not, and is perhaps even now not, so clear to many journalists.
The eureka moment happened around 3:30 pm on 30th March, 2006. I had gone to a convocation address being made by Captain G.R. Gopinath, the founder of the low-cost airline Air Deccan, at a business school in my hometown, Mysore. It was a prim and proper affair full of the kind propriety convocations are notorious for. Besides Captain Gopinath, there was a Swamiji on the dais, radiating an aura of faux spirituality. Gopinath started telling his extraordinary life-story in plain and simple English. He had everybody spellbound: students, teachers, parents, visitors, journalists. Then, as he began describing how he got married, he slipped into Kannada and let slip a lovely swearword: "Munde Magane", which roughly translates into son of a widow.
At that instant, I knew what my blog should be. I knew that it should capture some of these quaint and endearing things of our culture that the mainstream English media (populated as it is with language-challenged aliens) will firstly not understand and appreciate, and secondly not report because of the political correctness that has gripped us. Given the kind of place Mysore is—a city of great beauty, history, architecture, heritage, food, music, art, culture, literature—I thought such a blog would, if done well, become a neat platform for Mysore and Mysoreans across the world.
Five and a half years later, I am happy to report that Churumuri is a media brand with tremendous recall in dozens of countries of the world. Recently, an academic wrote that "every city should have its own Churumuri." The New York Times's new India site has included it in its Reading List. That was precisely my aim: to give my lovely City something which the mainstream media was no longer able to serve up.
As I told Captain Gopinath a couple of years ago, the man who launched India's first low-cost airline should also proudly flaunt the fact that he also helped launch India's best no-cost blog, Churumuri!
Q: What topics do you generally blog about?
A: Initially, I was clear in my mind that Churumuri should just be about Mysore and Mysoreans. That was its USP, its niche. And for the first few days, that is exactly what it was. But on the 14th day after Churumuri's launch, something happened that changed things. Around 2 pm, on April 12, news came in that the renowned Kannada film actor Dr. Raj Kumar passed away. I had just had my lunch and, like a laid-back Mysorean, was about to go for my afternoon nap. I had closed my eyes for my forty winks when it struck me that it would be a full 12 hours or more before newspapers would bring this news to the world. As a journalist, I also of course knew that barring rare exceptions, few of the newspapers would even capture the essence of the man. So, I abandoned my siesta and sat down to dash off a short 524-word profile of Dr. Raj Kumar, a decent and civilised Kannadiga, in whose name of course plenty of indecent and uncivilised things have been done.
That hurriedly written Churumuri profile of Raj Kumar was linked by plenty of mainstream online players like Rediff.com and CNN, among others. The next morning, I was stunned to see that Churumuri had become the No.1 blog on the WordPress platform inside a fortnight. This brought in thousands of new readers, who were not just interested in Mysore and Mysoreans. Surely, I could not turn away those who had turned up at my door. So, I was forced (happily I must say) from the initial mandate, to look at things beyond Mysore and Mysoreans.
Of course, Mysore and Bangalore remain the key focus, be it through controversies, nostalgia, literature or humour. But over the years, I have blogged about virtually everything that has interested me that day: Politics, current affairs, IT, literature, cricket, cinema, media, science, you name it, Churumuri has said something about it.
As someone who started bowling to a largely Mysore-Bangalore crowd, I realised that a good way of creating buzz for Churumuri would be to deal with Information Technology (IT) in a big way. We created a hilarious satire called 'Murthy Angadi' (Murthy's shop) around a mythical IT company called 'Sikkapatte Important Company of Karnataka'. I am happy to reveal that one former CEO of that "Most Important IT Company of Karnataka" is, in fact, a major fan and regular reader of Churumuri.
So, cut a short story long, as a jack of all trades, I blog about anything and everything.
Q: Do you ever get stuck when writing an entry? What do you do then?
A: The short answer is, no. The long answer is that I am twice blessed. For one, I am a working journalist, and a journalist who says he is stuck for words while writing is no journalist. And two, although I am proud to say Churumuri is my baby, I am equally proud to say that Churumuri is now a wonderful team effort. Many people are proudly associated with and contribute to it, with their words and wisdom.
Dozens of writers in India and abroad, many Mysorean, some not, some journalists, many not – T.S. Satyan, T.S. Nagarajan, E.R. Ramachandran, Sunaad Raghuram,  Saggere Ramaswamy, Prithvi Datta Chandra Shobhi, Gouri Satya, Chetan Krishnaswamy, Nikhil Moro, Shashikiran Mullur, Arvind Swaminathan, Palini R. Swamy, Pritam Sengupta, Sharanya Kanvilkar, Ramya Krishnamurthy, Prashant Krishnamurthy, et al – have been regular contributors to Churumuri for a long time now, and from wherever they are. On top of it, I receive tens of contributions and links and ideas every month. All of them keep the Churumuri machinery well-oiled. Plus, I post plenty of links, excerpts, opinion polls, photographs, cartoons, all of which keep Churumuri constantly buzzing.
Q: Churumuri is Kannada for puffed rice. Explain why did you name your blog as Churumuri?
A: Churumuri is a dish unique to Mysore. It is both tangy and spicy. I named the blog Churumuri because it has a nice ring to it and because I wanted the blog to be both a bit of both, sweet and spicy, not one or the other. So, while the best things of Mysore—the palaces, the roads, the lakes, the food, the music, the memories—can send Churumuri readers to sweet raptures, they also know that Churumuri loves to tilt at the windmills of political correctness by bravely taking a contrarian stand. As for the spicy part, despite being proudly Mysorean and Kannadiga, I am not averse to attacking the holy cows of Mysore and Karnataka, be they IT dons, Godmen or Hindutva types.
For example, if Infosys founder N.R. Narayana Murthy never realises his life's ambition to become the President of India, the first media outlet he should blame is Churumuri. It was our piece on his "insult" to the national anthem that became national headlines for days on end, turning the entire political establishment from the Congress to the BJP to SP against him.
I am probably the kind of journalist Justice Markandey Katju has in mind, for I am also not shy of floating 100% fact-checked gossip under the rubric "Irresponsible Rumours"! So Churumuri the blog is like Churumuri the dish. Sometimes, you bite into a bit of a sweet carrot, but many times you end up getting your teeth into a piece of green chilly. Which is why the tagline reads 'swalpa sihi, swalpa spicy', meaning a little sweet, a little spicy.
Q: Tell us something about your early life, before you joined any publication. Were you always interested in having a career in journalism an media, or had any other thoughts?
A: Like all good South Indians, my parents had devious thoughts like a career in medicine or engineering for me! But thanks to the radio—the voices of Alistair Cooke, Mark Tully, Philip Short, et al—my mind was made up as early as in school, where I was the magazine editor. In college, I was a stringer for the Indian Express under the legendary T.J.S. George, earning a princely sum of one rupee for every four inches published in the paper. It was priceless.
I did gain entry into a top engineering college, but I ducked out because, well, as a good leg spinner, I didn't like the 'vaastu' of the college cricket pitch. Eventually, I tried to do a bachelor's course in electronics to keep my father interested, and a master's in English literature by correspondence for my mother. But after 25 years in journalism, I am glad I opted for a career in words.
Q: Your efforts in paying tribute to the legendary icon of India, late Sri R.K. Narayan, bore fruit this after five years of campaigning. The result of which was a train running from Yeshwantpur to Mysore named as Malgudi Express. Kudos to your efforts! How did the idea to do a campaign of this sort come to your mind? Do share with us how the entire campaign was planned and executed.
A: As a fully paid-up Mysorean, I still cannot get over the fact that so many of India's very best craftsmen in the English language come from Mysore: R.K. Narayan, R.K. Laxman, Raja Rao, Kamala Markandeya, H.Y. Sharada Prasad, T.S. Satyan, T.S. Nagarajan. It is all very easy for us today to make a career in English or to flit around between literary festivals. But for them to have done so back then, when there were not as many opportunities nor as many readers, is, I think, heroic. And admirable.
R.K. Narayan was my neighbour in the Yadavagiri locality of Mysore in a manner of speaking. As a young boy, one would see him walking the pavements often, etc. I remember bravely going up to him and trying to engage him in conversation, in vain. But more than that, he was a true international icon in our midst. It gave me no joy that my City was so reluctant to recognize or remember him after his passing away. There was no road named after him, no roundabout, no statue, no building, no nothing. Although dozens of people who have contributed zilch are immortalized, I was mortified that there was nothing for Mr. Narayan.
So, we launched a campaign on Churumuri to collect suggestions on what could be done to perpetuate his memory. Hundreds of innovative ideas poured in. Narayan's relatives (his nephew R.S. Krishnaswamy and grand nephew Chetan Krishnaswamy) wrote first-person pieces, as did the photography brothers, T.S. Satyan and T.S. Nagarajan, who knew him closely over decades. Eventually, well-wishers of Churumuri like the historian Ramachandra Guha helped bring the campaign to the attention of the then governor of Karnataka, T.N. Chaturvedi, a true man of letters. He provided the first push, and more recently, the external affairs minister, S.M. Krishna, gave it some more throttle.
The other reason why we launched the campaign is because the best publicity is free publicity. When Churumuri topped the blog charts, The Hindu among other newspapers wrote about it, bringing in new readers So, I realized that doing a campaign like the R.K. Narayan one, would attract the attention of the mainstream media and announce our presence to more new readers. And it did. N. Ram, the editor-in-chief of The Hindu and a biographer of Narayan, too wrote about our campaign, helping Churumuri gain a positive profile among the cognoscenti.
Q: You are among those very few bloggers who know and do so much for their city, through their blog. Have you tried/ are you trying to position Mysore in a certain way? The Wikipedia page of your blog informs us that your blog was initially to talk about the Mysore region, which further went on to discuss national issues. What were the reasons to go national?
A: We can't get too far ahead. Churumuri is not the New York Times. Churumuri cannot change the world and does not aspire to. It is a small, no-profit venture. So trying to position Mysore in a certain way is beyond this little baby's powers. What it does and does successfully is to provide an old and wonderful City a solid presence online.
The tragedy of Indian English media today is that for all its size and reach, it is pretty shallow if not vacuous. Mysore is famous for wonderfully fragrant sandalwood, which in Kannada is called 'gandha'. Most of our English media have no idea have no 'gandha' of anything local. They have no idea of local history, local culture, local cuisine, local heroes, local industries, local people, local anything. They have no domain knowledge of anything local beyond the superficial; no space for it beyond a few hundred words and some silly tit-bits. There are tens of wonderful cities in India with wonderful stories, you will see none of it in our English media.
What Churumuri does, given the width and depth of the medium, is to fill that very vital blank as far as Mysore is concerned, as best as it can given its limited resource. The results are there for all to see: any search on Mysore (or increasingly on many things national) will always throw up a Churumuri link or three. To our credit, Google has indexed thousands of pages of Churumuri, although it is just a blog.
For almost similar reasons, Churumuri has begun to carve itself a small place on the national map, by taking up and addressing national issues in a manner in which the mainstream English media cannot or does not. If a Montek Singh Ahluwalia gets a Padma Vibhushan, there is none in our supine English media to question it; Churumuri does. If Infosys chooses the Prime Minister's daughter for a major prize, none in our English media question it; Churumuri does. If a Sam Manekshaw gets a lousy funeral, none in our English media question it; Churumuri does. Stories like these have given Churumuri a nice national push.
Q: Apart from Churumuri, you also have two other blogs, Sans Serif, a media blog and Kosambari, a food blog. It is a great blog, where you blogged for around 2 years. Why did you stop blogging Kosambari? And how is Sans Serif different from Churumuri?
A: Churumuri is a general-interest blog. Sans Serif is a labour of love. It deals with news, views and the judice in the media and nothing else. I started Sans Serif when I was Editor of Vijay Times, a broadsheet daily newspaper owned by The Times of India. We had many editions and tens of staffers across Karnataka, and it was difficult to communicate with all of them easily. I wasn't able to share links, stories, photocopies, etc to my wonderful colleagues. So I started Sans Serif, essentially as a notice board for Vijay Times staffers, and called it "We Are The Best" to pep ourselves up.
After I left the paper, I expanded the content to make it more nationally appealing. Today, some of the world's biggest media observers—from Roy Greenslade of The Guardian, to Jim Romenesko (lately of Poynter) to the designer Juan Antonio Giner—see it as a window to Indian media.
Kosambari, I started on a whim. Sorry to be sounding like a spokesman of Mysore, but the most immediate touch-point for people about Mysore is food. In any part of the world, the word "Mysore" stares at you from menu cards. Mysore Masala Dosa, Mysore Sambar, Mysore Pak, Mysore this, Mysore that. Which other City in the world enters people's stomachs so often? So I thought why not curate some of what is ours and add a bit from outside? Sadly, maintaining three blogs is not easy, especially when you have a day job, so I have gone easy on Kosambari.
Q: So, we clearly see that you have interests in food and recipes and also photography, apart from sharing your knowledge and expertise on national issues. Do you usually cook/click when not working? What are the other things that you do in your leisure time?
A: As I said, I am a journalist. I cannot say something is outside my interest. That privilege belongs to academics, intellectuals and assorted arty-farty types, which I am not. In other words, I am interested in anything that you could interest me in! So, yes, I cook on the weekends, simple, delicious, vegetarian south Indian food.
I don't take too many pictures because Churumuri subscribes to a wonderful photo syndication agency called Karnataka Photo News. I jog a few kilometers several times a week, I read plenty of stuff to find stories and links, I go to Carnatic, western classical, rock music concerts when I can, and I can watch a Test match and see its long highlights and short highlights the same evening without complaining!
Q: You have gained recognition for many things, and so has your blog. Like R.K.Narayan Campaign, exposing a match-fixing scandal, are on New York Times reading list, talking about Nuclear Slowdown, been no. 1 WordPress blog in world for two days and you are among the first few bloggers to have written about Dr. Raj Kumar. How do you feel about the things achieved through your blog and how has your blog helped you in your personal/professional life? Have you received any threats because of any controversial topic that you have written? Also share things that you feel you have not achieved through your blog.
A: I have been the Editor of a 10-city broadsheet newspaper and the Editor of a national news magazine. But without a shadow of doubt, launching Churumuri is the best thing I have done in my career (and I am unanimous about it!). We all go through our working lives toiling for somebody or some publishing house and essentially building on something somebody else has created. But starting something on your own and making something of it, is a different challenge and different thrill. Churumuri gave me that in plenty and still does every single day. My wife says she can judge my mood by reading Churumuri.
Obviously, blogging so consistently has affected my personal life to the extent that on whatever day of the week, wherever you go, you are forever trying to think of new ways to fill up these bottomless oceans.
I have had more than a few run-ins thanks to Churumuri and Sans Serif, but as a journalist one knows how to deal with them. We were issued a legal notice by a major multi-edition newspaper group which claims it is a watchdog of democracy, for a post we had put up, actually a letter written by one of its outgoing employees which we had put up. They sought to scare us. I got a Supreme Court advocate to issue a 28-page response, which shut them up properly.
More recently, a listed construction group sought to take an injunction on a post that has hundreds of warnings for potential buyers wanting to buy property in Bangalore, but it hasn't worked because Churumuri works through an experienced media lawyer. There are other cases like these, but it has been all right so far.
That said, both Churumuri and Sans Serif  subscribe to the classic C.P. Scott aphorism, that while opinions are free, facts are sacred. So, while we happily air opinions even if it doesn't please some people, especially if it doesn't please some people, we do take adequate care in reporting or repeating news stories. More times that not, we provide hyperlinks to citations and attributions, just in case.
But after a reasonably long career in journalism, one is aware that you cannot please everybody all the time, and nor is there the intent to do so. Journalism is not a popularity exercise, and if you spend 25 in journalism without making a few enemies, you have wasted your life.
Q: We have seen many journalists who have turned to writing books. When can we expect you to write a book and what subject would it be based on?
A: I have no plan to write a book. There are so many books being written by aspiring and perspiring journalists, I fear that some day we might run out of readers. Just kidding. Churumuri and Sans Serif are like books for me, and they are both works in progress. Endlessly. It is not high literature, but I am OK with it.
Q: You have been extremely regular in posting on your blog; ranging from 50 to even 200 times a month! Infact, the very second month of blogging on Churumuri had 143 posts, followed by 211 posts in the next month! And till today we see you regularly serving your readers with fresh content almost 30-50 times a month on your blog. How do you manage to write so many well researched and insightful posts? Share with us the elite group of contributors of your blog and something about their work.
A: I would be foolish to claim that all these pieces are well researched and insightful. Far from it. But, as I explained earlier, Churumuri is now a team effort. A vast and wonderful band of writers who write for it, gratis, because they view it as an alternative medium with reach and response.
Initially, when I started, I used to think that the more you posted, the more the readership would be. I would end up repeating things the newspapers and television channels would do. But I have slowly convinced myself out of that idea. As it is, today's reader is swamped under information. I have learnt to be a lot more selective in recent months, but on average I post a couple of Churumuri pieces a day, and at least one Sans Serif piece. I go easy on weekends to play with the dog, take long naps and practice my puns and PJs for the coming week.
Q: Do you promote your blog? What promotional techniques work best for you and why?
A: No, I do not promote my blogs. I certainly do not go to other blogs and websites and post links from mine. My blogs are configured to send out tweets on Twitter the moment a piece is posted. That's just about the only conscious promotion that takes place.
When I launched Churumuri, my wife and I discussed pasting "Churumuri" stickers on churumuri carts all over Mysore, if we reached 1,000 readers! But things turned out so well, it was not necessary. Churumuri has been lucky with all the publicity it has got and still gets from newspapers, TV channels and websites. Sans Serif too.
The best promotion is if you can get others to talk about you, for free. We have been discussed in the legislative assembly of Karnataka. The Reader's Editor of The Hindu devoted a full column to a criticism leveled by Churumuri. NDTV did a news item on us during the 2008 elections. Dozens of TV channels have quoted our stories or found their inspiration for stories from it.
When Adam Gilchrist stuffed a squash ball in his glove for the 2007 World Cup finals, Churumuri's E.R. Ramachandran did a piece on whether it was ethical. On the first day, the Churumuri story became headline news in Sri Lanka, the second day in Australia. Eventually, the International Cricket Council had to issue a clarification from London that what Gilchrist did was legal. That wouldn't have happened without Churumuri.
Q: How important is it for the blogger to interact with their readers? Do you respond to all the comments that you receive?
A: I used to respond and interact earlier, but don't any longer. For two reasons, I am still on the WordPress platform, which allows only a maximum of 15 comments to show at any given time. If I get into conversations with every reader, you will only be able to see half a dozen comments from readers. So I didn't want to clog up their space. Secondly, I do not wish to have the final word on any thing. Somebody will always have something wiser than me to say. So, having made my point in the post, I leave it to the readers to agree with me, or better still, slam me, fight about it, etc.
Q: What do you find to be the most gratifying aspect of blogging?
A: The fact that you are in charge. Either you have it in you to draw readers to their computer or you don't. Either you can keep readers interested in what you have to say or show, or you don't.  I like its instantaneousness, its reach, its width and depth. There is no word constraint. In fact, on Churumuri, I have consciously encouraged long pieces, going against the grain of blogging and believe it is an insult that readers should be expected to read only 200-400 word pieces.
Blogging teaches a fine lesson that many journalists might like to learn: that not every reader is entitled to like or love what you do, that if you give some, you have to learn to cope some.

Q: How, in general, would you rate the quality of Indian blogs? Share your favourite five blogs.
A: Indian blogs are like Indian newspapers and news channels. There are some good ones, and there are many bad ones. But, as far as I am concerned, there is no denying that some of the best writing in India is online, not in newspapers or magazines.  Be it politics, business, cinema, cricket, food, films, advertising, sex, gossip, whatever, the very best stuff is on websites and blogs, unconstrained by the commercial and other editorial pressures that is the hallmark of mainstream Indian journalism.
I read tens of blogs and like many of them, but my favourite ones are not necessarily Indian. I like:
Q: What is your advice to someone who wants to start a blog?
A: Just a question: what took you so long?
Q: According to you, what is the future of Blogging?
A: Obviously, it is not as rosy as it was six years ago. We have got into micro-blogging, etc. But just like radio did not kill newspapers, just like television did not kill radio, and just like the Internet did not kill all three of them, blogging as a platform will survive. It will evolve over time, even if it won't thrive. But if it dies, it was good to have been part of a great thing and I have nothing but my deepest sympathies for those who did not experience it or turn up their nose at it.
Q: Let's conclude off with a few favorites.
Color: Blue
Movie: Shawshank Redemption, Casablanca, Citizen Kane
TV Show: Seinfeld, West Wing, Sopranos
Book: Scoop, 1984
Time of Day: 7:10 pm
Your Zodiac Sign: Libra
Whatay journey! We are sure our readers would be saying the same. It was a pleasure to have Churumuri at your Adda. Thank you for taking the time out Krishna for this wonderful interview. Friends, do share your thoughts in the comments below.