Art is defined as The expression or application of human creative skill and imagination typically in a visual form such as painting or sculpture, producing works to be appreciated primarily for their beauty or emotional power. Art in India has always been expressive and when it combines with blogging, it creates magic in the Indian Blogosphere. We have one such magician at your Adda today who creates magic when she blogs. She derives her energy from Art and Light. 🙂 We are pleased to welcome Vineeta Nair of Artnlight at your Adda where she speaks about a lot of things revolving around her life and much more. So are you ready to experience the magic of Art and Light?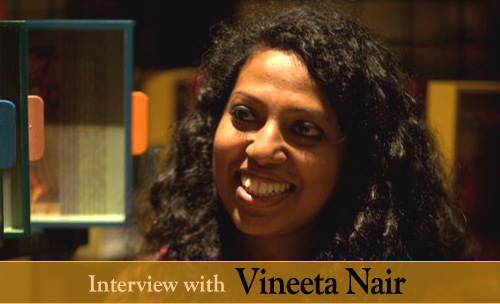 Q. When & Why did you start blogging?
I had just discovered the world of design and decor bloggers, and I was smitten and soon obsessed. I read blogs, commented, got responses back…the whole interaction, being able to participate as a reader and the fact that there was someone somewhere in the world whose sensibilities matched and fed my own was extremely intriguing. After a month of reading international blogs that wrote about the art and decor scene in their part of the world, I was really thirsting for a similar design blog experience from India. And I didn't find any. A friend who knew how taken I was by this whole concept of design blogging, told me, "If you can't find an Indian design blog, why don't you start one?" And that was that, once I started there was no looking back. Interestingly as soon as I decided I will start a design blog, I discovered Archana's RangDecor, by then my head was already milling with ideas of what I will do with my blog.
Q. What topics do you generally blog about?
I blog about things I love – décor, design, artists, Illustrators, photographers and primarily my travels and work, be it photography, my products or my décor assignments.
Q. Do you ever get stuck when writing an entry? What do you do then?
I get stuck before starting more than getting stuck midway. Sometimes I just don't feel like blogging or worse I feel like blogging, there are some 20 ideas & I don't get a strong feeling about any of the 20 thoughts. In such a scenario, I just take a break, don't blog & come back only when I'm very clear about what I want to write about.
Q. Do you promote your blog? What promotional techniques work best for you & why?
When I started my blog, I must have written to 5-10 of my closest friends saying – Hey, this is my blog, please read it. Beyond that not really. I had a Facebook account which I hardly used, but I was quitting a 11 yr old career in advertising & suddenly Facebook looked like it had its uses. That's when I linked my facebook to my blog & I believe has helped reach my blog to my friends. And yet I believe that it is Google and random image searches that lead a lot of people to my blog. So the more I blog, the better it promotes itself. I truly believe it's a very organic process.
Q. How important is it for the blogger to interact with their readers? Do you respond to all the comments that you receive?
Yes, it is important for the blogger to interact with their readers, but that said, I find I am not really able to respond to every comment left on my blog. For instance, if someone says, wow, this is great & thanks for sharing, there is not much I have to respond to. But yes, if someone asks for some specific information in a comment I try and make it a point to respond to that.
 Q. You hold a Diploma in Applied Art and have done a journalism course from Xaviers Institute of Communication. When did your fascination for designing and art start? Who and what inspired you to start designing?  
I have memories of drawing even as a child. I have an uncle who is an artist, he studied art and I grew up seeing his work. I knew I wanted to be like him, play with colour and be in love with my work. My mom is very creative in her own way. She was always putting fabric together in interesting ways. Mom & me would design my clothes together ever since I was a kid. Then was art college and learning to look at things in a new way. Through my years as an advertising art person, my sensibilities kept getting honed. But it was not till I started creating personalized art that I really got the kick from designing.
Q: "Art is the only place you can do what you like. That's freedom." – Paula Rego. You truly live upto this since you describe yourself as 'self employed and loving it!' 🙂 From being an art director in a leading advertising firm, to designing independently – how did this shift happen and how has the experience been till now? Were your friends and family supportive of the decision at that time? 
Thank you for saying this. Freedom is what I aspire to and while to a large extent I have managed to get creative freedom, there is a long way to go before I feel I am truly being free. That said it means the world to me that I am finally headed in that direction. From advertising to designing independently – the shift happened after a lot of yearning, but very serendipitously. I had just handpainted a tray lying at home which got me an invitation to take part in an exhibition. I said yes, but time was less & I had a stall to fill. So I decoupaged my 1st set of trays & boxes. They sold. And when I blogged about it, I got orders & shops contacted me asking if I would retail with them. Within 2 months of my 1st exhibition, I knew I had an alternative career option.  Within 4 months, I just quit to do this full time. I wasn't really sure what 'this' meant. It turned out that people called me for interior design projects, photography projects, advertising Freelance, while I was blogging, travelling and growing my décor accessories business in baby steps. Its been a miraculous journey.
 Yes, My friends and family were supportive because they had heard me saying I want to quit for years. And because they saw what was happening.
 Q. From triangular mirrors and Mumbai inspired trays to decorating a home recently as your first decor project, you have designed a lot many things very creatively till now. Kudos to your imagination! 🙂 We know each art work would be close to your heart, but if you had to choose the best of your works, which one would it be? Is there anything that you haven't touched upon, but wanted to?
Wow, you do make me sound good. 🙂 While, I've had my bit of fun with exploring some themes close to my heart, there is so much more I want to do. I'd love to do more with typography for one. I'd definitely love to explore more with wall art. More with fun, funky furniture.
Q: Like writing blocks, do you ever come across creative blocks; what is the way out then?
I come across creative blocks all the time. There are long periods when I feel & fear that not one more creative thought will ever pass through my head. It's a classic phenomenon creative people have had to live with. But it passes & fresh & happy ideas & thoughts surge once again. For me the way out is to wait it out, to not fight it, to continue looking at beautiful things, to continue doing what I can do with what I have. The way out is to not give up & give in. To forgive myself for not creating beautiful stuff everytime.
Q. What difference do you feel between specific briefs received by your customer and otherwise free creative thoughts? 
Free creative thoughts are happy, they come, grace you & leave you their amazing gifts, whether you ask or not. It's a little trickier with specific briefs by clients. For me, I never know which way it will swing. I can become amazingly inspired in the discussion & something better than I ever thought can come out of it. Alternatively it can become a bit of a tug of war. But what I have experienced over the years is if you can find your bit of heaven even in what is required, something good will come out of it. For that you need to speak to the client, see it from his/her angle and own it with them. Then it will always work out. The beauty is this can happen even after a phase of feeling you are not going anywhere with it.
Q: What does art and design mean to you? Describe its importance in your life. Is your work inspired by any incidents of your day to day life?
Loaded question. Art & design are for me ways to say what has to be said, beautifully. Primarily it is opportunity, to have fun, to play and to express myself. And also to be happy. An unfailing barometer of good work is that it can make me happy for atleast a day or two. In that it is self fulfilling. Now this 'good work' may not mean anything from an outside perspective, but as an artist it means I have done something I never thought to do & that is enough. Is my work inspired by incidents from my life – not specifically, but generally yes.
The triangular black mirror with the parts of the Rudyard Kipling poem 'if' comes from a major preoccupation of mine – how to fit in more into a day or how to use my time better; so across two sides of the mirror is written "If you can fill the unforgiving minute, with sixty seconds' worth of distance run", seeing that in a mirror I thought is a great reminder. Also my Bombay series of trays is a direct result of my love for this city. Similarly the Rajasthan series as well.
Q: How did blogging help you to channelize your creativity and form it into your career? Is it the best route, for people having creative aspirations like yours?
For years I have wanted to quit advertising and do what I loved doing, only I had no idea what I wanted to do. Things began to change very gently when I started my design blog. For the 1st time, I felt I had a space that was my own where I could say/show whatever I wanted. There was a place to share the million photographs I anyway took, all the amazing artists I saw, all the places that touched me. The beauty of it was I could do what I did with a relative feeling of anonymity. No one knew me, there was no pressure, for the 1st time I could be just be honest & just be me & have fun. From this sense of freedom came everything else. I was seeing home grown artists and serious artists & just about everybody experimenting. On the internet the DIY & 'hand-made'culture is very strong. This prompted me to handpaint my 1st tray. And make the 1st customized wall art for a friend. So yes, blogging very directly helped me channelize my creativity in a much more honest & authentic way.
Is it the best route? There is no one best way to go where you have to go, this worked for me, so yes, I would highly recommend it. But different things work for different people. So try what gives you happiness. Whatever it be. Do things that excite you. Blogging excited me 4 yrs back when I started it. It excites me even today. That's a good enough reason to do something & keep at it.
Cut! Cut! "Vineeta, you have an urgent client call". *Vineeta rushes*. 
Friends, we have to continue this interview next week as Vineeta just got a call from Anjali T to decorate their new home in Bandra. 🙂 Hope you enjoyed reading this one and are as excited as we are to hear from Vineeta for the second part of this wonderful interview. Same place, different day, same time. 🙂 
Connect with Vineeta: Blog, BlogAdda