The INK conference was a splendid experience last year. We introduced you earlier to some of the key speakers at the INK conference and we are back again with it, to tell you something about the 2011 INK Fellows program this time. INK Fellows are basically emerging leaders, who are trendsetters and have done something innovative in their respective fields of interest. With their thoughts and ideas, they inspire others and make way for modernization of technologies and invention of unexplored viewpoints.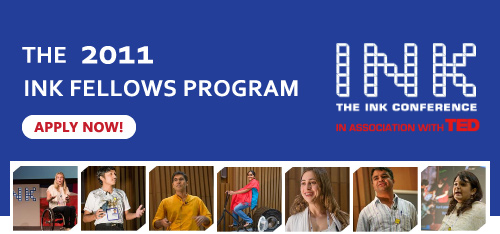 If you are someone who has dared to take the untrodden path and has brought about a change in lives, then you deserve to be an INK Fellow. To know what INK Fellows are all about, read about some of the INK Fellows of 2010 below:
INK Fellows is looking for:
Candidates with a powerful vision for the world
Who have taken tangible steps to fulfill this vision
Who have demonstrated serious accomplishment at a young age
Who the INK community can actively support in their career path
Who will actively support and enrich the INK community
Who are articulate and communicate succinctly
Who have a compelling and inspiring story
Basic Guidelines:
Candidates must be between the ages of 18 and 40.
INK prefers Fellows to be representatives from young economies, yet great candidates from any location will be considered seriously and competitively.
Candidates may be innovators specializing in any field, for example (but not limited to) art, architecture, technology, science and social enterprise.
INK will harness the interest of its attendees, sponsors and the elite business community to support and mentor Fellows. INK will make connections and provide the platform to launch the Fellows, and the Fellows will capitalize upon these opportunities and subsequently document their progress back to INK.
If you think your innovation deserves to be seen and heard by many, then being an INK Fellows 2011 program is your destination. The people chosen to become an INK Fellow, will receive a comprehensive scholarship to attend the 2011 INK Conference (that includes conference fees, airfare and hotel). Read more about it at INK Talks.
Do you know somebody who would make a great INK Fellow? Invite them to apply or send an email nomination including a description of their work and their contact information. Please try to answer as many of the application questions as possible in your nomination.