We had told you that Baba Ramdev cannot fast the whole day, especially after reading Rushina's interview. The inside story is that, he couldn't resist his hunger after his aides heard that Rushina had prepared Garma Garam Pakoras. 😛 We heard Anna Hazare is going to fast again, will he be able to do it especially after reading the second part of the interview with Rushina (part one)? Rushina in this part talks about food writing, her favorite dishes, her favorite city and much much more. Annaji, are you ready? 😛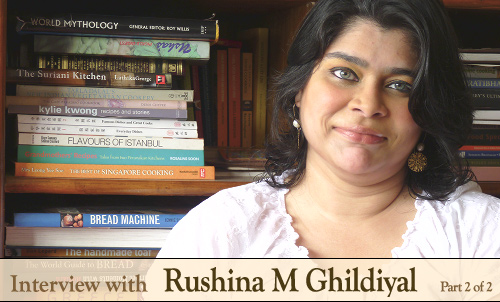 Q: Indian cuisine, world over, is best known for its spices. Do you think there is much more than just spices, that Indian cuisine should be known for and why? What would be those, if yes?
A: Take a map of India, close your eyes and throw a dart at it. Wherever it lands, you will find a food experience and story to discover. There is a country's worth of food, beyond spices and curries to be discovered, in India. Our culinary scape is so vast that the cuisine changes every fifty kilometers (if not in every home) and yet, some of its most delicious culinary secrets remain undiscovered and uncelebrated.
Q: There are lots of cookery shows and competitions that are on television currently – be it Indian or International. Are the Indian shows exploring Indian cuisine well or do you think it lacks experiment? What are your favorite amongst Indian & International cookery shows?
A: We have a long way to go with food on TV in India. But, to answer the second part of your question, Indians have always loved food, so all of these food shows have tapped a reservoir of latent interest in food. I like MasterChef Australia, Kylie, Nigelaa and Jamie Oliver shows. They helped to make food and cooking trendy. MasterChef India, quite frankly, was a disaster! But, I do like the legendary Khana Khazana, Highway On My Plate, and some of the other Indian shows.
Q: What is the future of food writing in India, according to you? What suggestions would you give to a person who, like you, wants to make their passion turn into a career? Educate us about this career and industry.
A: Food writing is a great career, if food is your passion. That being my state, the main advantage is that I get to do something worth waking up to every morning. But, to be successful it requires hard work and perseverance.
To give you a little perspective on food writing; food writing has a long way to go towards achieving the cult status it enjoys in the West. There are very few food writers in the true sense and no formal training courses. Globally, it is categorized under the larger umbrella of writing in general and has its niche, covering everything from articles for print and web, to books related to food, and encompassing subjects ranging from food (and drink) production to consumption. Conversely, food writing is an undefined, unrecognized sector in the publishing industry in India. There are less than a handful of food writers about, no formal training courses and even today few publications recognize food writers as specialist writers. In fact, food writing in the true sense of the word is unexplored and Indian books on food are at a very rudimentary stage of evolution. So, where there is a set system in the west for food writing, in India there isn't one. One would think that with gastronomy becoming so popular, the print media would be overflowing with interesting articles on food. Not so.
The Indian food publishing industry needs to learn a lot. The first realization is that food writing is not just recipe features or restaurant reviews. It goes beyond that. I can safely say that there is tons of fodder for food writing in India and after the food writing class I conducted at Kala Ghoda earlier this year, I can also say we have amazing untapped talent as far as food writers are concerned. The book publishing houses are realising this. Mainstream print media needs to clue in. I can't say that there has been a noteworthy growth in food writing in the last 6 years either. Although, there are just more publications as compared to a decade ago, there hasn't been a very dramatic shift in the way each handles food, the subject still has limited attention.
Q: You have cooked many dishes. Name one dish that is your favorite? Share with us some dishes that are less known but a must to try out for all.
A: Hot and Sour Soup: I love Hot and Sour soup. To me, it embodies Indian Chinese. It's an assault of the senses, but what a delicious way to go! Riding on in your face flavours and generous lashings of corn flour! It simply bursts with flavour! Every bite brings new taste sensations.
Hot and Sour soup has so many interesting elements, flavours and textures in it. It's a soy, vinegar and pepper flavoured stock based soup, with its soy, vinegar and pepper flavours thickened with the corn flour and ribbons of egg lend it a silky savoury base contrasted ooles of crunchy thinly sliced vegetables, tender chicken and bits of garlic and ginger and green onion in it. It comes to the table with a final drizzle of chili oil. Every bite brings new flavour sensations! A burst of garlic, a nip from green chilly, soft mushrooms. And the chilly! The chilly that makes your eyes and nose run and mouth water for more!
Other dishes (How can you ask a foodie this, NO REALLY!) Vietnamese Pho Chinese Conjee, Rice paper rolls, Singapore style Black Pepper Crab, at China house. Butter Pepper Garlic Crab, Tandoori Rawas at Mahesh, Mumbai Sandwich, Tender Cashew Coconut Sukke at Goa Portugesa, Frill wali cutlet at Ideal Corner, Mysore Masala Dosa – the one you will ONLY find on Mumbai street stalls, Coorg Pandi Curry, Karimeen Fry in Kerela, Naga Pork Raja Mirch, Bengali Fish Paturi, Kashmiri Kabargah….
Q: Being a food writer, your job has food all the time. You prefer deciding on restaurants and cuisine on a full stomach. How do you manage to try out different dishes when you are full on stomach and what are the parameters to judge a dish?
A: I don't eat out on a full stomach. I advocate, not going out to eat on an empty one. As a food writer eating out is a hazard of the job and I probably do it more than most. But, there is no doubt about the fact that between working lunches, convenient dinners from the local take-away, weekend fast-food treats for the kids and intimate dinners with friends and family, there is always a reason to eat out. With all the kinds of food around, believe me, I wish I could eat unhealthy!
But, food for me is much more than just a means to satisfy your taste buds. It's a way of communicating your love to family and friends by serving them food, that is well meaning and therefore healthy. Eating responsibly and healthy is also a means by which I ensure that I stay healthy for my family. This has led me to explore healthy eating. I've discovered that it's possible to have gloriously delicious food that is healthy at the same time. Junk food from outside is limited to once a month or less, instead I do healthy versions of pizzas, burgers and wraps at home. Frying only takes place on festive occasions (once in 6 months).
Between meals all of us are encouraged to eat fruit or vegetable sticks first and then snacks.
Here are some rules I follow.
When I intend to eat out, I plan ahead and adjust other meals in the day, ensuring I get a balanced meal, by adding fibre and vegetables which contain a fraction of the calories of other foods, but are high in bulk and filling.
Primary to health is eating at hygienic places, so I avoid dirty restaurants. I also ensure that food is freshly and properly cooked, especially non vegetarian food.
I decide on the restaurant and cuisine at a time when I am on a full stomach. We are advised not to shop for groceries on an empty stomach, because it triggers purchase of instant and junk foods. The same theory applies here. I find I make wiser choices when I am on a full stomach. I extend this theory to ordering as well. An empty stomach makes our eyes bigger than our stomachs, so I stock up on a light calorie free snack like cucumber, a fruit or a handful of channa before I leave for a meal out. This keeps me from over ordering and consequently overeating to avoid waste.
I have also befriended the Doggie bag! If a serving size is large and I can't share it with dining partners, there is no limit on how much leftover food you can carry home after all. Worse to worse, I do allow food to go waste, after all, a last piece of something might not make a dent in the trash can but it will on your body.
If a serving seems too large, ask if the restaurant can do a smaller portion. Some restaurants make almost all their dishes with a minimum of oil on request. Similarly, you can also ask for extra vegetables instead of French fries at continental restaurants and no Msg at Chinese restaurants.
With drinks, I stick to water with a twist of lime or fresh lime soda throughout a drink, or an alcoholic beverage can go up to 300 calories and yet deliver zero nutrition and diet sodas are an option I am always wary of, because of the chemicals they contain. Coconut water is a good option if available.
Chances are you will be hungry by the time food comes to the table which makes the starters course most hazardous. I am careful when ordering appetizers, choosing options that are not fried and I try to share selections with dining companions. I find adding a salad to the appetizer course helps me bulk up on fibre. When opting for the Salad bar, I eat limited quantities of pre mixed salads on the bar – they are usually too heavy on fat laden dressings and I watch out for high-fat dressings, cheeses and fried croutons individually as well. In a pinch vinegar or lemon juice and a dash of good olive oil work perfectly. I prefer lower-calorie options for salad dressings but these can also add up so I prefer to request them on the side and dip my fork in the salad dressing, before spearing bites of salad. I consume less dressing and keep my salad crunchy to the end.
Soups can serve as a great precursor to a meal because they are excellent for filling up on but I avoid 'cream off' anything soups, which are higher in fat and calories. Instead, clear soups are full of flavour but low on calories. If served bread with your soup, by all means have some, but pick up whole wheat or grain bread which can be identified by the light to dark brown of their insides or any grain scattered on top. Plain bread is ok if there is nothing else but the butter and oil you eat it with, can add that increases the fat and calories, even if it is olive oil. 6 tea spoons of olive oil = 1 cup of ice-cream!
When ordering my main course, I look for items on the menu that are baked, grilled, sautéed, broiled, poached, or steamed; all cooking techniques that use less fat and generally lower in calories, compared to foods that are breaded or fried. Choose mains with fruit and vegetables that are a good source of dietary fiber as well as of many vitamins and minerals.
With dessert, I indulge but share. Half the dessert equals half the calories!
Q: You have worked with names like Soam restaurant, Beacon Holidays, Nature's Basket, Amore Gelato and Casa Mia restaurant of Mumbai. You have also bagged a Women's Achiever Award by Young Environmentalist Trust and were in the list of Top 20 people to watch out for in 2011, by CNN Go. How do you and your family feel about your achievements and what support you have received from them? Do you see foodie instincts in your children, Aman and Natasha? Where do you see yourself 5 years from now?
A: I try not to rest on my laurels. There is much I want to do in my life. As for my family, for a long time they did not really know what I did but they have always supported me and today they are very proud of me. I could not be where I am without them. Aman and Natasha definitely have foodie instincts, Aman loves to create dishes and have me take pictures of them and Natasha is very clear on what she likes. She will go to our favourite Italian restaurant and order 'normal pasta with olive oil' with all the aplomb of an Italian film star, and throw a hissy FIT if it comes to her any different from what she ordered. I do have a vision for the future but I do not want to tempt fate by talking about it. I am superstitious like that and like to take life as it comes.
Q: Mumbai, Dehradun, Chandigarh, Melbourne – these are the places you have been hopping around. In which city does your heart reside? What are your interests other than the culinary ones? We would love to know about the artistic side of Rushina.
A: Thank you for asking this. 😀 I forget I do things other than food! I love to read and do so voraciously. I can't sleep if I do not read at least a few pages. I love Indian embroidery and collect it. I hope to own all the different types of embroider that India produces, in my wardrobe one day. I love old things – vessels, clothes, everything, old wood furniture…I also collect beads, glass bottles, little witches and miniatures.
Q: What are Rushina's secret ingredients that make every dish made by her so delicious? 🙂 Do you experiment with food or prefer sticking to the traditional method?
A: Not everything I cook is delicious, my husband will share many a culinary disaster with you. As far as magic ingredients, clichéd as it sounds, I think it is love. Not love for those I cook for, woh to hai hi, but I love to cook. And when you love something it shows in the results. Every cook is a condiment in themselves and I am the special ingredient in my cooking! As for tangible ingredients, I am very fickle with those! Every now and then certain ingredients, flavours or combinations will catch my fancy. I have been totally distracted by balsamic vinegar, dallied with dates, loved lemongrass and I have been in an enduring, intense, passionate relationship with Chillies and Garlic for the longest time! I also love Citrus Zest. I am currently playing with Sichuan Peppercorns. And yes I experiment a lot with food.
Look at a week's worth of meals cooked in my kitchen today and you will be hard put to find any pattern. Monday could be a simple Sindhi Kadhi with rice, Tuesday could be rice paper rolls and glass Noodle Salad, Wednesday could be homemade Garlic Pasta, Thursday might be my signature Dumpling Soup, Friday could be Rajma Chaval and Raita. There is no method to this madness, meals from my kitchen happen as a result of what is available in season, dishes that have passed the family test but mostly because of my whims.
Q: Our prediction is that you will be on television soon. 🙂 So, if such an offer comes up to you, what would the show be about?
A: Wow! Thank you I will take that as a compliment. Honestly, I do not know. But given a choice, I would love to explore Indian Regional cuisine and work with spices.
Q: How important is it for the blogger to interact with their readers? Do you respond to all the comments that you receive?
A: I think it is very important. Like I said, every person that reads and takes time to comment is precious to me. I try to respond to every comment, but it is hard. I have now started a Rushina Replies section for this purpose, where I answer specific questions and recipe requests.
Q: What do you find to be the most gratifying aspect of blogging?
A: Connecting with people through food. Inspiring people through food.
Q: How, in general, would you rate the quality of Indian blogs? Share your favourite five blogs.
A:
Q: What is your advice to someone who wants to start a blog?
A: Come join the joyride!
Q: According to you, what is the future of blogging?
A: It's only going to get more delicious.
Q: Do you earn revenue through your blog? How does one go about it?
A: No. I detest advertising when I am watching TV and I refuse to do it on my blog. My blogs are my home, I do not sell things in my home. I like them to be a place to celebrate food. I am looking at an online store however, where I will sell merchandise and my books and things.
Q: Let's conclude off with a few favorites.
Color: Yellow
Movie: Ratatouille, Julie and Julia
TV Show: CSI, 24
Book: Too too many! But ones i could not do without, History of Indian food by K.T. Achaya, On food and cooking by Harold Mcgee, Flavour thesaurus. Others – The Story of English, and fiction wise, Thorn Birds and A Woman of Substance
Time of Day: Dinner time. Because thats when I get quality time with my husband and children over one meal. I make it a point to cook all or at least part of it.
Your Zodiac Sign: Virgo.
Rushina, Thanks a lot for this wonderful interview. Our taste buds are now working overtime, thanks to you. Not to forget, few of our team members have got inspired and have finally started cooking in the weekends. Friends, when are you starting to explore the wonderful food journey? Let us know.
In case you have missed reading, click to read the first part of the interview with Rushina.