This week we enter a palace in Bangalore. As we enter, we are welcomed by a strong aroma emanating from the kitchen. 🙂 The corridors of the palaces are adorned by the photographs taken by her. We are welcomed into main hall and the first sight we see is that the queen is busy with a computer screen and keyboard, most probably blogging. Want to know the queen? She is none other than Monika Manchanda, who loves to live like a queen and do so much more than a queen! Read on to find out more about Monika.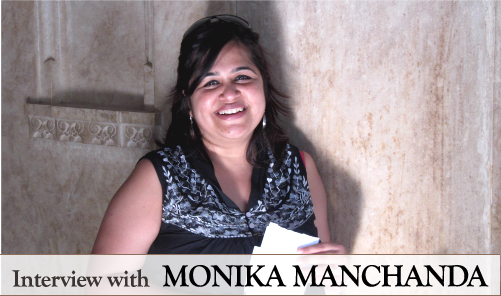 Q: When and why did you start blogging?
A: I wrote my first post back in April 2006, it was because of the desire to pen down some thoughts I had on the fly rather than a planned decision to start blogging. Blogging as a platform had just started at that time and I was part curious part amazed. Plus I am a huge Aamir Khan fan and people blaming him didn't go down too well with me you see. 🙂
Q: What topics do you generally blog about?
A: Everything under the sun, anything that catches my fancy, anything that makes me smile, anything that makes me think, anything that makes angry, anything that makes curious, anything that makes me sing and dance, something I grew in my garden, something I baked in my oven, someone I met on the road… you get the gist don't you? Initially the blog was more of a journal for me recording the ups and downs in my life, the thoughts that I would have at various point of times but as the blog grew, I grew along with it and the writing I did has changed. I am not saying it's not a record of my life anymore, it still is, but I think it's a little less personal now. At my blog you would just find everything that exists around us.
Q: Do you ever get stuck when writing an entry? What do you do then?
A: Aaah, a huge number of drafts in my dashboard is a proof of that. 🙂 Jokes apart I do sometimes and in that case I just let the draft be and come back to it a while later. But most of the times the posts I do are not subject matter, they are mostly feelings, thoughts or facts. Facts I have hardly had trouble with ever. Now feelings and thoughts is a totally different matter altogether. Sometimes you get stuck in the middle and what works best for me is to give the post a rest and come back with a fresh new perspective to it.
Q: Do you promote your blog? What promotional techniques work best for you and why?
A: Frankly, I don't promote it much. Till sometime back all I had was a blog and a set of loyal readers (I wonder what they enjoy in my mad ramblings though 😉 ) who moved with me when I moved from blogger to wordpress. Then came in twitter and facebook. The post when published gets auto tweeted and pulled to FB and that's about the promotion I do. I do have a blog page on FB but that's more because of the fact that there are readers who want to interact with me on FB but I really wasn't too comfortable to have everyone on FB friend list. I think a blog speaks for itself if you are honest to yourself and your readers they will come back to read you.
Q: In 2006 you wrote, "Someday I really want to do something about it" on a post about Child Molestation. You actually did something which you had pledged for 5 years ago. Congratulations! How do you feel and what difference has it made to your life, now that Child Sexual Abuse Awareness Month, the initiative that you started with fellow bloggers, has ended?
A: So you indeed have read my blog, that was I think the second post of mine when I said that. At that time I had no clue how will I ever be able to do that or will I ever be able to do anything at all. And come to think of it I didn't even admit in that post that I want to do this because I have been a victim myself. I think I have come a long way from that and that's partly because of CSAAM. I will not be selfless by saying "oh I did it only for the society and the good of it", I did it for me too.
CSAAM healed me, it finally made me leave the guilt I was carrying since I was a child and abused and what makes me proud of CSAAM is the fact that it helped the same way to many more survivors. It became an outlet many victims never got. When I started CSAAM with Kiran I had thought that if I am able to make a difference to one survivor, if I am able to change the mind-set of one parent I would think CSAAM was worth it and in the end of it all I think we achieved much more than we set out for with the support of everyone around us, including BlogAdda. And needless to say it feels great to finally be able to do something via blogging which started as a mere hobby 5 years ago. CSAAM is just a small example of how blogging and other social networking platforms can be used for the goodness of the society if we really want to.
Q: Few know that you had started a blog for laughter medicine to wash off the blues and much later discontinued it. Recently, depression has been a major issue for people committing suicide and laughter seems to be wearing off. According to you, how can one remain stress free?

A: Oh God you really dug out that one too? It was a blog I ran for a very short time. Used to just share some email/sms humour on that, as you rightly said to wash off the blues. The problem these days is that we are too busy trying to even notice the happiness around us, the small joys of life which actually form life's biggest and most fond memories are ignored because well we don't have the time for what we call these days as silly things. I would just recommend everyone (and that includes me too) to slow down in life a bit. Enjoy the smell of the flowers, appreciate the achievements of your children, enjoy the house that you are paying EMI for, take the car that you bought with such excitement out for a long drive, cook in the modular kitchen that you paid a bomb for, go take a walk in the evening holding your loved ones hand. In nutshell make time for yourself and the world will look better.
Q: A strong feminist is how you define yourself. Feminism has been misconstrued over the years and often perceived as men-haters. What is your take on such perception? What should be the areas of concerns in future years by Feminists?
A: Aah, a touchy topic, you are doing all that you can to send trolls my way aren't you? Feminist I think is the most misunderstood word in the history of universe. It has unfortunately come a whole circle from when women were afraid of being called a feminist to a stage where they were proud of being called one and yet again to a stage where they are almost ashamed and afraid of being called one again. I think we are partly to be blamed for that ourselves. Feminism according to me is NOT Men-bashing, is not Men-hating. Infact some of the strongest feminists I have known are MEN.
For me feminism is about equality, equality in living, equality of education, equality for freedom, equality in the way we are treated. That doesn't mean I will fight for every single smallest thing which is given to a man, it simply means I will fight for everything that is denied to me. To me feminism is about accepting our differences and learning from them. Using them positively to make a better world. The perception of feminist being men haters I think is partly come from the fact that the people who start on this path become too passionate to think otherwise and partly by the fact that it's an easy tool to be used to bring them down. Call them men haters and no one will listen to them and the issue will get subdued anyways. Having said that, like I mentioned before there is a need to balance and need to understand that we men and women need to co-exist in a peaceful world.
The areas of concern, the top most has be stopping female foeticide, looking at the sex ratio, it's ever dipping and if we don't have enough females around what will feminism be for? Every child has a right to live and let's not forget that.
Second, I don't think anyone can ever over emphasise the importance of education and hence a girl child education should be the other focus we should have in mind.
Q: You have a reading corner on your blog which you haven't updated for almost a year now. Any particular reasons? With our Book Reviews program you can now actually update that page! 🙂 What are your favorite 5 books and who are your favorite 5 International and Indian authors? 

A: Well I have been lazy is what I have to say here, but trust me in just updating the page. 🙂 And hopefully I should have updated it by the time interview gets published. I still read and still do reviews the latest one being Hunger Games the series which kept me hooked till I finished them. But indeed I am looking forward to the Book Review program which will give me more books to read and review, hopefully good ones. Ah the tough task of picking up the favourites. Anyway, here is my attempt and I assure you that if you ask me to write this down again without showing me this list, it would be a different list. Come on there are so many authors picking only 5 is criminal 🙂
Favourite International Authors
Khaled Hosseini, Alexander McCall Smith, Enid Blyton, Douglas Adam, Milan Kundera
Favourite Indian Authors:
Amitav Gosh, Chitra Banerjee Divakaruni, Salman Rushdie, Rohinton Mistry, Shashi Tharoor
Q: You also have a food blog and regularly update it. What are the most pleasurable aspects of cooking for you? If you had to invite all your blogger friends over dinner then what would be the menu for it?
A: Cooking is a passion and a stress buster to me. My kitchen is my private zone and I see myself relaxing the minute I enter it. The chopping, the planning of the meal, the aromas that surround me while cooking, the tasting now and then while the meal is underway. The discovering of new dishes by chance and by purpose. Mixing ingredients to whip up that something new and special that might be finger licking good or may be a yucky disaster, in which case planning on how to correct it,  and finally the most important joy of cooking — the look at the face of people eating it. That's the most pleasurable aspect of cooking. The joy when your husband forgets everything around and immerses himself in eating and you really have to nudge him to talk and finally says he loved it, the joy when your 3-yr old wipes his plate clean, gives you a hug and says "Mamma, it was yummy". The joy when you have friends call you and say cook that, I am coming…. All this is unparalleled by anything.
I started my food blog recently while you will see posts dating back on it that's because I imported all the food posts from Monika's World on Sin-A-Mon when I created it. Sin-A-Mon is as much about baking as it is about cooking though as baking is what I love the most. The mixing, folding, whipping… aah the joys. 🙂
What would be the menu if I have all my blogger friends for dinner, now you can't ask me that question now. If that was to happen I would fret over the menu for days altogether…. But currently I can tell you what will be the dessert…. A mango crumble with a mango ice cream. Yeah we are mango lovers here.
Q: Apart from being a food lover, a photographer also resides within you. What kind of pictures do you like clicking the most? What are your other interests? Can we expect a photo blog from Monika now?
A: Finally something that BlogAdda overlooked 😛 This February I started with Project 365 which is basically capturing your year in pictures. One picture a day. I started that on the Monika's World but soon I realised that its completely taking over my blog and readers started saying they are missing my words so I started a brand new blog Thru Monika's Lens where I post a picture a day. I am not as regular as I would like to be though and hopefully it should improve soon. As I say I am not a great photographer but I am a shutter happy person who likes to capture the small and big moments of my life and the things around me. The pictures I click are simple things you see around in everyday life mostly. Some might be from my travels and all of them are unedited apart from a little cropping here and there.
Q: The organic garden in your backyard seems to have a lot of effort gone into it. Your dream is to have an organic farm. In what way are you working towards it? How far have you reached in fulfilling your dream?
A: I love gardening and the garden in my previous house was one of my biggest stress buster. Till sometime back we were living in a gated community where I had the luxury of having a backyard and grew some vegetables the organic way, now we have moved in a city pad though and have no such luxury. 🙂 But yes organic farming is a long term dream I have and we are working on it. Hopefully something might work out in the long run. Fingers crossed.
Q: The country currently is facing many controversies. You have expressed your anger over crores spent on keeping Kasab alive. According to you, what is the best alternative to solve this issue? What do you think is the biggest mistake the Indian Government does in governing?
A: Shoot him down. I know I might be impractical when I say so but a person who killed so many, why do we have to protect him? But yeah anger apart I do understand the need to keep him alive and need of justice for everyone. I think the biggest mistake we are doing is being too soft with terrorists. We need to show them that as country we will not tolerate this and that holds for both the terrorists from across the border and the ones that are living and growing in our own country.
Q: Do your friends and family read your blog? How does your normal day look like? Does Naren (your husband) also write on your blog? Do you push him to start blogging?
A: As I blog in my name, most of the family and friends know about my blog. Some I know read me. Some surprise me now and then by talking about something I wrote in the blog and some have even surprised by commenting once in a while. Naren is a different story all together. He doesn't read my blog how much ever hard I try. 🙂 If there is a particular post I want him to read I have to send him the link and coax him to read it 😛 I guess husbands will be husbands after all. No I don't push him to start blogging. It's my interest and he doesn't enjoy it too much so why should I? He has other interests mostly related to sports which he pursues and according me as long as you have something apart from your work to turn to, it doesn't really matter what it is. He did very briefly co-authored our travel blog though but he was so lazy on that he gave up.
Q: From Delhi to Bangalore – Which city you heart the most? We would like to know the reason for this shift. Share with us few things that you like & dislike about both these cities.
A: Don't do this to me, truly I can't choose between these two cities. I know this will come as a surprise to many. Many including my hubby think that I am true Delhi girl which I am but also now I am true Bangalorean too. I love both the cities. One, because I have spend my childhood, my teenage and all my growing up years in that city. First fell in love in Delhi and married someone who I love the most, in Bangalore. Come on how can I chose? I love them both equally. I have been born and brought up in Delhi and why I moved to Bangalore, well why does an IT person move to the Silicon Valley of India. For job, and when I moved I thought I will go back in two years never thought I will fall in love with the city so much to make it my home.
Delhi, a city which has always been home …. I love Delhi for the fact that it has a soul which is so bindaas and full of life, I love it because its truly dil wallon ki city and I love it for food. The best food in the whole country be assured of that. I love it for the history it has. I love it for the true metro it is, for the fact that it is truly a blend of all cultures. What I dislike about it. The distances, the weather, God I cant stand the heat anymore and the fact that the city doesn't respect women as much as it should.
Bangalore, the city I have come to call home… I love Bangalore for the weather, there is no other city in the whole country which can boast of a weather like this round the year. I can bet you on that. I love it for the slowness it brought to my life. I love it for the simple people of Bangalore I see all around. I love it for the reason that it truly is one of the only cosmo city India can claim it has. What I dislike about it. The traffic, I hate it and the sambhar, it sucks.
Q: We had recently picked a post on outsourcing parenting in our Tangy Tuesday Picks. To what extent do you think should parents limit this outsourcing? We often hear news of how the maid ill treats the children when parents are not at home, they are even physically and sexually abused. What is your take on such issues?
A: It's a great post that one, tries to touch upon the problems of a working mother. The current situation of urban India. But well it's a personal choice of a parent. What might be right for me might not be right for another. What I think is the limit of outsourcing might be the necessity of another. And maids are indeed a very important part of our lives infact, Naren calls them as prime ministers of the house. I call myself as a fairly hands on mom, have been at home with Ojas since he was about 1.5 yrs, sometimes doing nothing and sometimes picking up a freelancing assignment from here and there but has that taken a hit on my career? Most certainly yes. Whether everyone would like to do that. I don't think so.
But what I suggest to every mom and every dad is to be with your child when you are with them. I don't think we should feel guilty about the 8 or 10 hours we are spending in office, what we can feel guilty is about the constant phone calls we were taking in the one hour we dedicated to spend as family. How much one wants to outsource in parenting is one's own decision but for me I have only one thing to say even if you do fully outsource the tasks, spend some time with your child everyday talk to him understand him and make him aware that you are there always with the child even when you are not physically around in the day.
And as far as the abuse is concerned I think its very important to empower your child and trust his and your own instincts. A working mom eventually has to leave kids with the maids not everyone can have a luxury of having grandparents to watch over or working from home. So have a maid that your instincts allow you to trust, call often, make sudden visits and talk to your child about the maid often. Try and listen to the unspoken words too.
Q: How important is it for the blogger to interact with their readers? Do you respond to all the comments that you receive?
A: Very important, almost crucial I would say though I know I have been guilty at times to be late in the response of comments but I try and respond to the ones which have made a point. I do understand that as the readership evolves it becomes a little difficult to reply to every comment on the blog but what is important is to be approachable and communicative. Don't leave your readers thinking you don't care about them because truly what makes a blog a blog is the content and the readers.
Q: What do you find to be the most gratifying aspect of blogging?
A: That I have an outlet for my thought and the feedback from the readers. When a reader comes back and says they tried a recipe and loved it, you feel happy. Sometimes when you finish the rant on the blog and you realise that you are not the only one thinking like that, you feel relieved. So, I think the most gratifying aspect would certainly be the communication it opens up.
Q: How, in general, would you rate the quality of Indian blogs? Share your favourite five blogs.
A: Indian blogs have evolved a lot over years and some of them are really good. Some great Indian stuff is there on the web to read these days.
Now haven't I told you that this favourite business is very tough. 🙂 Ok but what I will attempt is to pick up favourites subject wise
Favourite Parenting Blog –
The mad momma – the brat and the bean they steal with heart some more with every new post. 
Starry Eyed – solid and simple parenting tips which will always clear the doubts you had.
Favourite Personal Blog –
Ritu – you have to read her to believe me how funny she is. 
Kiran – for the warm person she is and for the fact how it comes out in the blog.
Favourite Food Blog –
Finely Chopped – for the food tales he weaves. 
Purple Foodie – because like a blog name like that it can only be lovely. 
Deeba of Passionate about Baking – because everyday she inspires me to bake some more and better.
And a special mention to Indian Home Maker for the best ever blog for social causes. With a passion and strength like her I wonder what is she made of. Respect is all I have for her.
Q: You had to dig out when you were asked to prepare a list of best posts in few categories. Time to have the best posts from your blog now:
Q: What is your advice to someone who wants to start a blog?
A: In one sentence — be true to yourself and your readers. Whether you believe it or not, the readers can sense fake from a mile away.
Q: Do you earn revenue through your blog? How does one go about it?

A:  No I don't earn any revenue from the blog and don't intend to either.
Q: What is the future of Blogging?
A: I see it evolving more as an alternate media. As a media directly from users atleast that's what I am hoping.
Q: Let's conclude off with a few favorites.
Color: Purple these days
Movie:
Hindi – Jaane Bhi Do Yaaron, Dil Chahta Hai
English – Crash, Godfather
TV Show: MasterChef can someone please bring it back. I really want to see the current season.
Book: Kite Runner, Little Woman, Midnight's Children, Lolita, Three Men In A Boat and many more.
Time of Day: Late evening. I am most certainly a night owl. 
Your Zodiac Sign: Leo.
Thank you Monika for this wonderful interview and your palace tour. 😉 It was a pleasure to have your interview at the Adda. Keep Baking, clicking and doing all the awesome work which you have been doing. 🙂