The WWF team do a brilliant task every year. In the month of March, 128 countries and over a billion people switch off their lights for 60 minutes, leading to large energy savings. You would have participated in the year 2010. What happened thereafter? Did you do something to conserve natural resources on a regular basis? Maybe as simple as saving power.
For instance, we waste electricity when we keep some of our house/office lights on, while we are out somewhere. A lot of water is wasted when a person is brushing their teeth or shaving and keeps the tap open. There are a list of things which occur in our daily life, where we continuously do things which are not good for the environment. Many of us know how dangerous it is to use plastic bags. Still, how many of us have stopped using it and adopted cloth bags instead? Small actions which will collectively result in a big change in favour of our environment are always overlooked.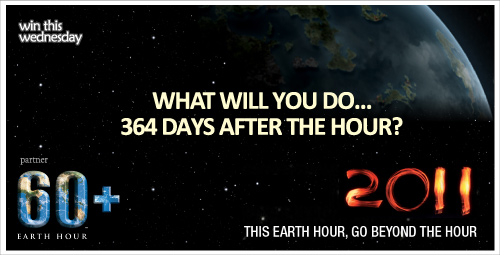 We are too busy to care about it. Here is one chance where you can do your bit for the environment and make it a better place to stay in for the future generation.
BlogAdda teams up with Earth Hour India and pledges to go beyond the 60 minute mark. On March 26th, at 8:30 pm, we will switch off our lights.
What will you do to go beyond the hour? A whole 364 days after the hour!

List down your daily activities. Right from the time you wake up till the time you sleep. Analyze where you are wasting the resources and see how you can rectify it and help the environment. It might be turning off your car while the signal is red, to switching off the main switch of your TV.
Mention those things and observe what corrective measures you can take. Remember, be realistic in the changes you suggest to adopt.
Suggest the things you think everyone can incorporate in their lives. Simple things which can be very effective when done by everyone.
You might want to take a print out of the list you prepare and pin it on your clipboard so as to follow them regularly.
The last date for submitting your entries is March 22, 2011.
The entries will be chosen on the basis of simple doable suggestions that can be implemented quickly by a large group of people or organisation. You also need to write down what will you be doing to help contribute to this cause.
The Prizes!
First Prize: Earth Hour T-shirt, Magic Mug and Diary.
Second Prize: Earth Hour T-shirt and Magic Mug.
Third Prize: Earth Hour Mug and Diary.
Do not forget to check out the resources page on how you/your company/society can support Earth hour. Take the pledge now!
So, go ahead and start writing! Suggest ways to help others and yourself. You never know, with your useful suggestions, you would be responsible in saving our planet!