Have you ever stopped by a tea stall to save a kid from child labor? Probably you were getting late for work & ignored it. Did you get out of your car to help someone in a road accident; or assist an old man cross the road? Maybe you had to reach home to watch your favorite TV serial or cricket match. Perhaps you never bothered when a beggar was dying of undernourishment. Then, can we say that humanity still dwells inside us? We easily expostulate for what we do or just say, "Who cares?!"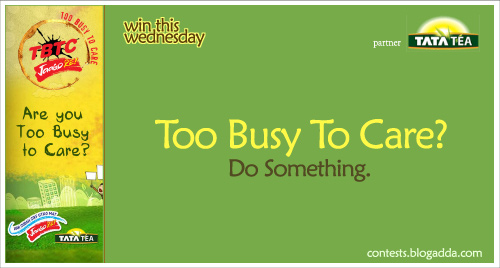 Many a times, we are captious by nature and find excuses to blame something or someone. How many times do we actually act? Sometimes Yes, Mostly No! Because most of us are just Too Busy To Care. At times, we might follow the issue, but fail to act on it. Many of us want to do something for society but are unable to take out time. We feel, we reflect, we want to contribute, to act but something comes in the way. We feel inspired, moved and also guilty for not doing that something, anything. Most of the time, that inspiration loses its way in our packed, no-time-to-think, no-space-to-breathe, BUSY schedules.
Now, you have a chance.  A chance to act on that inspiration. To help. To care. To act. To do that something.
BlogAdda in collaboration with Tata Tea Jaago Re! gives you an opportunity to do something for the society, for humanity, for your inner self! Share with us those stories where you wanted to or want to do something but haven't been able to.
Are you ready to finally act upon something? Read on!
Remember those moments when you wanted to do something for a person, social cause, animal, etc. but you chose to ignore. Share those moments, that story.
Tell us in what way do you want to provide a helping hand for a cause/person.
Suggest the steps that you think should be taken to reduce the Too Busy To Care Syndrome.
Please copy paste this code on your blog post.
I am too busy to care, but want to do something. Jaago Re and BlogAdda.com are helping me do my bit for the society.
Stories written from the heart have a different appeal. Go ahead, write from your heart.
First prize winner will get a gift voucher worth Rs. 5000 and another four entries will get gift vouchers worth Rs. 1500 each!
So, what are you waiting for? Jaago aur Jagao Re!
About the campaign:
Tata Tea Jaago Re's – www.jaagore.com just made it much easier for all the "Busy" people in India to start to "Care" and participate!
Now, at the click of your mouse, you can:
Volunteer: Chip in with NGO efforts, even from the comfort of your home or on weekends. Join up for events that are fun and help some cause!
Connect: Find and chat with like-minded individuals, NGOs of interest or citizen groups that catch your attention.
Speak Up: Share your ideas, ask questions or answer some for others. Post your activities and initiatives as an active ciizen, to inspire others or catch up on the latest on the Jaagore Blog.
Learn: Get updated on social issues you are passionate about. Share your thoughts and information, if you know better!
Jaago Re! makes it so easy that no one can given any more excuses about being busy!
 This contest is successfully concluded.