'Which is your oldest book and what are the memories associated with it?'. When we asked this question to the Indian Bloggers, we recieved some amazing entries and it was an awesome experience reading through all the posts. Aditi Mathur is known for her penchant of reading books and hence we requested her to judge this one. Here is what she has to say. 🙂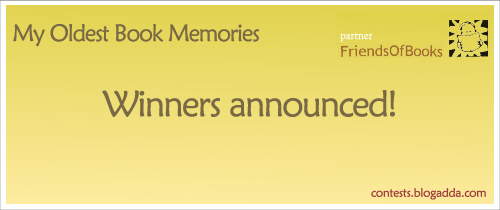 Aditi writes:
Scene 1:
I'm sipping coffee in the balcony.
Neighbor's 14-year-old basketball-playing currently-home-bound due to a leg injury son is in the garden below.
"I am *SO* bored! " He says for the zillionth time.
"Read something. " I hear myself say.
"Read what? " he asks, a little taken aback.
"Um. A book." I offer.
"Ugh." He makes a face. "My exams aren't till next months."
I stare.
Scene 2:
I'm in the Delhi Metro, happily clutching a frail paper bag of 5 books I bought from Dariyaganj.
A group of teenage girls are discussing a birthday party.
"What kind of a retard gifts books on birthday's?" Says the girl in khakhi shorts and very curly hair.
Cute girl in white denim nods fervently. "It's like, so uncool!"
"If I had to read, I'd rather read it on my phone, duh!" Girl in Khakhi Shorts flashes her iPhone and chews hard on her gum. Both frown for a few seconds, lamenting on the 'uncool' state of the world, before getting back to non-stop texting.
I think they didn't noticed me.
So. It is clear how thrilled I am to be a part of something that involves not only reading â€â€ that a 14 year old thinks is restricted to his course books â€â€ but also *real* books (and not on some sort of a contraption that takes away the entire feel and magic of a book). Thanks to BlogAdda and Friends of Books, I'm a happy girl today.
I've been reading ever since I can recall, and old books have always been dear to me. I have this memory where I am crouching on the floor over a torn book, warm tears stinging my face and occasional sobs escaping my clenched throat. I don't remember how old I was, I don't remember what book it was and honestly, I don't even remember if I could read at that time. All I remember is the torn book, the crying and then being scooped up by dad.
My passion to 'own' books began innocently enough, with me asking my parents if I can scribble my name on their books. It went on with borrowing books from older cousins and 'forgetting' to return, trying to sneak a book of two from the school library and getting caught (though I did manage to flick a Hardy Boys hardback. Score!) and even stealing books from my uncle who never agreed to lend.
Now I generally buy my own books (Yes. Thank God), and flaunt a personal wall-to-wall library to whoever who gives a damn.
So when I was asked to judge this fabulous contest, I jumped with excitement. This is my thing, I said! Bring it on! In a world of smart phone apps, e-books and kindle, just when I was wondering if people read real books anymore, each and every blog post in this contest took me on several journeys, and it dawned on me that it may be rare, but actual books are not passé, yet. Hallelujah!
So I congratulate each and every one for participating.
Here is my take on the entries:
I feel a compulsion to start with Priya and Rinaya because Harry Potter Series is my weakness. No, really. No matter what the haters say, the Harry Potter series of books is nothing like I've ever experienced. And as Priya puts it, there are so many books that you'll love even years later only because you loved them years ago â€â€ Harry Potter is one of those books for me.
Fantasy seems to be everyone's favorite, including me of course, because along with Harry Potter there's Dimitri Das and her Cinderella story.
Also, writing about The Lord of The Rings, is D2 who says that every-time you read a book, you see a new meaning to it, a deeper understanding builds with every page you re-read. The joy of reading.
It is said that the stories of childhood leave an indelible impression, and their author always has a niche in the temple of memory. Priya won her first book when she was in school and admits that the book has had a huge impact on her thoughts, and life.
In her post about Jane Austen's Pride and Prejudice, Devilzangel says that books are her escape to the world of fantasies, infinite imagination and different realities of life and the happiness of fiction, and I couldn't agree more!
What can you say about someone whose first book was a collection of short stories by Anton Chekhov? Raksha is a lucky girl, I say.
Shuj's Post reminded me of my little sister and how I almost bullied her into reading Nancy Drew when she was young. Was all worth it, right?
Describing her oldest and dearest book, Ugich Konitari says 'this one sits, fresh as ever, lighting up a corner of my mind.' The rest of the post about a wonderful book by a wonderful author is enough to make you want to get hold of this book.
The entry that pulled me back into the past and return with misty eyes, was sudhagee's post about the book 'Heidi'. I read it a long time back and maybe it's time to read it again.
Himani, you strike a chord when you say you'll never let The Alchemy of Desire by Tarun Tejpal go away from you. And looks like we are in love with the same man! 😉
Neelum says 'I'm never under any pressure to de-clutter or give away' when it come to books, and I couldn't help smiling. High five on that!
Rohit shares memories about "Chariots of the Gods?" by Erich von Däniken in his distinct style â€â€ and you cannot stop once you start reading his post.
Manreet's post talks about an old friend â€â€ her dictionary that has once again become her companion after years. The online dictionaries and thesaurus on the phone might have taken over the old huge heavy ones in our life today, who can forget the days when we carried small dictionaries in our bags everywhere!
And what can I say about IdeaSmith's oldest book â€â€ I read Katy at the school library and seeing picture of the book gave me goose bumps. Maybe I should have tried to slip one of the three Katy books instead of the Hardy Boys. Damn.
And has Ayn Rand ever been left out in a discussion about book? So there's Prasanna and The Esurient Reader, talking about The Fountainhead â€â€ a book that must come with a 'Might-change-your-life-forever' warning.
Stargazerpuj's and Obsessivemom's posts was full of pretty pictures and a lot of memories, and so was Smitha's post about her old story books in Malayalam.
Neha tells us how Anne Frank's diary encouraged her and her friends to start their own journals.
R.K.Narayan features in Laxman's post which tells a tale of big changes, of strength and of finding a friend in a book.
Ruchira tells us how Ruskin Bond's 'Scenes from a Writer's Life' was her constant friend in Japan.
Bishwanath Ghosh takes a trip down the memory lane and tells us about his first book and his journey since then.
I totally agree with Bedazzled when she says 'balk and refuse if someone asks me if they could borrow them.'
I read Vidya's post more than once, it is just so honest and yet excruciatingly emotional.
A post that touched my heart is Moonbeams's post about her mother's notebook with her chemistry notes, drawings and even recipes!
I enjoyed reading this post about Midnight's Children by Salman Rushdie â€â€ and think I'm going to pick it up again.
The Thinker writes about his first and his treasured book of water colors, which was a gift from his dad. He says he finds the idea of parting with it very hard. I hear ya!
Always Happy tells us that C. Rajagopalachari's Mahabharata has been in her family since 1970s, and how her cherished childhood memories are associated with this book.
Vivek says he will take the book 'The Scarlet Pimpernel' by Baroness Orczy with him on his last journey, an emotion I can instantly relate to. He has had this book since 1974.
A good book has no ending, and all the entries prove it.
The winners, in no particular order, are:
Vidya for the heartwarming post about her 1966 Wren & Martin, and memories attached to it
Bishwanath Ghosh who picked a brilliant book as his first one, and still reads it often, only to find a new implication every time
IdeaSmith for her beautifully written post, and the sweet nostalgia she conjures.
Our Special thanks to Aditi Mathur for judging this one and making it more special for the Indian Bloggers who participated in this one. Thank you.