When we were children, scratches or bruises didn't matter, time never mattered, people or family didn't matter to us. Nothing in the world would matter when we were playing. It was just the sport and our friends who were the family and relatives when we used to play. Keeping this thought in mind, we announced the contest 'Sporting Memories'. We wanted you to go down the memory lane and relive those times. After reading the awesome posts by the Indian bloggers, we knew our Judge Saahiba Tikuli Dogra would have a real tough time judging this one. We now set the stage for Tikuli to announce the winners and here is what she had to say. 🙂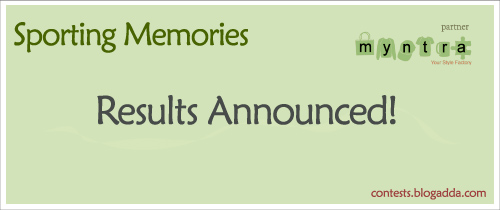 Tikuli writes:
Sporting Memories 🙂 Oh ! how I wish I had participated in this contest. It was an awesome nostalgic experience to judge the entries. The native sports, inspirational stories, humor, street sports and all the masti and chatkara of bachpan which we gradually lose out as we grow up. I loved it all. Many entries deserve to be mentioned for just a simple reason that they bring out something special deeper than just the spirit of playing games. I myself played basketball till zonal level but my precious memories are based on the fun we had on the streets, terrace and local playgrounds playing street football, cricket, gilli danda, marbles, flying kites and running after them. These were the actually sporting events for me. 😀 So here are the top three winning entries:
In deep waters… literally! by G: This was a truly inspirational post and not just that it says so much about the determination, achievements and courage of our Indian sportswomen. Sometimes we come across situations which change the entire course of our lives, they teach us the biggest lessons to overcome our fears and march on victorious. I am honored to know one such person who has made a difference against all odds. Congratulations and best wishes for future.
Dilli 6 meets Kite Runner by Tulika Singh: This brought back so many nostalgic memories of kite flying. As I said before the games we play as kids in the neighborhood are the best sporting events. The preparation that goes on for the kite flying contests, the adrenaline rush, the eyes trained to catch the kati patang and the magic of community sporting event all came floating in front of my eyes. I have seen it all come alive at Dilli 6 and heard many such incidents like yours from dad, who was from Allahabad. Great trip back to childhood. Congrats.
Maiden Over by Vibhuti: Vibhuti the tomboy 😀 I loved your post. It took me back to my childhood and I could see my dad desperately trying to get me back home. 😀 It sure is a high when you are watched by those handsome dudes from neighborhood 🙂 and ardent followers who cheer at every move you make. Although I never played cricket, I watched and cheered. We played football and basketball, the all weather games and your post really made me wish for those days to come back. Congrats Girl.
Apart from these top winner posts I loved reading Suranga's, Asha's, Kamikaze's posts for their exceptional take on the subject. Sadiya Merchant's post needs a special mention as one of the most humorous entries. 😀 enjoyed it a lot. It was hilarious and a heady mix of sporting memories and fun. Way to go.
Thank you BlogAdda for taking me through this wonderful journey down memory lane. I enjoyed every bit of it.
Congrats to G, Tulika Singh and Vibhuti as you win yourself vouchers from Myntra.com. We will mail you the details pretty soon. Thank you Tikuli once again. Do read her interview and know more about her.