In the urban lifestyle of our respective cities, we often have an encounter with headaches, fever, cold and cough, etc. We always hope to get well soon and get back to normal. Though we know it won't last for long and we will get back to normal with some medication. Imagine the sorry state of people who have to live with this hope for years long. Such is the state of the cancer patients worldwide. Everyday fighting with death and hoping to get well soon, is not an easy task. According to us all the cancer patients worldwide are true warriors who battle each day for their lives…
Update: Winners Announced at the bottom of the post!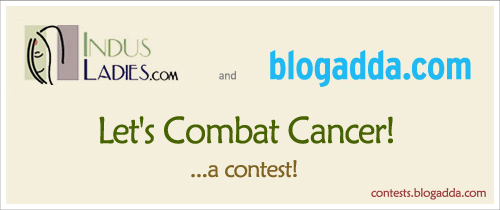 A motivation is what keeps a soul thriving for life. With this noble thought, BlogAdda calls out to all the bloggers to come and write any inspiring story, narrative, personal anecdotes or an experience that provides hope for those fighting cancer! BlogAdda in association with Indusladies.com announces a contest, 'Let's Combat Cancer'. Here is a chance for all the bloggers to make a difference in someone's life through their writing and prove that 'words can speak louder than action'.
Tell us if you have or anyone you know have had an encounter with cancer. What did you do then? What were the learnings?
Any incident around you which you think by sharing with us can make a difference.
You also have the opportunity to bring any cancer patients plea in your blog and who knows the victim might get some helping hand.
Any story which is inspiring or heart wrenching.
Display (at the top of your blog post) one of the campaign badges that you can get here
This contest is not about winning but is about making a difference. The top three posts will win goodies from Indusladies.com.
So think on how you can motivate the cancer patients to fight back cancer and survive! Make a difference in someone's life today and feel the difference in your own life as well!
The winners for this contest are:
You win an Indusladies Cap and a Letter Holder. 🙂