Remember H? After his bungee jumping moment of madness, he went ahead and completed his 'Moments of Madness' list before he comes back to his desktop to see our contests page. After reading the wonderful entries posted there and going through the bloggers 'Moments of Madness', he realizes that he has missed so much in life. He is ready to set off again, but not before knowing the winning entries. We requested Monika Manchanda to do the honours and you will know why. Take it over Monika. 🙂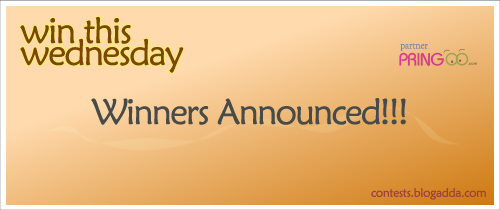 Monika writes: When I got a mail from BlogAdda asking me if I will be the judge of this contest, the first thought that came to my mind was wow that's an honour and the second that came was what a right contest for me too judge…. A madness contest judged by a person who is half mad anyways sounds good 😉 and that too at a time when I am running mad because of multiple pressures. But when I sat down reviewing the entries that had been submitted for the contest, I was simply blown away by the entries. They were all so good that I really had a tough time deciding.
Some of them made me laugh like crazy, some of them touched my heart and touched a chord somewhere, some of them took me years back to my childhood and college days, best days of ones life isn't it?
Long along I had read a quote somewhere which said There is a quote which I have always loved "My dear Sir, take any road, you can't go amiss. The whole state is one vast insane asylum. And then there is another one which says For me, insanity is super sanity. The normal is psychotic. Normal means lack of imagination, lack of creativity". So true… I am strong believer of the fact that there is an insane person in all of us and life is all but a balance we create within the sane and insane in us. Some of these posts made me realise that most fun is had when we let go of the sane and let the insane take charge for sometime. So after much deliberation and sleeping on the posts for sometime, here are the three winners
Weaving a web by Phoenixritu: The beginning of her post states that "In the west, they would have put me into therapy, but this is India" so very true… half the things we do in India if were done anywhere else a shrink is who would have come into the picture immediately. Ritu already has an image of being a mad mom and having a mad family… A mad family we have all fallen in love with. And you have to read this post for knowing the madness in Ritu, the post had me in splits with ghosts and smart kids
Sarvana Kumar: What a way to weave madness in your life, with the person you love. Small mad incidents starting from college to teach cycle to teaching mathematics to final marriage madness which made me go awwwwwwww. What a way to tell a story.A mad story that I fell in love with
Lakshminayaran Viju: He took us through the mad adventures of his life and at times I was actually peeping in the next sentence wanting to know what really happened after the mad moment, from cart thieves to white water rafting he has had mad moments every where.
Apart for the above three there were some more posts that came really close, very close to being the winner and they really are a winner in themselves.
Each and everyone on this universe have an element of madness wired into their DNA. But what God forgets to incorporate in some, He balances it by putting a larger dosage in others. I would like to mention here that I belong to the latter category!! says Nandana while recalling the lovely mad moments.
The post that took me back to Punjab and Chandigarh and man can u beat it someone actually jumping in a lake without knowing swimming just because friends are doing so 🙂
And the poetic madness by Raksha came the closest, what a innovative way I say Ever wondered who is watching behind the CCTV, read this post… loved it for the pencils, loved it for the CCTV.
I had such a great time reading all these posts and such a difficult time judging them. Thanks BlogAdda for the honor.
Once a full time software engineer and now a full time mom and blogger, Monika enjoys cooking, baking, gardening, travelling around the world and then writing about all of above at Monika's World. Don't forget to visit her blog and follow her on twitter @monikamanchanda.
Thank you Monika for taking out time for this. We appreciate it.