Once upon a time, there was a man called H. One day he decided to make a list of things which he wanted to do but was not sure he would be able to do them. He chartered a plane for South Africa, not for the world cup, but to Bloukrans, which is the World's highest commercial Bungee Jump at a whooping 216 m high. Controlling his nerves and backing himself up, he gets ready to jump. Just before his jump, he calls his son & gives him a list.
As the son starts reading the list. he smiles as the name of the list was 'Moments of Madness'. 'H' had embarked on a journey to experience his 'Moments of Madness' and his son remembers his few 'Moments of Madness' that he had experienced much early in his life. We are sure you would have had your share of such moments. It is your time now to share the list. 🙂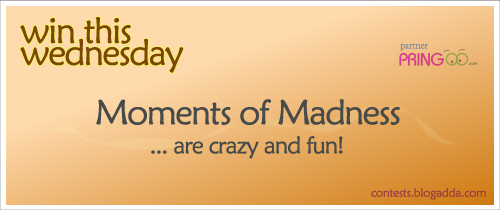 BlogAdda, in partnership with PringOO, is proud to announce this week's contest called 'Moments of Madness'.
Share with us your 5 Moments of Madness that you would have experienced individually or with someone. It could be anything and everything which you felt was a crazy, fun and a memorable experience.

Choose an existing item from Pringoo.com or create your own design. Incorporate that in your blogpost and if that is not possible, linkback to your product of choice on Pringoo.
Add a Link in your blog post, mentioning this BlogAdda contest announcement AND leave a comment here (stating the link to your post), so we know for sure, that you are participating. This is important.
In case of any discrepancies, the decision of the judge(s) will be final.
The contest runs an entire week, starting Wednesday Jul 7, '10 and ends on Tuesday, Jul 13, '10, 11:59 pm IST. Hurry Up!

Results will be announced on the BlogAdda website by Friday, Jul 16, '10.
And here's the most interesting part, the TOP THREE winning entries can choose personalized goodies (T-Shirt/Mug) from Pringoo.com