'Any man can be a father. It takes someone special to be a dad'. ~ Anne Geddes. You all proved this saying by writing such wonderful tributes to your dad. We know how special each of your Dad is. Some posts talked about sacrifices, some about love, some about learnings and some about givings, all in all it was about how great dad is.
While thinking about whom to choose as a judge for this contest, one of our well wishers suggested us a name. We knew Anand for his contribution to the comic world and the Indian blogosphere, but here he was described as a great dad! We invited Anand Ramachandran aka @bigfatphoenix to judge this contest and he readily agreed! Thank you Anand for taking the time out and judging this contest. Anand, the post is all yours 🙂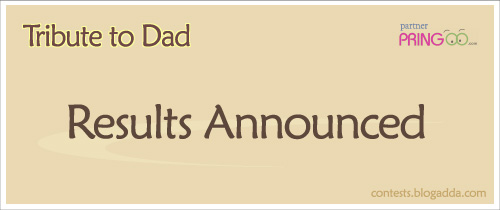 Anand Writes:
How do you even judge an expression of love?
Short answer – you cannot. And indeed, must not. Every individual expression of genuine love, whether it is a simple hug or a Taj Mahal, is equally meaningful, as much the same as they are different. You cannot really measure love, and hence, I hestitate to do the same with an expression of it.
However, do this I must, since this is a contest, and it is my duty to the fine people who have entered (and organised) it. So I'll take a deep breath and dive in.
First, two disclaimers.
This is a purely subjective choice, of course. There may be many people who disagree violently with my final selection, and to those people, I apologize in advance. I've arrived at this selection by applying a number of criteria – originality, writing style, raw emotional connect – but not in any empirical or scientific manner. Ultimately, these are the posts that connected with me the most, that's all.
I must confess that I am not conversant in any Indian language to a degree high enough to be able to judge literary content. I wasn't warned in advance that there would be posts in Indian languages. So the few (I think there were three) Indian language posts do not figure in the selection – and this is does not reflect their quality, merely my own inadequacy. Apologies once more.
And finally, to those of you who find your posts not among those in my selection, believe me when I say that, as a father, if any of these posts were written by my child for me, I would have treasured it as the best thing in the whole wide world. I enjoyed reading every single one of your posts, and thanks to you, I spent Fathers' Day in the best possible way.
Ok. Now to the winners, in no particular order :
Anand Ramachandran is a writer, comics creator and videogame designer who works when he isn't playing some game with an 'of' in its name. He blogs here and tweets here.
Editor: Considering the overwhelming response we received for this contest, we have increased the prizes from three to six. The first three entries above win personalised goodies from Pringoo and the remaining three entries win an autographed book by Nishant Kaushik.
Since Anand could not read the Non-English posts, we decided to pick one winner from the three entries we received. This is our humble attempt to popularize those talented bloggers who blog in languages other than English. This week Suman Chandra has won the goodie for her wonderful tribute to her dad in Hindi.
Thank you Anand for taking the time out and judging this contest. Thank you all our friends and readers for taking part. Keep visiting Contests@Adda for all the latest contests.