Before the sun rises you wake up and then wake me up. I love you for that. Whenever I fall, you are there to support me. I love you for that. You are the one with big heart and is the gift which God has given. I love you for that. Every sacrifice you make to make our family happy, I love you for that. There are times when I want to say how much I love you for being such a loving father, but cannot. I love you Dad! We are sure most of you feel the same for your dad but have not been able to say it. Here is an opportunity to express what you have in your heart for your dad. On the eve of Father's day, we present to you 'Tribute to Dad' contest.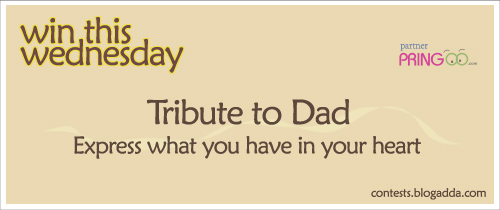 BlogAdda, in partnership with PringOO, is proud to announce this week's contest called 'Tribute to Dad'.
Write tribute to your dad on your blog. Express what you always wanted to tell and were looking for the moment to do it. Here is the chance and a different way to make your Dad happy this father's day.

Choose a gift for your dad from Pringoo.com and incorporate that in your blogpost..
Add a Link in your blog post, mentioning this BlogAdda contest announcement AND leave a comment here (stating the link to your post), so we know for sure, that you are participating.
In case of any discrepancies, the decision of the judge(s) will be final.
The contest runs an entire week, starting Wednesday Jun 16, '10 and ends on Tuesday, Jun 22, '10, 11:59 pm IST. Hurry Up!

Results will be announced on the BlogAdda website by Friday, Jun 25, '10.
And here's the most interesting part, the TOP THREE winning entries can choose personalized goodies (T-Shirt/Mug) from Pringoo.com