What an eventful weekend it has been! It must be some sort of a record – IPL has been hogging the headlines for almost the entire week in all newspapers. MI, the favourites lost and CSK, who qualified on the basis of run-rate, took the trophy. Twitter has been in the headlines as well. Do you know the tweets that lead to the IPL Twitter-Gate? We have put those below, the ones that were tweeted by Lalit Modi. And do you know tweets that will make you smile? Yes, the Perky Tweets. They are the ones that come first on Monday to make sure you start your week with a smile. Presenting Perky Tweets from Indian Twitter Users.

@JWalia
We live in a world where their is oxygen in detergent soaps but none present in the Hospital #quote #perkytweets

@theMugambo
Fart is an art with a silent F. #perkytweets………………………………. ………. ……………. ………

@AshRock22
Women say they can MultiTask! And then, they talk about Headaches! #perkytweets

@RockIshtaar
Now That #IPL is said 2 b fixd. Can we offer some Money To Modi so That in the next #IPL #KKR reaches somewhere? #perkytweets

@hackernewbie
Stewardesses is the longest word typed with only the left hand…leaving your right hand to… #perkytweets

@subhadeep
Had a nightmare last night, dreamt I was a baby, Pamela Anderson was my mother & I was bottle fed!!

@adicrazy
Ah. 'OMG Caffeine' is actually '0MG Caffeine'. What an anti climax. #perkytweets

@TaiyouSun
#breakuplastwords U r not hard to arouse, but ur aroused state is not hard enough. #perkytweets

@crucifire
U either die a hero or live long enough to be presented the 'Lifetime Achievement Award' #twistedbatman #perkytweets
@Shakti_Shetty
As of now, Sunanda Pushkar is more convinced about her 'attractiveness' than any other woman! #perkytweets

@JWalia
Seein Bhajji's heroic fete of liftin Nita Ambani, a leadin crane manufacturer hav decided 2 build a crane 'NitaBhajji' #perkytweets

@silv3rglee
Bumper sticker: Beer — Helping Ugly People Get Laid Since 1837 #perkytweets

@preethe
Meetings- 2 hours spent to beat around the bush to search for a lizard which was already captured and bisected. #perkytweets

@priyaramani
Looks like Nityanand's love for Himachali apples finally did him in………………………………..

@nkitg
the ultimate truth of life is that success kisses you in private but failure always f**ks you in public #fb #perkytweets

@gopinathmm
Lalit Modi was doing what every Indian wanted – to bring the black money stashed away back to India – and we want to fix him! #perkytweets

@manisvce
Team work is vital, it gives someone else to blame #perkytweets ………………………………..

@prempanicker
"I don't understand your concept of professionalism" — SM to the media. Bingo, dude — that IS the problem, smart of you to nail it. 🙂

@subhadeep
IPL match fixing rights acquired by Fevicol with a fixed amt. #perkytweets ………………………………..
@rameshsrivats
BCCI: Come for meeting. Modi: No. BCCI: Better come or else… Modi: Ok, I'll come. BCCI: No you can't come.

@cubicile_blues
Do not wish me Good morning on Monday mornings. I don't believe words can change the reality.

@chin80
#perkytweets Dear Pakistan – Doodh maango toh kheer denge, Kashmir maango toh cheer denge… aur…AJMAL KASAB maango toh LALIT MODI denge!

@rohitweet
"There is nothing either good or bad but twittering makes it so."-William Shakespeare

@SimritBajwa
Friends these days are so completely miserly and selfish. CAN YOU NOT CALL ME SO I CAN WISH YOU FOR YOUR GODDAMNED BIRTHDAY? Nonsense.

@GabbbarSingh
And Nita has to settle for Mukesh. #sad………………………………. ………. ………………….. ……..

@PolitelyPink
Hritik Roshan, it isn't that difficult to pronounce 'Barbara'. If you keep saying 'Baar-baar-aa' it's not going to make her _come_

@theMugambo
After Kaminey and Badmaash, Shahid Kapur might just end up *acting* in a movie 'Gaandu'. I'll wait for that. #perkytweets
And now, here are the Tweets that led to the IPL Controversy, in case you haven't read them as yet.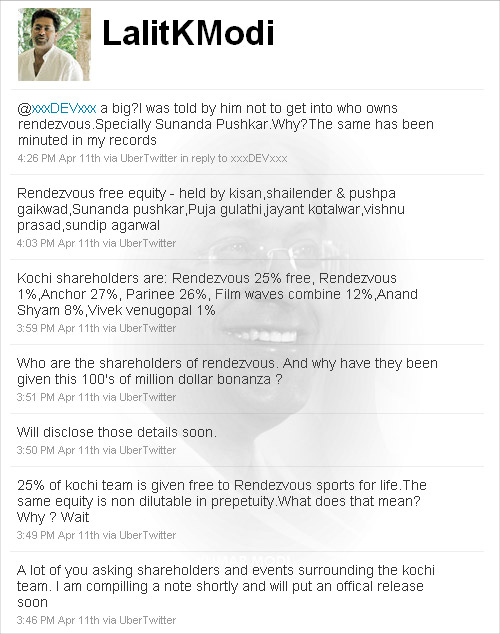 It's always a lot of fun to compile these tweets. Great going Indian Twitter Users. Make your tweets more perkier, more creative, more fun and don't forget to mark them with #perkytweets to get to our notice quickly.
You have a chance to win Nishant Kaushik's autographed book by simply having interactions with him as comments on his interview. Don't Miss! We have a lot more interviews with bloggers. Do read them and participate in the discussions.