Last week we had gone back 34 years when one of India's funniest blogger was born. The first part of his interview gave us some glimpses on his prowess and why he is different from others. In the second part, you will know about Jammy's two timing prowess, his predictions for 2050 and much more. Let us once again enter the world of Jamshed Rajan aka Jammy.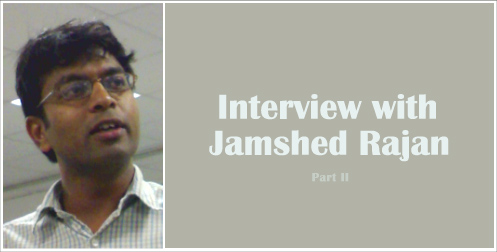 Q: Now we know how funny you are. 🙂 Do you reckon that helps you as a blogger, and what would you say about people using their personality in blog posts?
A: Let me answer your second question first, the one regarding people using their personality on their blog post…no…people don't use their personality on blog posts. They display the personality they want to display. In person, I am a different man. It is the asynchronous nature of blog posts (they aren't live) and the anonymity of internet that combine to present a potent mix to like me.
BTW, just realized I was getting very serious with the answer to this question…lets now add some humor. If blog posts were a true reflection of my personality why did I use Shah Rukh Khan's picture on my profile (of course, I didn't!), why would I think so much before updating my status on ibibo.com & facebook.com, why would I Google for funny one liners and upload them as my status updates instead of writing my own, why would I increase my height by 1 centimeter etc. on my Profile, why would I choose 'Some what good looking' on my profile, and why would I choose to 'single' though I have been married for a long time? Just in case it didn't come across…when I say "I"….I mean, we all.

Now to answer your first question, yes being funny has definitely helped me as a blogger. But a bigger help has been my job at ibibo.com, which gives me enough money to buy humor books and plagiarize them. My next targets are Greatbong's May I Hebb Your Attention Pliss and Sidin Vadukut's DORK….I plan to plagiarize their funny lines for use on my blog.
Q: Jammy's a renowned 'two timer'. What advise would you give to our readers on this based on your personal experiences? 😛
A: Two timing is easy, if you tell the truth.
When this Sprite ad was aired, I was in a state of shock. They were broadcasting to the whole world a technique perfected by yours sincerely…and to top it there was no credit at the end of the 45 seconder. Just that being a sophisticated and suave gentleman, I didn't raise a stink like Chetan Bhagat did.
As for my personal experiences on cheating, it helps if you are in a position of power… the State Electricity Board or the Bhakra Nangal dam's Hydel Electric Project for instance. And if you are using the car, be careful about which laptop you are going to drop after the cheating session is over… I dropped my Sony Vaio and brought home Preeti Mallar.
Q: We loved your post 'If I was born in 2050'.You have mentioned about all the technological advancements in the house, But what we would love to know is your prediction for India in 2050 and the web usage.
A: Around 1995, some big guy started talking of 'Digital Divide'…the gap between people who have access to digital technology and those that don't. Around 2008, I proposed to some friends in the industry a hypothesis called 'Search Divide' – those that know how to search the internet effectively will manage to succeed better in life thus increasing the gap between them and those that can't search effectively.
Since nobody ever takes a funny guy seriously, my 'Search Divide' theory didn't go on to hit the headlines. Today, sitting on 2011….when I think of 2050…I get the feel that by then it will be possible to save the whole data on internet in a single capsule like container, which can then be embedded next to the human brain. Once that happens, everybody will be a theoretical expert. You ask a guy what 'karate' is…and his brain will Google it, pick up the best search result page & start reading it for you. And since more data (read websites) will get added to the internet every day….you will only be as smart as the version of the capsule that's embedded.

There could be Microsoft like upgrades, so it wouldn't be abnormal to hear people respond with voice commands like 'Remind Me Later' or 'Don't show me this message'. Those that said 'Update Now' might start walking slowly because of peak capacity usage. This would be the end of the reign of people who thrive on theory. That's when I plan to be successful… for my wife says I am very practical.
Q: You are the perfect example for people to realize that B.E. is not everything in life especially in today's world. Can you share with your experiences on why you chose not to become a B.E. and eventually become the university topper in Economics. What was the family's role in this decision?
A: I would say a B.E .or a B.Tech is important if one has to write a book on Campus life. Coming back to my story, after wasting precious years trying to become a doctor and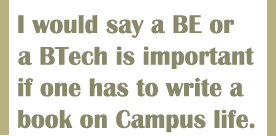 eventually giving up, I decided to study B.Sc Physics from The American College, Madurai (don't ask why its called American College!). My parents refused and said they would pay if I did an Arts course because they would then be sure that I wouldn't run away from college. That's when being an Economist was fashionable – Dr Manmohan Singh had only recently won The Best Finance Minister of Asia award (1993 or 1994) – so I decided to become India's next Dr Manmohan and joined BA Economics.
Q: You are responsible to build Online Communities and that is your interest. BlogAdda .com is the largest online community of Indian Bloggers. How do you think will the online communities make a difference in the future? Do you think online communities would be the answer for a prosperous India?
A: In one of Issac Asimov's book called 'The Naked Sun', which was written around 1955s, he predicted that technological advancements will result in people living isolated lives. With emergence of online communities like facebook.com, ibibo.com & orkut.com, not to mention blogadda.com, this is turning out to be true. With no reason to call up or meet my friends in person (because I get to know everything about them via the online communities)…I have started spending more time alone.
Though professionally, I am striving to grow online communities…on the personal front, I am not happy about the growth of online communities because they supplement social interaction between real life friends. Besides, what is the fun in cheating on your wife (or husband) online? Let us get real.
Q: What are some of the perks of being a successful Blogger?
A: A happy wife. Rekha used to have problems in the way I portray her on ouchmytoe.com. But a few years back, she had her first brush of star-dom when while standing in a queue at the Chennai railway station a 30-year-old called Anand Sony approached her and started a conversation: "Are you Rekha?" "Yes!" "Are you Jammy's wife, Rekha?" "Yes!" "I am a regular reader of your husband's blog, and I know he just makes up the stories about you. BTW, I have seen your pictures on the blog."
Other perks are mails from girls wanting a piece of you. I think it has something to do with humor writers…I am told Kushwant Singh was a favourite with women. Not that they wanted to twirl his beard, but they just liked him for his writing. By the time, I am 60 I might be able to write my own version of "Sex, lies and a bit of Malice".

Q: What do you do in your spare time, if any?
A: When I am free, I visit liquor shops near my house and buy beer and stock them up. In 2000, a friend told me that if I washed my hair with beer daily, they would grow smoother & longer and I could then become a guitarist. But the hair hasn't grown longer, and thus I am unable to start on my guitar lessons. To be a guitarist, one needs long hair…right?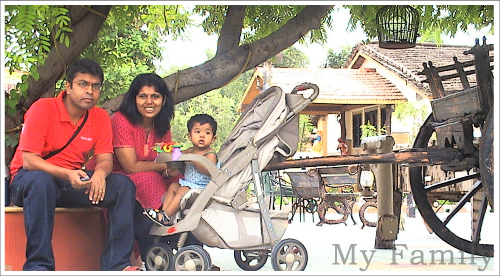 Q: What do you find to be the most gratifying aspect of blogging?
A: The fact that one gets interviewed by BlogAdda.com and the fan mail (which isn't more than one mail in four months). For me the most gratifying aspect of blogging is that I can send my wife subtle messages… which only she can understand. 🙂
Q: How, in general, would you rate the quality of Indian blogs? Share your favourite five blogs.
A: I am no body to be rating the state of Indian Blogs, so wouldn't even bother. I have some favourite blogs – www.greatbong.net is one. www.labnol.org is another. After that, I would rate this Tamilian guy…whats his name…a very short guy… 165 cms or so….this guy who runs www.ouchmytoe.com as my favourite.

Q: What is your advice to someone who wants to start a blog?
A: Just start it. Don't ask anyone how or where or why. Just pick up one platform that you know and start blogging. The journey of blogging is best understood if you travel slow and learn as you go along. Just one advice, don't be an island-blogger (a blogger who just blogs….and neither gets people on to his blog nor visits others blogs).
Q: Let's conclude off with a few favorites.
Color: Black

Movie: Life is Beautiful

TV Show: Dekh Bhai Dekh
Book: Catcher in the Rye by JD Salinger and Couplehood by Paul Reiser

Time of Day: All times
Your Zodiac Sign: Men at Work!
Jammy, it was a pleasure interviewing you and thanks a lot for bringing smiles on our face. We are sure our readers would have enjoyed reading this awesome second part after the fantabalous first part. Have an awesome weekend ahead.