A new week and a new interview for you. After the sucessful launch of all our all new weekly feature called 'Perky Tweets'. We are back with what you all eagerly await every week. This week we have the 'Bhai' from Singapore who likes to drink on the rocks 😛 . We have none other than Sayesha aka Sayesha Bhai who blogs at Sayesha on the rocks for you. She is known for her Sayesha Smitten Showbiz Kitten interviews with bollywood celebrities. This is just the trailer. Get ready to know more about the brain behind SSSK.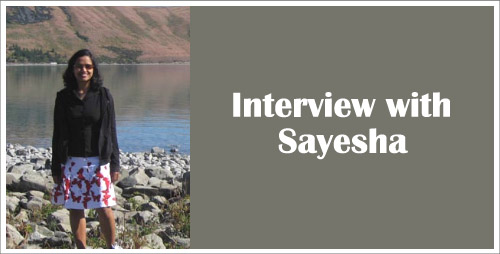 Q: When and why did you start blogging? Was it out of curiosity or something else?
A: I started my blog not because I had a lot of thoughts (actually come to think of it, I didn't have any!), but because everyone else around me seemed to have one and I felt left out! It was January 2005. My colleagues couldn't stop talking about this 'blog' thingie. So finally, I decided to get one myself and find out what it was all about. It's been more than 4 years and I'm still hooked!
Back then, I really had no clue about blogs and blogging, which was quite evident in my first post that went something like, "I have finally created my blog! Yeay! :D".
Q: What topics do you generally blog about?
A: Most of the time, I blog about observations and experiences drawn from my own life, although lately I have started to blog a lot more about Bollywood. A lot of my posts are also about my niece baby Aish and my husband Viv (who seems to be more popular than me! Hmmmph!)

Q: Sayesha 'The Bartender Bhai' ! How did this Bhai Come into Existence in this trippy World 🙂 ?
A: When I was growing up, we had these gangs in school. Don't freak out now, it was nothing violent. Like all teenagers, we also liked to

think of ourselves as very cool people. I was the leader of one of the gangs and the other was led by this guy. Our respective gang members called the two of us 'Bhai' and even we called each other 'Bhai'. (Bhaigiri mein bhi respect hona mangta, kya?) The whole 'Bhai' thing is one of my best childhood memories. The bar thing came about because the blog feels like a bar to me. A chillout space for a bunch of crazy folks, getting high on life. And that's how I became 'The Bartender Bhai'.
This post sums it up:
Welcome to Sayeshaz

Q: Do you ever get stuck when writing an entry? What do you do then?
A: Oh yes! Sometimes I have too many thoughts and when I start typing them out, they result in a very long post, but I just can't find a good way to conclude it. So I save it as a draft till I can think of a befitting end. Some drafts never even see the light of the day because they have served their purpose in the draft stage itself, of helping me put my thoughts into words.
Q: Which tools/plugins do you use to efficiently manage your blog? Any widgets or tips you would like to share with our readers.
A: My blog design is actually very basic, and doesn't have a lot of 'cool features' (frankly speaking, I find them quite distracting). Though I have been blogging since 2005, I was using one of Blogger's standard templates for the longest time. It was only last year that I enlisted Viv's help in changing the blog header picture and giving the blog a new look.
Q: What promotional techniques work best for you and why?
A: I don't really engage in any promotional techniques. It's just a blog and not really a commercial venture, so I have never felt the need to actively promote it. My belief is that true bewdas will find their way to the bar themselves! 😉

Q: Do you earn revenue through your blog? How does one go about it?
A: Nope, I don't believe in hafta-wasooli from my bar's bewdas! 😉
Q: How important is it for the blogger to interact with their readers? Do you respond to all the comments that you receive?
A: I think it's very important for a blogger to interact with the readers otherwise it becomes very one-dimensional thing. I have met some very amazing people and forged great friendships through my blog. I have grown to know some of the regular commentators very well, even though we have never met!
I try my best to respond to all the comments on the blog, but sometimes I get very busy with work and am not able to respond to comments until a few weeks later! I feel very guilty then, because I think it's basic courtesy to respond to someone who has taken the time to comment on your blog.
Q: How, in general, would you rate the quality of Indian blogs? Share your favourite five blogs.
A: I think some of the Indian bloggers are really good. However, I don't really have a favourites' list that I regularly follow apart from my friends' blogs (and I'm not just saying this because they will kill me otherwise!).
Just like with blogging, I often get very irregular with blog-reading so it's difficult for me to name my favourite blogs, but I do follow my friends' blogs very closely.



Q: What do you find to be the most gratifying aspect of blogging?
A: I think that over the years, my blog, or 'the bar' as I call it has become an adda of sorts for like-minded people. Even though many of us have never met one another, it's like one big gang of friends! I love that.
It also makes my day when a complete stranger leaves a comment or sends me an email to say that my blog made them smile or laugh, or feel inspired to appreciate life better.
Q: What is your advice to someone who wants to start a blog?
A: Don't think too much yaar. Just do it. 😀
Q: 'SSSK – Sayesha Smitten Showbiz Kitten' enjoys the conversation between the bollywood personalities. Which conversation did u enjoy being a part of 😉 aur kyun ?
A: Sayesha Smitten Showbiz Kitten (SSSK) is modelled after a character in the British sitcom Goodness Gracious Me. I came up with this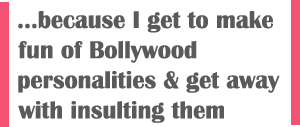 character to create a separate label of posts where this reporter SSSK interviews (or rather, snoops on from low-hanging branches of trees) various Bollywood personalities. In my weird world of alteregos, SSSK writes for a newsletter edited by Sayesha the editor and circulated in a bar that belongs to her royal Bhai-ness The Bartender Bhai. The newsletter is called Akh-bar (the hyphen is important).
Writing SSSK posts are always fun because I get to make fun of Bollywood personalities and get away with insulting them. A lot.
SSSK had the most fun at these two interviews:
The Karzzzzz buzzzzz
Q: How does contributing on other blogs help one's blog?
A: It definitely helps to widen your network if you comment on other blogs. Usually, one would click on new commentators' names to check them out. If they end up liking what they read, your blog could become a regular in their reading list.
Q: 'Humour' This is one Word which is associated with Sayesha Bhai! 'Humour ke bina zindagi adhoori hain'. How relevant is it in one's life?
A: I think without humour, we would all be dead on the inside. Life throws a lot of stuff our way, some of it is good and some is bad. When it's bad, you need to look at the funny side, otherwise you'll never be able to cope with it.
Everyone has problems. We just need to make a bigger deal of the happy stuff.
Q: Bhai 😛 , How different is life in India and Phoren 🙂
A: Phoren (I can only speak for Singapore as I live here) has structure, convenience and comfort. India has ties, relationships and emotions. Dono apni jagah theek hain.
आपने अपना कीमती वक़्त निकालकर इंटरव्यू दिया उसके लिए भाई, आपका बहुत धन्यवाद.  It was a pleasure reading your interview and are sure that our readers would have felt the same. You will have more people in your Bar now 🙂 .
Recent Posts from her blog:

Connect with her: