Kunal Sheth is very well known in Tech Circles and blogs at www.kunalsheth.in. His blog is a mixture of technology as well as interesting personal thoughts.  His post during the Mumbai Terrorist attacks became an instant hit and he helped a lot of people with real time information.
We have Kunal Sheth talk to us about various aspects of blogging and how did he take the plunge to start his own blog. The poems on his blog unearths a different side of his personality. Here is Kunal Sheth for you.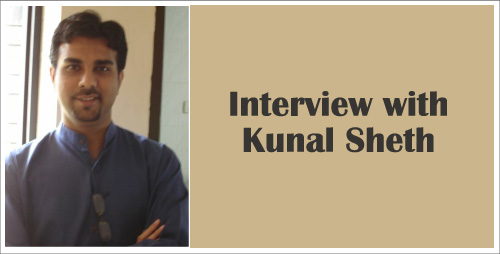 Q: When and why did you start blogging? Was it out of curiosity or something else?
A: I started blogging on my Birthday on August 4th. I always wanted to start blogging but was scared like many to be bloggers on what to write and if I would be able to write. Again, I had given myself 2 months to write my first post but I managed to write it on my birthday itself!
Q: What topics do you generally blog about?
A: Its a mixed bunch. I like to write about technology, simple How-To's, My experience with something I have been trying to do and had a tough time to current events sometimes and recently I have been running contests but I am being told I have sold my soul to the devil and doing promotions for that particular company 😉
Q: Do you ever get stuck when writing an entry? What do you do then?
A: lol… My problem is always the start. Once I start then its fine.

Q: Do you earn revenue through your blog? How does one go about it?
A: Revenues 🙂 Yes, I earn somewhere around 2.8Cr every year from my blog. After paying the PR agencies/Google/Manager/Taxes, I make around Rs 250 every month!
Hardly 😀 My blog is not yet that famous that 10,000 people come and read it. Also, I don't blog as often I should be, so visitors don't really keep checking it often… I think you need to pick up a niche and delicately blog every day to get that readership which can earn you the big bucks… One piece of advice, don't start a blog with the sole thought in mind that I will make tons of money. It will take a lot of time and effort to reach there.
Q: How important is it for the blogger to interact with their readers? Do you respond to all the comments that you receive?
A: Oh very very important… I feel happy when I post a comment on some blog and if the owner replies, I feel good and would go again to read/post a comment… Having said that I feel its important that I also interact with the users who spend their valuable time to read and comment… I don't respond to all the comments but some of them I definitely do.
Q: How, in general, would you rate the quality of Indian blogs? Share your favorite five blogs.
A: Its good. I mean there are some real bad ones but then there are some excellent ones too… the ones which I check often are
I randomly keep blog hopping at times…
Q: What do you find to be the most gratifying aspect of blogging?
A: It helping someone in any way or making the person feel better.

Q: You are quite active on the tech circuit. Why did it take so long to start blogging?
A: lol… I was scared about being laughed upon if I wrote something stupid and people not liking it 🙂 and on top of it I was not sure what I wanted to write about since I was sure I didn't want to write anything personal… Also, I was scared if I would be able to live up to the expectation of people whom I know and who might come to read the blog.
Q: Your Initiative during the Mumbai terrorist attacks were much appreciated in the blogosphere. Any specific incident which comes in your mind by which you were able to make a difference?
A: hmmm… A couple of mails from Germany and Canada thanking for the information.
Q: Life's short, so live it up – we completely agree. How much do you live by the statement? Anything that you want to share with our readers

A: 🙂 I am trying to live by it… Last couple of years have been very stressful and time and time again I have read or seen or heard about how one should live life to the fullest and make the most of it… I have started doing things for myself, things which make me happy without giving a damn others would appreciate it or not 🙂 Don't want to regret not doing it.
Q: You seem to be regular at Barcamps. Is it important for bloggers to interact offline?
A: I don't know… Any kinda interaction is good… Its not important but if you do get a chance to meet up its fantastic as you can know a lot more about the person… I think through blogs at times we hide or show a part of our personality… in reality the person could be different… Personally I like to interact offline.
Q: "Seize the day", do things your way, have a smile, you will be happy all the while. How do you get such words?
A: Ah… well I was on a trip at that point in life… love makes u do crazy things 🙂 and I was writing poems every other day. The poem writing fever lasted I think 2 weeks but I did manage to write quite a few… This happened when I read the 3 words 'Seize the day'… and the rest followed… I like to rhyme as you see… I guess all one needs is some inspiration 😛

Q: Which tools/plugins do you use to efficiently manage your blog? Any widgets or tips you would like to share with our readers.
A: Oh I don't know… I have been hunting for a good photogallery plugin but not been happy with any till now… which means I haven't looked properly I guess… One which I use the most is the random quote generator, a poll engine and a twitter feed updater which shows my latest tweets directly on my blog… sorry but I don't use anything fancy and cutting edge.
My advice try and keep it simple 🙂
Q: What promotional techniques work best for you and why?
A:  I have hired PR agencies who go ahead and talk about my blog. I spend thousands on google adwords everyday. I have a manager whose main job is to spend lacs of rupees only on promotion of my blog.
Just Kiddin… I use Twitter/Facebook as of now… Again it depends on how many followers/friends you have on each… And I have registered at Blogadda from where I hope when ever I post people see and click..
I doubt anyone would be referring my site as of now 🙂
Q: What is your advice to someone who wants to start a blog?
A: Just start it! Don't wait for later. Don't be scared. Just start writing and share the link with a few people… Once you set the ball rolling there will be no stopping it.
It was a pleasure interviewing you and we are sure our readers would have felt the pleasure reading it as well.

Kunal Sheth can be contacted online: