Vijay Anand, fondly referred to as 'The Startup Guy' has his blog at The Startup Guy. He is quite passionate about the startup ecosystem and is involved heavily in the creation of vibrant communities here in India.
He is the Founder of Proto.in, the startup ecosystem body, and has been a driving force in being involved in community events such as Barcamp Chennai, Blogcamp, Wikicamp, Podworks, Open Coffee Club in Chennai and seeding such similar initiatives across the country. Read more about what Vijay Anand feels about blogging and the success of Proto.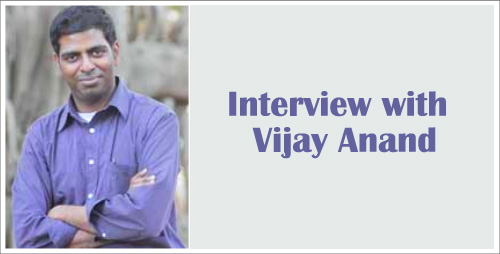 Q: When and why did you start blogging? Was it out of curiosity or something else?
A: When you start off to do something a little radical, as wanting to change the face of the startup community, you soon realize a few things – there is plenty of free advice and very few folks who can help you get in touch with reality. Blogging for me was a way to get some clarity with my thoughts, to engage with smart people and to connect with like-minded people.
Q: What topics do you generally blog about?
A: The blog is titled 'The Startup Guy'. Though I make sure that I keep away from personal topics, I guess my life is entwined with this world. Most of the posts are on entrepreneurship from a individual's perspective.
Q: Do you ever get stuck when writing an entry?  What do you do then?
A: Absolutely. It apparently happens to everyone. I go back to reading. It is usually the times when I do have an idea in my head, but its not fully formed yet. Sometimes reading up on similar – or at times totally unrelated things, helps to get that "Voila!" moment, to keep moving forward. I guess if you are blogging  your thoughts, that's a problem – continuity of crisp ones.

Q: Which tools/plugins do you use to efficiently manage your blog? Any widgets or tips you would like to share with our readers.
A: I haven't yet made the move to a hosted blog yet, so am probably the worst guy to comment on widgets – though the move will happen in a month or two. I usually use Scribe or one of the Firefox plugins to blog, since it helps to be spontaneous and just write sometimes. Haven't used much other stuff apart from the twitter feed that I integrated into the blog to ensure that my readers know that I am alive, just not blogging 🙂
Q: What promotional techniques work best for you and why?
A: As of now, I don't promote my blog much – perhaps am embarrassed about it still being on wordpress.com. The blog url has always been on my visiting card. I do tweet about posts which I think are absolutely good reads, but that's about it. I am okay with having a small readership base.
Q: Do you earn revenue through your blog? How does one go about it?
A: Nope and am strongly against advertising in a personal blog. Its probably not my focus for now.

Q: How important is it for the blogger to interact with their readers? Do you respond to all the comments that you receive?
A: You meet some very great folks when you write your heart and mind and I respond to all my commenters. I often bump into folks who've read my blog or have commented on my blog – and am always glad that I took the time to write to them.
Q: How, in general, would you rate the quality of Indian blogs? Share your favourite five blogs.
A: I have cut down significantly on the number of blogs that I read, but there are quite a few blogs in the Indian space who are doing a good job.
WATblog – and apart from that, blogs of celebs who speak their mind, for ex.
Chinmayi's Blog are favorites.
Q: What do you find to be the most gratifying aspect of blogging?
A: The clarity in thought that you get having being forced to put down thoughts in a structured manner. That helps a lot. Its not very evident, but bloggers are also good speakers – or at least they don't seem to run out of things to say 🙂

Q: What is your advice to someone who wants to start a blog?
A: Start immediately. 🙂 You are still not late in the game. I'd also say blog consistently, but I break that rule all the time, perhaps am very consistent that way 🙂
Q: You were involved in many Startup activities in Canada, What made you think that you need to something for your homeland?
A: I started and exited three companies before I came to India. I was young, foolish and an optimist to believe that one person can make a change. So far it hasn't disappointed me yet.
Q:  Proto.in has just completed it's fifth edition. How has the journey been so far?
A: Amazing. The sheer amount of people that I've met along the way, and the number of people I'll meet in the future – its good to be part of it all.
Q: In your bucket list, you have mentioned about writing a book? Can we expect a book on 'Startups' ?
A: I am often made fun of saying that I'd probably write a best-selling romantic novel 🙂 All jokes apart, if I don't get bored of writing about entrepreneurship, and talking about it, perhaps someday I will write a book – maybe on entrepreneurship – but more towards what it does to you as a person.

Q: Our readers from Mumbai would love to know when the next Proto event would take place here? What's going to be different in the next edition of Proto?
A: Ah Good question, and that's a debate that seems to be raging. We are doing a vote on where to host the next Proto.in and Mumbai and Pune are contending for it. Pune seems to be winning hands down so far – but its probably also a better choice as Mumbai experiences heavy rain in July. But don't worry Mumbai, we'll be coming to you soon enough.
Editor's Note: Just two days after the interview, Pune was confirmed as the venue for the next edition of Proto.
Q: Did you face any bad experiences with the Startup companies? What are the tips you could give to Startups?
A: If you've been working for an MNC, ensure that what you are building has no IP violations. I've seen some Startups get sued by their previous employees, and that's a heart-breaking place to be in. Work hard, Play smart. Also be very careful about whom you take money from. They do have the power to control the direction of your company and take it for better or for worse.
Thank you Vijay for this wonderful interview.
Hope you enjoyed reading about Vijay Anand – The Startup Guy. If you have any questions you can ask him and he will reply right here.