Satish Vijaykumar, the man behind BombayLives. BombayLives is a very popular blog which has everything about the 'The City that never sleeps'. He has been blogging since November 2004.
BombayLives captures the essence of the city through Photographs taken in real time. To know more about Satish Vijaykumar, the man behind BombayLives, Read on…..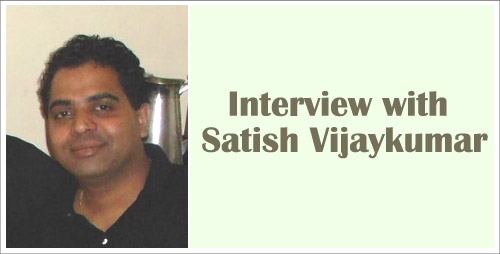 When and why did you start blogging? Was it out of curiosity or something else?
4 Years ago, what started off as a tool, where I could store things I find cool about Bombay and notes for me to remember gradually grew up to became my blog.
What topics do you generally blog about?
Primarily Bombay and the world revolving around it i.e. Bollywood, Cricket, Stocks, Betting, Bombayites, Campaigns etc.
Do you ever get stuck when writing an entry?  What do you do then?
Yes I do get stuck, the solution is simple, MicroBlog. I use Twitter. My twitter id is @bombaylives
Which tools/plugins do you use to efficiently manage your blog? Any widgets or tips you would like to share with our readers.
I use WordPress, Very simple to use. I have also enabled blogging from Flickr so that I can directly blog the pics I shoot, on the blogs I Contribute (BombayLives & Mumbai Metblogs).

What promotional techniques work best for you and why?
Best tool I use is Tell a Friend to share blog posts with friends on IM, Email & Social Groups.
Do you earn revenue through your blog? How does one go about it?
I do make some delta income on my Adsense, which pays off my hosting & domain costs.
How important is it for the blogger to interact with their readers? Do you respond to all the comments that you receive?
Yes, I do respond and take suggestions/feedback seriously.
How, in general, would you rate the quality of Indian blogs? Share your favourite five blogs.
I would rate them as 6 out of 10,  My Favorites:

What do you find to be the most gratifying aspect of blogging?
It is a nice feeling to play a part in covering & sharing insights of this great city.
What is your advice to someone who wants to start a blog?
If you have time use Blogspot, If you have a camera use Flickr & Blogspot, If you don't have too much time use Twitter to Microblog….Yes everything's free.. Once you're bit famous then you can look at putting adsense and moving to a Pro Domain of your own.
"BombayLives" Conveys the message through photos. Why not a photoblog dedicated to Mumbai ?
2 reasons: I wanted to keep my blog a mix of both & currently am using a simple Sony Camera, Maybe when I get a good Camera I shall dedicate a Photoblog.

You have a lot of blogs in your blogroll! Do you actively follow them?
Most of it 🙂
As evident from your blog, you are a keen photographer as well, What tools would you recommend for amateur photographers and have you completed any formal course in Photography.
No, I haven't done any Course in Photography.
My Advice is buy a nice Camera, Don't get shy to snap pics, Ask people before clicking if required, Be nice to all and say thanks. Flickr is the best and effective tool for blogging, creates HTML pages automatically, you can also blog directly via Flickr.
Your blog has a list of 100 things to do in Bombay! Were you able to complete the list?
Not yet, I think I've around 50 more to do, Currently am experimenting 84 things NOT to do in Bombay.
You have been blogging for good 4 years now… what keeps you going?
Good Whiskey, Friends and the City.
Thank you Satish for the interview. View Satish's profile and do visit his blog at BombayLives