IIT Hyderabad's Finance and Consulting Club's (FCC) annual flagship event, Horizon, strives to give all those interested in finance, consulting, and products, a forum for knowledge exchange and career advice. Horizon 2023 is going to be the first edition of the same.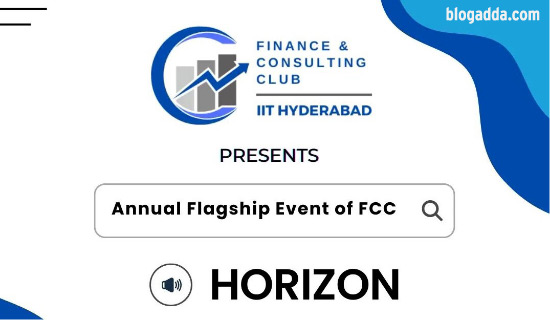 FCC will host a number of contests, workshops, case studies, and engaging discussions with well-known speakers as part of this event.
Some of the speakers of Horizon 2023 are:
• Rishab Jain – He is a well-known finance influencer among newcomers. He runs a YouTube channel called "Labour Law Adviser (LLA)" that has 4 million subscribers. He'll be one of the featured speakers.
• Subba Perepa, Managing Director and India Chief Technology Officer at JP Morgan Chase & Co. He will be guiding students on how to make a career in finance. We greatly anticipate hearing from him.
• Razorpay's Akhil Sharma is the director of product management. We look forward to learning from his knowledge and counsel. He will guide students on the essential skills required to crack product management opportunities.
• One of the other prominent speakers will be Wells Fargo Executive Vice President, Gaurav Mahindra.
About FCC
An organization operated by students, the IITH FCC club aims to give opportunities to students interested in finance and consulting and to foster a vibrant community around these fields. FCC organizes sessions covering diverse topics like personal finance, stock markets, quantitative research, business case studies, and product management. They also focus on increasing awareness around career opportunities in finance and management for IITH students. They have invited various companies for On-Campus placement.
Horizon 2023's Overall Heads, Mayank Agrawal, and Sanket Ranade have shared their vision, "We aim to expand the horizons and empower students with a passion for finance and consulting by providing them with enriching opportunities for growth and development."
Members of BlogAdda wanting to attend the fest can write to us at bavity@blogadda.com