Elan & ηVision is IITH's annual Techno-Cultural event. It is the institution's beating heart. Since its beginning, it has surpassed all expectations by overcoming hardship to grow into one of the biggest college fests in Telangana and AP. Nearly two years later, they are back with an offline version which is bigger and better than ever. It promises to be an exciting experience for everyone with a variety of new activities, creative workshop ideas, and a tonne of energy. The Fest nights are full of joy and frolic.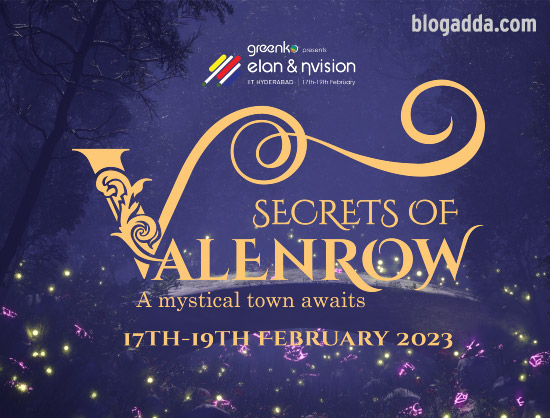 This year's theme is "Secrets of Valenrow – A Mystical fown awaits". Protected by ancient magic woven into the bark and branches, and boundaries drawn into the undergrowth, the doors of this town will open during the 3 days of the fest. The 14th edition of this three-day spectacle will begin on February 17 and conclude on February 19, 2023.
The weekend is planned out with various technological and cultural competitions. They also have a number of interesting workshops and seminars scheduled. And to make the evening more memorable they have pro shows planned where different DJs, stand-up comedians, and singers are going to perform. The Fest nights are full of joy and frolic.
The social theme for this edition is "Ikshana" – Save animals.
Events
Cryptex:
They have this amazing online treasure hunt organized by the Litr Domain of the fest.
Also, they organized an Online LitFest last month.
Breakfree:
Hip-hop group dance competition in association with the Indian Hip-Hop Dance
Championship. They will be having their Hyderabad Audition round during the fest. The prize money for the same is worth 63k.
Quizenrow:
It's Valenrow's thrilling quizzing extravaganza, which takes its name from the fest. They will have questions based on the OTT platform, India, sports, and General knowledge.
Robo Soccer:
A thrilling opportunity for all soccer and robotics enthusiasts. Build your own robots and make them compete with other robots. They have exciting prices of worth 40K.
Glitz and Glamour:
It's time for all glam enthusiasts and modeling aspirants to show off their style on the ramp. They have model Anil Rathod as their jury for Glitz and Glamour So Star Auditions.
Drift King, Picelectric, sugar rocketry, app development, Pixel Lens, Nrityamjali, Filmfare Fiesta, Irshaad, CAD Pro, Machine doctrines, Champ of Ramp, Doodle Art, Maze Explorer, Rap Battle, Game Jams, DJ Wars are just a few of the various activities competition that is scheduled.
If you want to register for competitions, check this out – https://elan.org.in/competitions
Know more about Elan & ηVision on
Website – https://elan.org.in
Instagram – https://www.instagram.com/elan nvision.ith/
Twitter – https://twitter.com/elan nvision
Facebook – https://www.facebook.com/elannvision.ithyderabad
LinkedIn- https://in.linkedin.com/company/elan-nvision-iith
Check out their official after-movie on youtube:
Youtube – https://www.voutube.com/user/ElanIITHvderabad
Members of BlogAdda interested to attend the event can write to us at bavity@blogadda.com