Hello Bloggers!

Yesterday, we expressed heartfelt gratitude to all the doctors for their invaluable work and for leading the fight against Coronavirus selflessly. To keep the positive vibes flowing this weekend, we are back with our new writing prompt. If you are looking for the best blogposts to read and enjoy your weekend, look no further than our Tangy Tuesday Picks.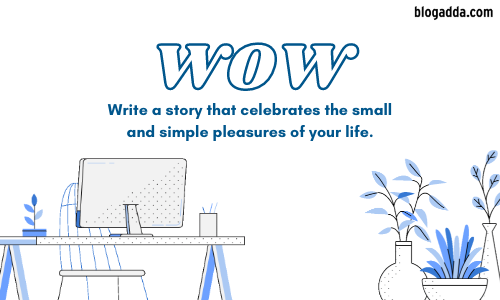 Staying at home for over a year without being able to go out or meet your family and friends, has led to the setting in of a gloomy vibe and the feeling of happiness seems foreign. But this tough time has made us realise to appreciate the simple and little things in our lives. The little things that we did not pay much attention to, brings us the greatest joy now. We never thought a simple video call with family would be so heartwarming or waking up and feeling healthy.
For this edition of WOW, we would like you to 'Write a story that celebrates the small and simple pleasures of your life.' Look around and find something in the room that brings you great joy, or think of an activity you have done recently that brought you happiness. Be as detailed as you want to be and share on what brings in pleasures for you.
Remember to submit your blogpost before Sunday midnight to be eligible as a valid entry and win a chance to display the WOW badge proudly on your blog and social networks.
Kindly add this line in your blogpost, 'This post is a part of Write Over the Weekend, an initiative for Indian Bloggers by BlogAdda.' Click on the submit button below and share your WOW entry.
This is also the time to use our social media platform power to help each other in these difficult times. Please feel free to tag us on Twitter, Instagram, or Facebook if you or anyone on your list needs help with resources. We will share it on our feed.
Have a great weekend! 🙂