We, as bloggers, do a lot of our writing at our desks. Now that many of us are working from home and it looks some will continue to do so, even after the pandemic, one of the most important places in the house is our workspace right now in other words, our desk.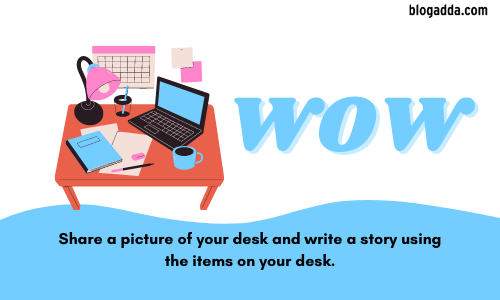 Everyone's desk is different, a place where things accumulate. Not all people look carefully at their desk, but you put all those things there, maybe over many years. Story ideas are everywhere. There is a story behind every pen stand, receipt, or picture hanging on a wall.
What kind of desk and chair do you use? Is your workspace neat and organized or filled with stuff? Do you have an old-fashioned wooden desk? Is your workspace filled with this year's high-end tech for working and gaming, or are you happy with a five-year-old laptop and a pair of headphones?
This week for WOW, we want you to 'Share a picture of your desk and write a story using the items on your desk.' Do a little exercise, look at your desk and ask yourself – Why do I have this? How did it get here? What am I going to do with it? Each item has a multi-faceted history. If you can find the thread that runs through the individual stories, you'd have yourself a good story in end.
Remember to submit your blogpost before Sunday midnight to be eligible as a valid entry and win a chance to display the WOW badge proudly on your blog and social networks.
Kindly add this line in your blogpost, 'This post is a part of Write Over the Weekend, an initiative for Indian Bloggers by BlogAdda.' Click on the submit button below and share your WOW entry.
This is also the time to use our social media platform power to help each other in these difficult times. Please feel free to tag us on Twitter, Instagram, or Facebook if you or anyone on your list needs help with resources. We will share it on our feed.
Keep blogging, stay safe 🙂