Frames Film Festival is an initiative by the BAMMC department of SIES (Nerul) College of Arts, Science & Commerce for talented filmmakers all over the world. Started in 2003, today it is India's largest undergraduate Film Festival.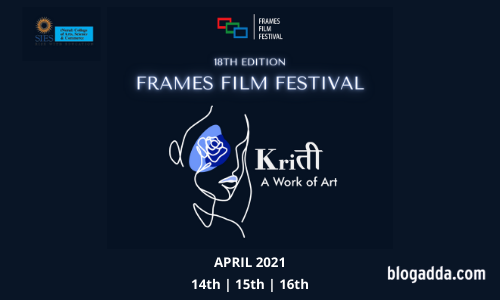 Frames give upcoming, young, and budding filmmakers a platform to showcase their creative ideas. The fest receives films not only from India, but from numerous countries, like entries from New York Film Academy, London Film Academy, and FTII to cite a few. Film icons and famous media personalities are invited to judge the entries and reward the outstanding. Vicky Kaushal, Anurag Kashyap, Mahesh Bhatt, and Poonam Dhillon are some of the names who have graced the festival with their presence.

The 18th edition of Frames Film Festival is slated to be held online this year on the 14th, 15th, and 16th of April. The premiere can be viewed on Frames' official website. The festival shall kickstart with the Inauguration ceremony, followed by the screening of International Short Films and National Short Films.

On the second day, Animation Films and Documentaries will be shown and the final day shall screen Music Videos and Contingent Films, closing with the Award Ceremony.
On March 9, as a part of Corporate Social Responsibility (CSR) an event titled 'Meraki-The Celebration of Womanhood' was organized on the occasion of International Women's Day. It was organized online by Team Frames in collaboration with IQAC and Women's Development Cell of the institution. The guests of honor for the event were: Ms. Amber Qureshi, a former plus-size model, and owner of The Plum Tree, Ms. Avantika Mathur an artist and owner of Tribe Art Vibe and Womenpow, Ms. Payal Soni, a plus-size model and body activist, founder and managing director of Sizaya, and actor in MTV India. A panel discussion took place covering many topics such as feminism, overcoming gender barriers, and dealing with criticism.

Keeping the idea of womanhood prevalent, this year the festival is paying tribute to the women of cinema who have made a tremendous impact with their work, both on-screen and behind the camera with the theme: 'Kriti- A Work of Art' with 'Kri' depicting the creation and 'Ti' depicting the women of cinema.

Although the fest is being conducted online this year, Frames is just as driven and committed as it was in the past in providing a spotlight for filmmakers to share their unique artistry and vision.
Visit – www.framesfilmfestival.org to watch the livestream of the festival.
Members of BlogAdda interested to attend write to us at bavity@blogadda.com